National Apprenticeship Week 2019
Published: 04/03/2019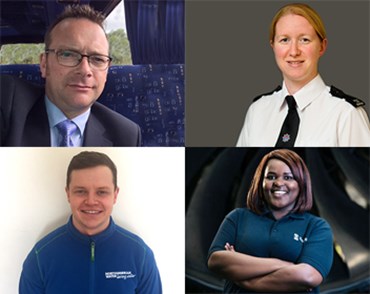 National Apprenticeship Week takes place from 4-8 March and celebrates apprentices and how, by enabling you to earn and learn, an apprenticeship can open up possibilities for your career. Throughout the week the Engineering Council will be featuring case studies from professionally registered engineers and technicians who began their careers as apprentices.
Apprenticeships can lead to a wide range of different engineering jobs at all levels, as well as to professional registration as an Engineering Technician (EngTech), Incorporated Engineer (IEng), Chartered Engineer (CEng) or Information and Communication Technology Technician (ICTTech).   
Frida Nzaba EngTech TMIET was introduced to the idea of an apprenticeship by a teacher who picked up on her enthusiasm for engineering at GCSE level and encouraged her to investigate the apprenticeship opportunities at Rolls Royce, giving Frida the self-belief that she could have a career in engineering.
Frida has continued to grow and develop (including being awarded BTEC Engineering Student of the Year in 2013 and being shortlisted for the Range Rover Evoque WISE Scholarship in 2015) and is now a Repair Capability Manufacturing Engineer at Rolls-Royce. Working in Engine Overhaul Services, her role includes developing and implementing methods that can be used to repair various components from a jet engine and she achieved Engineering Technician registration at the end of 2017.
Apprenticeships are essentially practical and based on learning skills in the workplace and Frida says, "What excites me about my job is being able to identify a problem or an improvement idea and having the support from the team and stakeholders to resolve it in a timely manner".
Many of her colleagues are Chartered Engineers and Frida found that being professionally registered demonstrated her commitment to the profession and to continuous learning in a way they recognised,
"Being an EngTech really helped me when interviewing for my current job as it shows my willingness to improve myself. It also shows the level of competency that I have reached and provides me with professional credibility."
The networks provided by her apprenticeship and her Engineering Council registration also moved her forward in the right direction, "Being able to have a mentor to speak to regarding my career progression and being able to seek advice from them… provided me with a steer in the right direction".
For Dan Herron MSc BSc (Hons) IEng MIMechE MIWater, the decision to become an apprentice was based on his preference to learn on the job, having spent his childhood getting his hands dirty stripping and rebuilding motorbike engines, "I made the tough decision to turn down a university progression route and selected an engineering apprenticeship, as this suited my learning style at that particular point in my life".
He has gone on to become a Mechanical Engineer with Northumbrian Water Group (NWG) and achieve registration as an Incorporated Engineer, all while studying to complete his MSc.
His route to his current role has been individual, but Dan has no doubts it has provided him with many career opportunities. "Achieving IEng status has really opened doors for me within NWG. My hard work academically and professionally resulted in me being specifically chosen to join the transformation programme to deliver improvements for the business."
To anyone considering professional registration, he says "It's the biggest and best step you can take in an engineering discipline, which will certainly accelerate your career towards great things."
The combination of workplace and academic learning has also worked well for Lynsey Seal CEng MIFire AMIMechE, who is now a Principal Fire Engineer and head of the London Fire Brigade's Fire Engineering Group.
Having finished school, Lynsey was offered an apprenticeship, which gave her the chance to earn qualifications and get hands-on experience at the same time. "After completing my GCSEs I was offered an apprenticeship by a mechanical manufacturing company… I was fortunate to be sponsored to gain academic qualifications including ONC/HNC and BEng (Hons) in Mechanical Engineering, while gaining work experience."
After some time as a mechanical project manager, Lynsey decided to change careers and the engineering background she'd gained as an apprentice enabled her to join the London Fire Brigade as a Fire Safety Engineer. This career move opened up the possibility of professional registration.
"The next step was to apply for CEng registration and as my Mechanical Engineering degree was accredited, I was able to apply via the standard route, without having a Masters level qualification."
Being professionally registered has supported Lynsey when applying for promotions and career opportunities, "Having attained registration, I was in an excellent position to seek promotion within the group when a vacancy arose at senior fire engineer level. It has also facilitated my acceptance onto various working parties and committees supporting both my own further development and work of our group."
Steven Gasser EngTech FIMechE strongly believes in the value of apprenticeships, both as a former apprentice and as someone who works to develop engineers' careers at The Institution of Chemical Engineers (IChemE). He has nothing but good things to say about beginning a career this way, "Anyone with a desire to learn and improve themselves would benefit from becoming an apprentice and if you make the most of your apprenticeship, industry will make the best of you".
Working with professionally registered colleagues, he found "for me it was about achieving peer parity. I wanted to be recognised for what I had done and what I had achieved. Professional registration is a fantastic way of doing this" and Steven achieved EngTech registration in 2010.
These engineers' stories show the wide variety of places an apprenticeship can take you in engineering and how professional registration can support you in developing your career. As Steven puts it, apprenticeships "are fantastic and allow an apprentice to explore their full potential, to start building a career and gain skills that will last a lifetime.".  
Find out more about apprenticeships, what types are available and things to consider during your apprenticeship from the Engineering Council.