MSc Motorsport Scholarship Programme, supporting black students
Published: 20/12/2022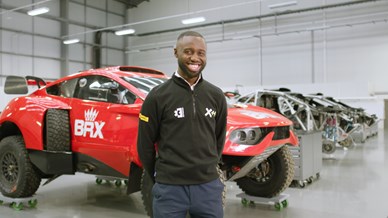 The MSc Motorsport Scholarship Programme, a new programme created with the support of the Ignite Partnership, aims to support individuals from Black or mixed Black ethnic backgrounds who wish to study a Masters degree in motorsport (or a related eligible course). If you are in the final year of your undergraduate degree, or you have graduated within the last 3 years and you meet all other eligibility criteria, you can apply.
The Scholarship Programme has been developed to address a specific recommendation within The Hamilton Commission's first report, Accelerating Change: Improving Representation of Black People in UK Motorsport. Sir Lewis Hamilton HonFREng formed The Hamilton Commission, alongside the Royal Academy of Engineering (RAEng) to address the underrepresentation of Black people in UK motorsport and the STEM sector.
Our programme provides financial and career support to individuals from a Black or mixed Black ethnic background completing their Masters in motorsport or a related degree. Up to 10 awards will be made over two years.
These scholarships aim to help address the underrepresentation of Black or mixed Black ethnic engineers and accelerate the rate of progress of change.
Successful awardees will receive:
Up to £25,000 of funding to cover the full tuition fees and maintenance costs for an eligible Motorsport (or related) MSc course
Dedicated training and networking events with Motorsport representatives
Dedicated Motorsport experiences
Access to career training and support, through the Graduate Engineering Engagement Programme (GEEP)
Access to an online community forum to collaborate and communicate with other awardees and programme supporters
For more information, eligibility criteria and a full list of eligible courses, please visit the RAEng website or contact lauren.pattle@raeng.org.uk.
Image credit: © This is Engineering.jpg​