Lottie doll tour 2022 aims to capture interest of future engineers
Published: 02/08/2022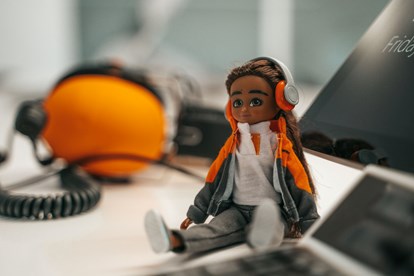 2022 will be the seventh Women's Engineering Society (WES) Lottie Tour, which will once again show how varied and exciting it is to work in engineering. You can sign up now to participate, by taking a Lottie doll to work and sharing photos during Tomorrow's Engineers Week, 7-11 November 2022. 
WES Lottie Tour is an annual campaign that takes 'Lottie' to many different locations accompanying lots of different engineering friends who show Lottie the work they do in engineering and related careers, then share photos across social media. WES Lottie Tour has a number of audiences - its primary aim is for Lottie to inspire and encourage young girls (and boys) to think of careers in engineering and STEM subjects to be open to everyone. To reach this younger audience, it is important to target parents and educators to showcase engineering careers.
There is a new double-sided downloadable Lottie poster available, to help children to learn about engineering, with each side of the poster downloadable as a pdf.
The annual Lottie Tour is organised by the WES Early Careers Board, a group of young volunteer women, working and studying engineering, who are passionate about the wonderful and varied careers available in their fields.
Please use #WESLottieTour and #TEWeek22 when posting or looking for photos during Tomorrow's Engineers week.