Inspiring the next generation of engineers and technicians
Published: 23/01/2023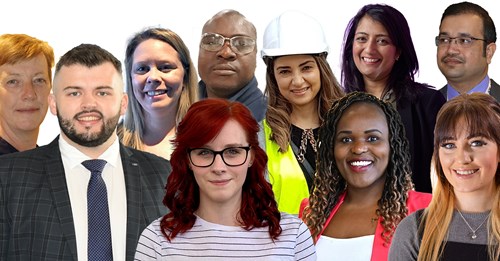 Professionally registered engineers and technicians are among those best placed to encourage a new generation of people into engineering. They are inspiring students and young people at all levels – by teaching and assessing in schools and colleges, through to university research and supervision. Many more are encouraging young people to consider careers in engineering by volunteering as Science, Technology, Engineering and Maths (STEM) Ambassadors, or giving back to the profession as professional registration mentors for their professional engineering institution (PEI). This is work often done in their own time and registrants tell us they find it a very rewarding experience.
Promoting engineering to a young audience, in both English and Welsh, is Charlotte Huntley EngTech TMIET, a Junior Electrical, Instrumentation, Control and Automation (EICA) Engineer working on water and wastewater projects, who says: "In addition to my role, I am also a STEM Ambassador. I try to participate in STEM-related activities to encourage children to consider STEM subjects from an early age. As part of this, I regularly volunteer as a bilingual mentor to support disadvantaged young people who are interested in engineering or apprenticeships."
Many registrants have expressed their desire to help more people from under-represented groups to see that engineering could be a possibility for them. Tia (Harminder) K Nagi BSc EngTech MCIHT says: "I would like to get further involved in such activities to encourage young girls to become interested in engineering at an early stage to break through the myths of engineering being male orientated." Caitlin Stuart BEng IEng ACIBSE is an ambassador for the Women into Science and Engineering (WISE) campaign and has "… attended a number of careers events, participated in apprenticeship conferences, been to the House of Commons and the BBC to promote apprenticeships and showcase my experience as an apprentice engineer". Some registrants have even set up their own organisations, specifically to encourage young people to consider careers in engineering. Frida Nzaba EngTech TMIET says that she "…would love to inspire young children/students in Africa to realise their potential in the STEM world using the social enterprise I founded, called Edu-Cater Global".
In further education, Lucy Mawer EngTech MCIPHE RP QTLS has a busy career focused on equipping young people with a skill that's always in demand: "I am the head of the Plumbing Department in a sixth form college, teaching different levels of plumbing to full-time students and apprentices. In a day I could be lecturing theory, running practical skills workshops, assessing and verifying students' work. During the week I will also visit the plumbing apprentices on-site to support them in gaining evidence to complete their on-site portfolios." A Master Plumber and first female President of the Chartered Institute of Plumbing and Heating (CIPHE), Tracey Richardson EngTech LCGI MCIPHE RP finds the most enjoyable aspect of her job as an assessor and tutor is "when a learner thanks you for your help when they have completed their qualification. And of course seeing the looks on the faces of the winners of the Skills competitions as well."
Having started his career as an apprentice himself, Euan MacLean IEng MIMechE understands well the benefits that this type of study can bring and encourages others to go for it too: "I am an active STEM ambassador within [my workplace] Altrad Babcock, and have supported local primary and high school events such as career fairs, stalls at parents evenings and educational events. Also, I work with prospective apprenticeship applicants to help them prepare for interviews and assessment centres, and support them as a non-managerial point of contact throughout their time as an apprentice."
University teaching is also a way to help open doors and share the experience of practising engineers. Mamta Singhal MBE BEng (Hons) MSc MBA CEng MIET FWES says she has "…undertaken a Visiting Professorship at Middlesex University... to showcase female engineers from diverse backgrounds who broke down barriers. Giving back to a university is amazing and seeing the students becoming confident in their field of work is fabulous. I share my engineering story with them, from events during my seven years at university right up to events in industry, sharing the good, the bad and the ugly, ensuring that they can learn from my mistakes, challenges and successes."
Professionally registered engineers are engaged in research, as well as teaching and supporting students, at universities. Tariq Umar PhD CEng IntPE (UK) MICE says that: "Teaching is one of the most enjoyable areas of my job. It gives me real satisfaction when I see the progress of my students and that satisfaction further increases when my students finally graduate and are awarded with their degrees. In a similar way, the ultimate satisfaction from successfully leading the research team on a specific project comes when the project is accomplished. I feel proud when I see my research papers published in renowned journals, particularly when my name is on the top of the authors list."
A Senior Lecturer in Engineering at Birmingham City University, Olusegun M. Ilori PhD CEng MIMechE and is promoting membership of a PEI to his students – highlighting the opportunities that membership can bring, including access to information and competitions. He says: "…I took the Biomedical Engineering Students to compete in the Institution of Mechanical Engineers (IMechE) Engineering Design Challenge of 2020/21 … All team members also had the opportunity to register as Associate Members of IMechE while looking forward to becoming Chartered Engineers in the future.
Engineering skills are crucial to the future and today's engineers are a key part of inspiring and encouraging tomorrow's. If you would like to get involved as a mentor or assessor, contact your PEI to find out how they are supporting young people and potential registrants. You may also like to consider becoming a  STEM Ambassador yourself, or if you are looking to host an event, Engineering UK create materials for schools to inspiring the next generation.