IET's National Conference focuses on competence
Published: 28/01/2022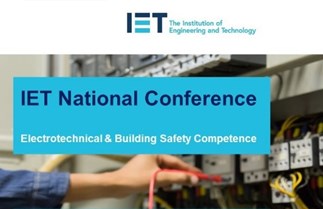 The Institution of Engineering and Technology (IET) is delivering their National Conference for Electrotechnical and Building Safety Competence virtually, in two parts. The event aims to bring together experts working in safety critical roles, with a key focus on individual competence, accountability and continuing professional development (CPD).

The first part of the conference will take place on Monday 31 January, from 1.30–4.00pm, with the second part held on 21 February.

Speakers will include the Engineering Council's CEO Alasdair Coates BEng (Hons) MSc CEng FICE MCIHT CMIOSH, who will address the role of the regulator and relevance of standards and contextualisation in high risk buildings.

The keynote speaker will be Dame Judith Hackitt DBE FREng HonFIET, who will discuss key points relating to accountability and competence including reference to her post Grenfell report 'Building a Safer Future'. The report, published in June 2019, identified that the current system of building regulations and fire safety were not fit for purpose and that a culture change is needed to support the delivery of safe buildings.

Throughout the Conference, there will be panel discussions enabling questions to be submitted to the panel of speakers. IET expert volunteers will also be joining the conference.

For more information or to register to attend the conference, please visit the IET website.