First female President Elect of IPEM
Published: 29/09/2022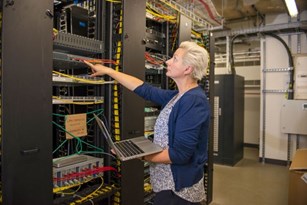 The first woman to become President Elect of the Institute of Physics and Engineering in Medicine (IPEM) has been appointed to the role.
Dr Anna Barnes, an IPEM Fellow, will become IPEM's first female President next year, after her appointment as President Elect was confirmed at the Annual General Meeting (AGM). IPEM is one of the professional engineering institutions (PEIs) licensed by the Engineering Council. 
Dr Barnes said: "My aim is not to be the first and only female President this decade and I feel really privileged to take on this role at this exciting time for IPEM. I'm really looking forward to my presidency and to pushing forward on important matters like equity of opportunity, diversity of thinking and inclusion across academia, industry and public healthcare."
A Clinical Scientist in the School of Biomedical Engineering and Imaging Services at King's College London, and a Director of the King's Technology Evaluation Centre at KCL, Dr Barnes has been involved with IPEM throughout her career. 
One of the first two IPEM trainees in Scotland in 1993, Dr Barnes specialised in biomedical engineering and equipment management. She graduated with a PhD in 1999 from the University of Glasgow, followed by two Fellowships at New York University and Columbia University, focusing on neuroimaging and statistical analysis. Following  a research fellowship at the University of Cambridge Brain Mapping Unit and time at University College London Hospital nuclear medicine department, she was appointed Chief Healthcare Scientist for the South-East for NHS England.
Dr Barnes' volunteer roles at IPEM have included two years as Vice President External and she is the current Vice President Academic, as well as being President Elect.
Dr Robert Farley, IPEM's President, said: 'I'm very excited and privileged to be able work with Anna. She has many exciting ideas for taking IPEM and the Medical Physics and Clinical Engineering professions forward and I fully and wholeheartedly support her aim to build on the diversity and inclusion work already done by IPEM and to make it sustainable for the foreseeable future.'
For further details, please see the full announcement on IPEM's website.