Enginuity launches Skills Miner game to unearth 'hidden' engineering skills
Published: 15/05/2020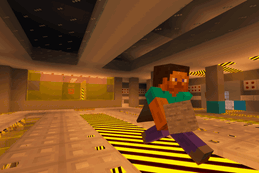 In light of the current crisis, and aspiring engineers being stuck at home, Enginuity have released Skills Miner. Enginuity (formerly Semta) and the Prince's Trust have created an online game – powered by artificial intelligence – to identify people that have what it takes to be future engineers.
The launch of Skills Miner is part of Enginuity's mission is to create skills solutions for individuals, educators and employers to help close the skills gap in the engineering sector. The game has been brought forward from the summer to allow thousands of people in lockdown to have fun – and find out if they've got what it takes to transit from the virtual to the real-world workplace.
Sophisticated Artificial Intelligence algorithms monitor players' performance and assess their aptitude for a whole raft of skills – from Observation and Assessment, Resilience, Digital Competency, Problem Solving and Critical Reasoning.
Players of the game, which is based on Minecraft and aimed at players of all ages, will be guided to various levels, given assessments of their cerebral and dexterity strengths – then given a call to action to help them make an appropriate move through the gateway from the virtual to the real world.
"This is a game-changer," says Enginuity CEO Ann Watson. "We have through our innovation lab, the ability to help young people to discover hidden talents – and unlock rewarding careers in something they might not have even considered."
"Many of them might never realise their true potential without this initiative. Some of the beta version users have told us that game feedback was the one and only time that they had been told that they were good at something."
Find out more and play Skills Miner.