Engineering and manufacturing route review published
Published: 19/11/2021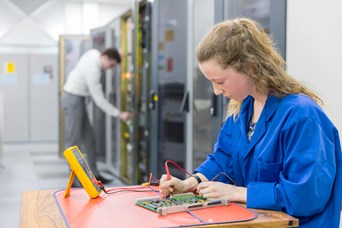 Updates and improvements planned for around 50 engineering and manufacturing apprenticeships have been unveiled in a new Engineering and manufacturing route review report from the Institute for Apprenticeships and Technical Education (the Institute) focused on how to support the full spectrum of current and future skills training needs for these vital sectors.
Publication today is the culmination of an extensive and employer-led review of training requirements for the engineering and manufacturing sector.
In addition to preparing the way for large numbers of apprenticeships to be brought up to date, the review report has recommended eight to be decommissioned, due to insufficient demand or changing training requirements. Feedback from the sectors also led to the Institute's route panel of employer experts revising the engineering and manufacturing occupational map.
Image credit: © BAE Systems
The map covers three pathways for progression from entry to higher levels covering: engineering, design and development; maintenance, installation and repair; and engineering, manufacturing process, and control.
Consultation feedback also identified the following priority jobs in need of consideration for new apprenticeships and wider technical education:
(a) Product development manager
(b) Chemical engineer
(c) Mechanical engineer
(d) Simulation & modelling engineer
(e) Glass manufacturing operative
(f) Quality manager
(g) Safety engineer
(h) Engineering compliance manager.
Wider technical education can, for example, include T levels and Higher Technical Qualifications, guided by employer-designed occupational standards:
The resulting occupational map can be found on the Institute for Apprenticeships and Technical Education (the Institute) website.
Relevant T Levels set to be added to the skills offer that will be taught from September 2022 will cover Design and Development for Engineering and Manufacturing; Maintenance, Installation and Repair for Engineering and Manufacturing; and Engineering, Manufacturing, Processing and Control.
The report published today also highlights future challenges and opportunities around skills training supporting Brexit, recovery from the COVID-19 pandemic, and keeping pace with emerging technology and sustainability issues.
Employers will form new partnerships with our new Green Apprenticeships Advisory Panel to see how all apprenticeships and technical education can help tackle climate change and support the national drive to net zero carbon emissions by 2050.
Jennifer Coupland, Chief Executive of the Institute, said:
"A huge amount of fantastic work has gone into this review. This is a very large and diverse sector and I would like to thank the many employers who provided invaluable insights and input. Their hard work has resulted in a comprehensive set of well-argued recommendations that we believe will hugely benefit and improve the quality of apprenticeships and wider technical education across engineering and manufacturing. It will pave the way for other occupational routes to take a similarly forward-looking approach that actively prepares the skills system for evolving industry and labour market skills needs."
Graham Honeyman, who leads the Institute's route panel of engineering and manufacturing employer experts, said:
"As route panel chair, I have been able to see the positive impact that the apprenticeship programme has had on the sector and wider economy. In the last 11 months alone, there has been an 11% increase in learners starting an apprenticeship in engineering and manufacturing and I look forward to the further benefits new T Levels will bring. I welcome these route review findings which will bring skills training right up to date for our sectors and help ensure our workforce receives the world class training it needs long into the future."
Recommendations for the 58 apprenticeships and wider occupational standards, which emerged from this review, were based on feedback gathered through extensive employer-focused consultation led by partner organisation Enginuity.
The Institute is organising a special event on 30 November which will provide employers and other partners with more opportunity to ask questions and reflect on the recommended changes. 
Trailblazer employer groups have already started work with Institute product managers on implementing recommendations from the review and the process will continue through 2022. The full report is available on the Institute's website. 
Notes to editors:
• Technical education is categorised into 15 different occupational routes reflecting all areas of the economy. The engineering and manufacturing route is the largest, with 145 apprenticeships approved for use serving a diverse range of training needs. There are 33 at level 2, 52 at level 3, 20 at level 4, 6 at level 5, 21 at level 6, and 13 at level 7.
• The engineering and manufacturing route serves many prominent sectors including automotive, rail, aeronautical and maritime, science, textile, food and drink, water and utilities.