Elizabeth line opens to passengers
Published: 24/05/2022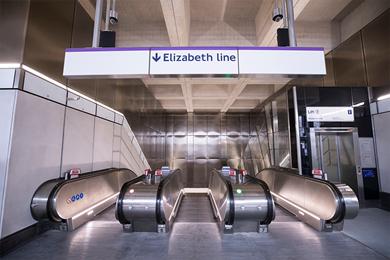 The Elizabeth line (previously known as Crossrail) officially opens to the public today, increasing central London's rail capacity by 10%. Today's opening follows a ceremonial opening last week in which Her Majesty The Queen unveiled a plaque at Paddington Station.
Bringing an estimated £42 billion to the UK economy, the state-of-the-art line will see each train carry up to 1,500 passengers, cutting journey times and ticket prices. The first full Crossrail scheme was submitted to Parliament in 1991, the culmination of proposals since World War II for an east-west London railway.
This has been a massive engineering project, which first broke ground in May 2009, with the first pile on the site of the new Canary Wharf station. Institution of Civil Engineers (ICE) magazine New Civil Engineer describes some of the project's biggest engineering challenges and triumphs. These include the reconstruction of the Victorian Connaught Tunnel, navigating a combination of existing Tube lines, sewers and the Post Office Railway to create the Liverpool Street Elizabeth line station (the deepest of the new central London stations), and delays at Bond Street station.
Initially operating 12 trains an hour between Paddington and Abbey Wood (Monday to Saturday only), work to prepare for more frequent services from autumn 2022 will continue in engineering hours and on Sundays.
The Elizabeth line has created over 55,000 jobs across the UK (including 1,000 apprenticeships) over the past 14 years, with more than 5,000 of those jobs carried out by previously unemployed workers. 96% of contracts for the project were awarded to companies in Britain, 60% of which were to businesses outside London.
Secretary of State for Transport Grant Shapps said: 
"As iconic as its namesake, the Elizabeth line is a beacon of British success, not just for this marvel of engineering but for the enormous benefits it brings to the entire nation with £42 billion for the UK economy and 55,000 jobs just two of many.
London's transport network is its lifeblood and the £9 billion we've contributed to make the Elizabeth line a reality is once again testament to our unwavering support for this marvellous city, its inspiring people and the millions of visitors it attracts every year."
All Elizabeth line stations between Paddington and Woolwich provide level access, making travel more accessible. All 41 stations will eventually be step-free. The Elizabeth line will initially operate as three separate railways, with services from Reading, Heathrow and Shenfield expected to connect with the central tunnels from autumn 2022.
Please see the full Department for Transport (DfT) press release at .gov.uk.