DSIT joins STEM Futures scheme to build civil servants' sci-tech skills
Published: 27/09/2023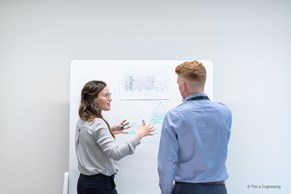 The Department for Science, Innovation and Technology (DSIT) has become the first central government department to join the STEM Futures scheme. This cross-Whitehall initiative has been established to boost science and tech expertise among civil servants.
The STEM Futures scheme offers opportunities such as shadowing, placements and mentoring, both inside and outside of government, with a view to enhancing civil servants' STEM knowledge by learning directly from the experts from a range of different backgrounds.
The programme is run by the Government Science and Engineering (GSE) Profession, is a partnership of organisations across industry, academia, and the public sector.
Science and Technology Secretary, Michelle Donelan, said: "Joining STEM Futures is another milestone in DSIT's mission to build the world's most innovative economy here in the UK, building on the UK's unique leading role in science and technology.
"Our universities are one of our biggest exports and their reputation is globally coveted, while we are just the third country in the world to boast a tech sector valued at over one trillion dollars.
"STEM Futures, alongside our own Expert Exchange programme, will ensure central Government has the direct experience and expertise from the front lines of science and technology it needs to truly understand the issues facing sci-tech leaders, and arm civil servants with the skills they need to shape practical policies that will work for industry, academia, and the wider public."
STEM Futures is contributing to the strategy to make the UK the most innovative economy in the world by 2030, as outlined in the Science and Technology Framework, launched in March 2023. The framework aims to attract the best global talent to the UK and utilise the potential of emerging technologies like AI.
For more information, please visit the GOV.UK website.
​