Dame Stephanie Shirley and Ray Ozzie receive distinguished fellowship from Chartered Institute for IT
Published: 25/11/2021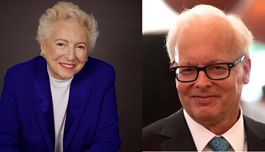 Global IT entrepreneur and workplace revolutionary turned ardent philanthropist, Dame Stephanie Shirley CH, and software industry pioneer Ray Ozzie have been awarded Distinguished Fellowships from the professional body for IT.

The awards are given by BCS, The Chartered Institute for IT to individuals whose contribution to computing is seen in terms of major importance to the overall development of computing, with substantial personal recognition through peer review over a substantial and sustained career.

Dame Stephanie arrived in Britain as an unaccompanied child refugee in 1939. In 1962, she founded an all-woman software company that pioneered remote working, upending the expectations of the time. It was ultimately valued at almost $3 billion and made 70 of her staff millionaires. Since 'retiring', her focus has been on philanthropy, and she has given away almost £70m to fund strategic projects in autism and IT. She joined the BCS as a student member on its foundation in 1957 and was its first woman President in 1989-90.

Dame Stephanie commented: "The human aspects of technology are a lifelong passion of mine and it's a real honour to be awarded a distinguished fellowship by BCS for my contribution."

Ray Ozzie was formerly best known for his role in creating Lotus Notes. He received his bachelor's degree in computer science in 1979 from the University of Illinois at Urbana-Champaign, where he worked on the PLATO system. He began his career at Data General Corporation where he worked for Jonathan Sachs. Ozzie then worked at Software Arts and was later recruited by Sachs and Mitch Kapor to work for Lotus Development to develop what became Lotus Symphony.

After leaving Lotus Development in 1984 he founded Iris Associates to create the product later sold by Lotus as Lotus Notes. Iris Associates was acquired by Lotus in 1994, while Lotus itself was acquired by IBM in 1995. Ozzie continued working there for several years before leaving to form Groove Networks which was acquired by Microsoft in 2005. Ozzie became one of three Chief Technical Officers and in 2006, he took over the role of Chief Software Architect from Bill Gates. More recently, in founding Blues Wireless, he has been focusing on creating the infrastructure for digital transformation - connecting billions of commercial products to the cloud.

On receiving his award Ray Ozzie said: "It is a great honour to receive this award. I have been very fortunate to have worked with and learned from many talented entrepreneurs and leaders over the years. The computing and communications sectors remain ripe for innovation, and I hope that my work might also inspire others."

John Higgins, President of BCS, The Chartered Institute for IT said: "Dame Steve Shirley and Ray Ozzie's places in our roll of Distinguished Fellows are richly deserved. A Distinguished Fellowship recognises and celebrates the best of the best. Both recipients are inspirational individuals who are committed to making digital technology work for the benefit of society.

"This honour recognises Dame Stephanie's distinguished career and her substantial contributions to technology and business. Our purpose at BCS is making IT good for society and we believe that she is an embodiment of this philosophy.

"Ray Ozzie is responsible for some of the most innovative work in the field of computing. He is an industry visionary and pioneer in computer-supported cooperative work - who has devoted most of his career to collaboration between people.

"This award recognises the impact their work has had on society and knowledge at the highest level. I hope the Distinguished Fellowships go some way towards giving both Dame Stephanie and Ray Ozzie's contributions the status and recognition deserved. We're proud to have them represent our industry and inspire it to further change."

They join the BCS Roll of Distinguished Fellows alongside innovators such as Sophie Wilson, who received the award in recognition of her pioneering work - helping to design the BBC Micro and ARM architecture. Other distinguished fellows include Sir Tim Berners-Lee, Dame Wendy Hall, Vint Cerf and Martha Lane-Fox.

About BCS, The Chartered Institute for IT
BCS is the UK's Chartered Institute for IT. The purpose of BCS as defined by its Royal Charter is to promote and advance the education and practice of computing for the benefit of the public. We bring together industry, academics, practitioners and government to share knowledge, promote new thinking, inform the design of new curricula, shape public policy and inform the public.