Awareness of T levels in England
Published: 09/11/2022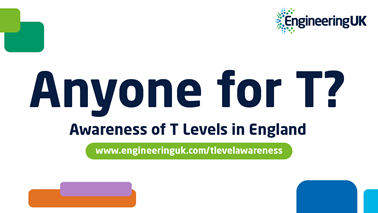 T Levels have the potential to deliver the much-needed skilled engineering workforce in the UK, however a new report published by EngineeringUK highlights that awareness among young people and employers is surprisingly low.
T Levels provide young people with an exciting opportunity for getting into engineering careers, however despite this, report 'Anyone for T? Awareness of T Levels in England' finds that only 37% of young people surveyed (aged 11 to 18) have heard of T Levels.
Awareness levels were also found to vary by age group. Just over a third (35%) of 14 to 18 year olds said they knew what T Levels are, which drops to only 30% of those aged 11 to 14.
Among parents, awareness levels were found to be even lower. Just 27% of parents surveyed said they have heard of T Levels and only 18% of parents surveyed say they know a lot/a fair amount about T Levels.  
The 'Unlocking talent' report from EngineeringUK and Make UK also draws attention to the challenges that T levels in the engineering and manufacturing sector face
Meryl Cotton, T Level Manager at Newcastle and Stafford Colleges Group, comments "T Levels offer a great new option for students who enjoy classroom learning but also want to gain vital industry experience. Our students out on industry placement this week are with small and large local employers who are investing in the future talent their sector needs."
T level student, Jasmine Espley, who is doing her first industry placement at AEON Engineering this week, said "I'm fascinated by the fact engineering is all around us and am really enjoying the T Level I started this term. The industry placement means I'll have a lot of work experience by the end of the course and I get to learn about aerospace engineering by working in a cool, modern lab."
There are higher levels of awareness among employers – with 72% of employers surveyed saying they are aware of T levels. However, less than a third (28%) of employers surveyed say they have both heard of T Levels and understand what they involve. What's more, 32% of employers surveyed say lack of knowledge is a barrier to offering placements. This highlights that more needs to be done to enhance understanding, particularly if the sector is to reach the target of 43,500 industry placements by 2024/25.
Julie Twigg, Learning and Development Manager at Portmeirion said, "At our Portmeirion site in Stoke, we embraced the opportunity to offer T Level placements and subsequently have two engineering students on their first placement this week. With an aging workforce, we are wanting to support our next generation and help bring in young talent within the ceramic industry, showcasing the engineering careers we have within the group and the engineering T Levels are helping boost the skills we need."
Hilary Leevers, Chief Executive of EngineeringUK, comments, "T Levels offer young people a fantastic route into highly rewarding engineering, technology and technician careers, and they also hold huge potential to help with tackling the skilled engineering workforce shortage. However, it's clear that a great deal more needs to be done to enhance awareness and understanding – which is why we're shining a spotlight on T levels during Tomorrow's Engineers Week."
The report 'Anyone for T? Awareness of T Levels in England' is available online and more information on Tomorrow's Engineers Week can be found at teweek.org.uk.