Solar technology recognised by 2023 QEPrize
Published: 08/02/2023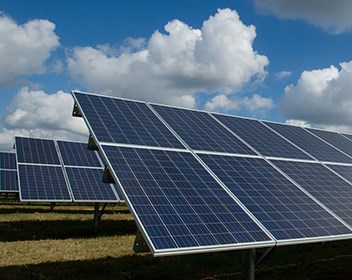 The winners of the 2023 Queen Elizabeth Prize for Engineering (QEPrize) have been announced at an event hosted by Yewande Akinola MBE CEng FIET HonFREng, an innovator and specialist in sustainable water supplies, with guest of honour HRH The Princess Royal.
The prize was awarded to Professor Martin Green, Professor Andrew Blakers, Dr Aihua Wang and Dr Jianhua Zhao for their research work, invention and development of Passivated Emitter and Rear Cell (PERC) solar photovoltaic technology, which has enabled the recent growth in high performance, low-cost solar electricity. As the awardees published their findings with no patent, they encouraged further developments within the field, driving down the cost of production to the benefit of wider society and freeing PERC technology to be widely adopted. PERC technology is now the most commercially viable silicon solar cell technology for use in solar panels, recently accounting for almost 90% of the global solar cell market and greatly improving the energy conversion efficiency of silicon cells.
The QEPrize is awarded annually to engineers responsible for ground-breaking innovations that have been of global benefit to humanity. The annual £500,000 prize promotes excellence in engineering and celebrates engineering's visionaries. It inspires young minds to consider engineering as a career choice, and it encourages engineers to push the boundaries of what is possible.
To read more about the winners of this year's prize and the PERC technology they developed, please visit the QEPrize website.