New Guide to Professional Registration for engineers and technicians 2023/2024 available now
Published: 25/10/2023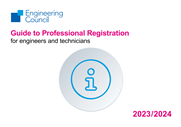 The updated guide for engineers and technicians has just been published, providing key information on registration with the Engineering Council, and defining the relationship between the many organisations working within the professional engineering community.
As well as comprehensive guidance on the process of becoming registered, details of all the professional engineering institutions have also been included to help find the most relevant institution for your students' needs.
Click here to download your free copy.