Professional registration for university staff
Published: 08/11/2022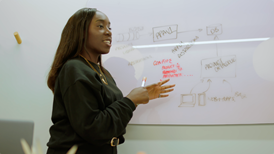 The Engineering Council actively supports initiatives to encourage professional recognition and career development for university staff, including the Technician Commitment. This is a university and research institution initiative, which aims to ensure visibility, recognition, career development and sustainability for technicians working in higher education and research, across all disciplines. We recognise that staff (whether lecturers, researchers or technicians) may be eligible for different levels of professional registration, based on their individual skills and competence.
There is no Engineering Council requirement for staff who deliver accredited degrees to be professionally registered, however accrediting PEIs may ask for information on membership or registration among staff. Registrants who are academics tell us they find their professional registration valuable, particularly in terms of working with industry partners.
Our case studies library includes teaching staff from Kingston University, Lancaster University, Birmingham City University (BCU) and Aalto University - more information about registration for academics is available in our leaflet.