Over 6,200 engineers and technicians professionally registered in 2022
Published: 08/11/2022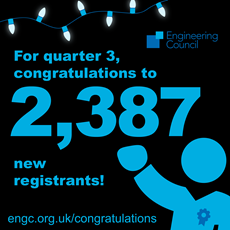 During 2022, over 6,200 engineers and technicians have become professionally registered with the Engineering Council, following a successful assessment of their engineering competence and commitment. Professional registration is an internationally recognised mark of quality, as a standard set by the engineering profession.
The Engineering Council would like to congratulate every one of the 6,280 new registrants so far this year on their achievement. 2,387 engineers and technicians became registered during Q3.
Student membership of a professional engineering institution is usually free/low cost and it's never too early for students to start working towards professional registration; institution membership and interim registration are both potential additions to their CV. Providing a straightforward guide to professional registration and the professional engineering community, the Engineering Council has updated its 'Pocket Guide to Professional Registration 2022-2023'. 
Our full press release congratulating new registrants on their achievement is available online.