Implementation of revised Engineering Council Standards – AHEP and AAQA
Published: 28/10/2021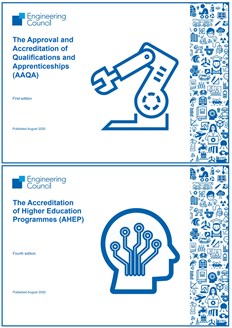 Following publication of the fourth edition of Accreditation of Higher Education Programmes (AHEP), Higher Education providers with accreditation visits held before September 2024 can request accreditation against either old or new learning outcomes.

The fourth edition explicitly supports accreditation of top-up degrees, as well as programmes such as Foundation degrees and Higher National Diplomas, from which top-up degrees support progression.

The Engineering Council has published a Statement for Universities and other HE Providers on top-up degrees which sets out the expectation that HEIs with accredited programmes or seeking accreditation of their programmes must ensure they clearly differentiate between top-up degrees and full duration programmes that permit direct entry to later years of study.

Approval and Accreditation of Qualifications and Apprenticeships (AAQA), the new Engineering Council Standard against which apprenticeships (including degree apprenticeships and graduate apprenticeships) and non-degree qualifications can be recognised. An AAQA Guidance Note has now been published to support implementation of this Standard. AAQA supports the formal recognition of competence, as well as knowledge and understanding, developed through non-degree qualifications and apprenticeships. For higher level programmes, this refers to the same learning outcomes as degree accreditation.