The Big Bang competition open for entries
Published: 31/03/2022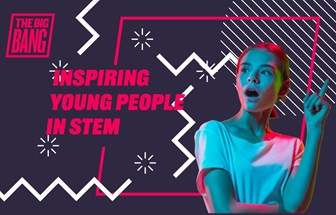 The Big Bang competition is looking for STEM projects that will transform people's lives – and the pioneering young minds that invent them. The Big Bang Competition is the UK's top annual science and engineering competition and is open to anyone aged 11-19 in full time education in the UK.

Projects can be on any topic, in any field, and could be developed at school or at home. Whether the project uses cutting-edge technology or everyday items, the Big Bang Competition is looking for great ideas, enthusiasm, and young people asking questions and looking for solutions.

The competition encourages young people to build confidence and teamwork skills, solve problems, get expert feedback, and celebrate and share their work.

The competition is free to enter, closing at 5pm 4 April. There are three age group categories with individual prizes, plus an overall winner will be announced during the Big Bang Fair 22-24 June at the NEC in Birmingham.

Find out more on the Big Bang website.