Engineering Zero - bringing the profession together
Published: 02/07/2021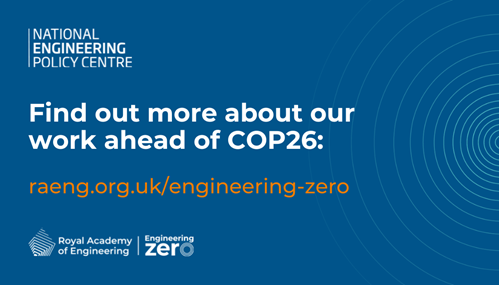 The first plans for Engineering Zero have been unveiled – a new programme of work from the National Engineering Policy Centre (NEPC) and the Royal Academy of Engineering (RAEng) ahead of COP26. 
This programme of collaborative work aims to bring about action on emissions and advance engineers' ability to fulfil their role tackling the climate crisis. Through a series of live events, expert-led briefings, and policy work outlining how engineering skills and education can support the net zero ambition, Engineering Zero aims to create lasting change in the run up to COP26 and beyond.
November's COP26 conference in Glasgow represents a critical moment for action on net zero. More details to follow, but here's an early look at what the engineering profession is doing.
Find out more about the plans and how to get involved.