Dr Gladys West becomes the first woman winner of the Prince Philip Medal
Published: 02/07/2021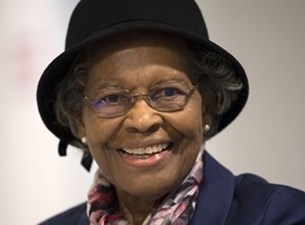 The Royal Academy of Engineering (RAEng) has presented its highest individual award – the Prince Philip Medal – to Dr Gladys West, whose mathematical modelling paved the way for the engineering innovation of GPS.
Dr West is the first woman to win the Prince Philip Medal in the 30 years since it was presented for the first time in 1991 to Air Commodore Sir Frank Whittle, wartime pioneer and inventor of the jet engine.
As a pioneer in the use of complex mathematics and efficient programming to process early satellite data to generate accurate, repeatable and global models of the Earth's geoid, her work underpinned the mapping functions of GPS and the study of global mean sea level.
Speaking from her home at Gatcombe Park, HRH The Princess Royal, Royal Fellow of the Academy, presented the gold medal via a virtual audience with Dr West at her home in the United States. Dr West was accompanied by her husband Ira, also a mathematician and a former branch head at the Naval Proving Ground in Dahlgren, Virginia, where they both worked for many years.
Accepting the award, Dr West says:
"It is hard for me to believe that I was a little black girl on the farm who had a dream to get off the farm, get educated, and make enough money to take care of myself. And now, I have realized my dreams and reached a height beyond what I anticipated. I encourage young women to believe in yourself, find your passion, work hard and apply yourself, stay committed, find a mentor, participate in activities that relate to your passion, never give up, always keep setting new goals and continue to strive to reach them, and most of all - follow your dreams."
See the full announcement on the RAEng website.