Seeking outstanding Incorporated Engineers
Published: 30/01/2020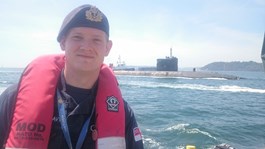 The Baroness Platt of Writtle Award is open to those who have achieved Incorporated Engineer (IEng) registration in the previous year. Presented by the Engineers Trust (Charitable Trust Fund of Worshipful Company of Engineers), this prestigious annual award recognises the achievements of a newly registered Incorporated Engineer (IEng).
Last year's winner was Tim Ward IEng MIMechE, for his outstanding work on submarine engineering. Tim was inspired to be an engineer as a GCSE student when he studied the splitting of the atom to generate energy.
He proceeded to achieve a 1st Class MEng from Southampton University in Mechanical Engineering, then joined the Royal Navy and undertook leadership training at Britannia Royal Naval College and nuclear propulsion engineering at HMS Sultan. He has undertaken challenging engineering assignments on board HMS Triumph and HMS Torbay with steadily increasing levels of responsibility, including duty officer responsible for all non-weapon platform systems aboard the submarine. 
Chaido Doulala-Rigby (Yuli), a Court Assistant of the Worshipful Company of Engineers, said: "The Engineers Trust makes many awards each year – see www.engineerstrust.org.uk. This award is for Incorporated Engineers of all disciplines. Last year the nominations came from a variety of industries that ranged from civil engineering, defence, utilities, aerospace, mechanical, submarine engineering, infrastructure in remote areas and humanitarian engineering. All nominees displayed high levels of engineering excellence, which makes the search for the winner a tough choice."
Professional engineering institutions licensed by the Engineering Council are invited to nominate up to five candidates by the 10 April deadline.