Celebrating engineering excellence
Published: 30/01/2020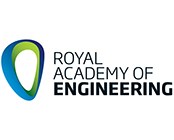 Presented by the Royal Academy of Engineering (RAEng), the Rooke Award and Colin Campbell Mitchell Award are both open for entries until 21 February.
The Colin Campbell Mitchell Award is presented to an engineer (or small team of engineers) who have made an outstanding contribution to advancing any field of UK engineering over the last four years. A cash prize of £3,000 will be awarded to an individual, up to a maximum of £6,000 for a team. The 2019 winners were a multidisciplinary team of engineers and healthcare experts from the University of Nottingham, Monica Healthcare and GE Healthcare.
The Colin Campbell Mitchell Award commemorates the life and work of one of Scotland's most accomplished marine engineers. Edinburgh-born Colin Campbell Mitchell OBE FRSE (1904-69) had a long and distinguished career with Brown Brothers Engineering, where he pioneered the development of the steam catapult for use on aircraft carriers.
The Rooke Award is for the public promotion of engineering by an individual, project or small team. The award is usually presented to an individual or small team (of no more than five) based in the UK that has supported the Academy's aims and work through their initiative in promoting engineering to the public. The 2019 winner was astronaut Tim Peake, in recognition of his inspirational promotion of engineering and space through the Principia mission's education programme.
Entries can be submitted now, through the RAEng's online nominations system.