Brexit and professional recognition
Published: 30/01/2020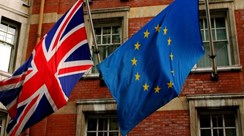 The Engineering Council is the UK partner in organisations and signatory to agreements that facilitate the international mobility of engineering professionals.
A Brexit deal has been agreed with the EU and both the UK and the EU have approved and signed the withdrawal agreement by the end of January 2020. They will now start to negotiate new arrangements and there will be an implementation period to prepare for new rules. 
Withdrawal agreement
Following the passage of the European Union (Withdrawal Agreement) Bill 2019-20, the framework for recognition of professional qualifications established under the Mutual Recognition of Professional Qualifications Directive (2005/36/EC, as amended by 2013/55/EU) remains in place until the end of the implementation period on 31 December 2020. 
Under the terms of the withdrawal agreement, the EU27 are obliged to ensure UK nationals who are resident or frontier working[i] in the EU continue to have their professional qualifications recognised, as long as they obtained or applied for a recognition decision before the end of the implementation period. This means as long as the application is submitted by December 2020. Under the same terms, the professional engineering institutions (PEIs) licensed by the Engineering Council will continue to accept applications for recognition under the Directive from the EU27 throughout 2020.
Ths is an update to the Engineering Council's press release issued earlier in January, before the passage of the Bill.
[i] Frontier workers are EU citizens, or United Kingdom nationals, who pursue an economic activity as a worker, or are established in accordance with EU law, in one or more states, and who reside in another state.