Katherine Moynihan ICTTech MIHE
Published: 16/03/2023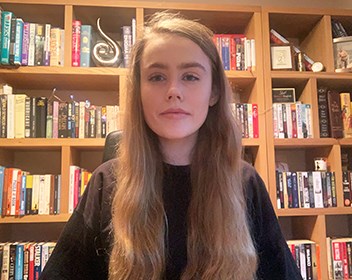 Education and qualifications: BA (Hons) Geography and Town Planning, University of Sheffield (First Class Honours)
Job title: Senior Transport Planner
Employer: Jacobs
What inspired you to become an engineer or pointed you towards an engineering career?
It was actually by complete chance - I was working as a waitress at a local hotel where Jacobs was having a Christmas party and I heard about their work. After some research into the company, I was offered an interview for a summer position and decided it sounded like an opportunity for me! Before graduating with my Geography & Town Planning degree, I undertook a summer placement with the Transport Planning and Traffic Engineering Team at Jacobs in Shrewsbury, which I very much enjoyed.
More broadly, the highway industry provides a fast-paced environment that offers a variety of challenges and opportunities to develop my career, so I saw this as a really interesting opportunity to begin my career.
Please describe your role or position within your workplace.
I'm a Transport Planner based in Birmingham. My role involves using a variety of modelling software for several clients. Currently I'm focusing on development control work for Worcestershire County Council. I really enjoy this position and the interesting opportunities it provides.
Can you describe a typical working day?
A typical working day starts with a morning briefing call. This provides a great opportunity to continue catching up virtually with my team, who pre-Covid-19 I would have been sat with. For the last 18 months I have been working on a local authority framework contract. I respond to all major planning applications acting as the highway authority. This involves reviewing all planning documents, modelling and associated drawings (site plans, visibility splays, vehicle tracking), and attending client and developer meetings. I then provide my comments acting as the local authority client. I really enjoy working alongside the local authority, and the different transport professionals in my team at Jacobs and beyond.
Are there any particular challenges or unusual aspects to your role?
Transport planning is a broad discipline that requires a variety of skills and involves staying up to date with policy, technical standards, software and different scales of modelling. This ensures the job never gets boring!
What do you find most enjoyable about your job?
I most enjoy the opportunity to work on a variety of different projects in different regions. My team are particularly great people so that's also a bonus!
Is there a great professional achievement or high-profile accomplishment that you would like to tell us about?
I gained Information and Communications Technology Technician (ICTTech) professional registration in July 2021. I was the first person in my company to achieve ICTTech with the Institute of Highway Engineers (IHE), which I am very proud of. I currently sit on the inaugural Junior Leadership Team at Jacobs, representing my team. This has allowed me to directly interact with senior management and provides a unique opportunity to both learn from them, and reverse mentor them.
What contributed to your decision to become professionally registered?
I joined IHE as an Affiliate Member in 2018. I found it was the institution that best reflected my professional interests, and with most of my team being members of the IHE and active members of the Mercia Branch (West Midlands), it felt like a natural progression. I also find it particularly important as a woman to be visible in these networks.
As a Science, Technology, Engineering and Maths (STEM) Ambassador I believe that one of the main challenges facing our industry is ensuring it makes STEM more appealing to students. I particularly believe this is critical for females, as less than 13% of the current STEM workforce in the UK is female.
In what ways has registration benefitted your career?
Registration has allowed me to meet highways professionals from a variety of different companies and make new friends. I was also able to attend the IHE Mercia Branch 2019 Awards in Birmingham, which was a fun evening, and myself and a colleague won a highly commended for the Safety and Innovation Project of the Year Safety Week 2018. Professional registration also broadens the type of work I am eligible to undertake and has increased my confidence while approaching new tasks. It also provides me with resources to work towards my goal of becoming Chartered.
How does your employer benefit from your professional registration?
My employer benefits from my professional registration by demonstrating their commitment to developing their workforce and encouraging everyone to achieve.
Is there any advice you would pass on to someone considering professional registration?
Make sure you maintain logs of all your Continuing Professional Development (CPD) activity and particularly interesting or challenging projects you have worked on. This will save you a lot of time when it comes to finalising your submission.
Almost all of my local team members have been through the process of Engineering Technician (EngTech) registration. While I wanted to pursue the IHE route, the ICTTech title seemed to better align with my day-to-day work. My daily tasks tend to include more development control, local junction modelling and data analysis than the "hard" engineering the EngTech reflects, therefore, the ICTTech felt a good way to get my foot in the door. I'd advise thinking about the range of professional registration titles available, to see what's right for you.
Where do you see yourself in your career in five years' time?
Within the next five years I hope to have completed registration as an Incorporated Engineer (IEng), been promoted to a Senior Transport Planner and be along my way to becoming Chartered!
Outside work, is there any activity you enjoy doing in your spare time that relates to engineering? For example, do you participate in mentoring, volunteering or membership of other engineering groups?
I'm a STEM Ambassador, Positive Mental Health Champion at work, and sit on the Junior Leadership Team within my business unit in Jacobs. In addition to this, I have assisted graduates with completing their Graduate Development Programme at Jacobs.