Shakir Tahir IEng MIET
Published: 13/02/2017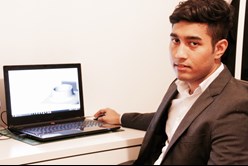 Education and qualifications: PGC Technology Management, BSc (Hons) Engineering, Northampton University, BSc Open, HND Mechanical Engineering
Which Institution(s) are you a member of? Institution of Engineering and Technology
Current job title: Independent Mechanical Design Engineer
Company: STSS Aeronavales Ltd
Length in current job: 2 years
Approximately how many staff are employed by your company? I am a self-employed, solo practitioner.
Where are you based? Southampton, Hampshire, United Kingdom
Please describe your current role
As an Independent Mechanical Design Engineer I carry out professional services on behalf of third party clients. I'm currently working alongside a medium-sized Dorset company on a submarine's on-board, naval communication rig. I have taken part in various stages of the project including leading the engineering team that delivered the design and manufacture of various power distribution/supply units, which were later qualified and commissioned. In a nutshell, I specialise in delivering structurally robust, reliable and thermally efficient electro-mechanical systems that operate in harsh environments.
Alongside this work, as a self-employed engineer I always have administrative jobs to ensure the smooth running of the business.
Please provide a brief outline of your career so far
I started my journey in engineering in 2007 as an apprentice for a multi-national defence corporation known then as SELEX Sensors and Airborne Systems. At SELEX I had the opportunity to work with industry-leading experts on some of the world's most advanced military products and technologies.
I completed my Apprenticeship in 2011 with a Higher National Diploma in Mechanical Engineering in hand. I then applied to become professionally registered as an Engineering Technician (EngTech), and my application was approved in the same year. My Apprenticeship provided most of the evidence I needed to become an EngTech so it was a straightforward process. I would certainly recommend Apprenticeships, they are a great way to get into the job market early, learning and getting paid at the same time.
I took the initiative to further my studies. In 2014 I completed an honours degree in Engineering at Northampton University. Two years later I finished a post-graduate programme with the Open University.
In 2014 I also had a short but eye-opening period of working for Smiths Connectors as a design engineer. I was part of the team designing interconnect solutions for aerospace, both for civil and military applications. Interconnect design, which requires knowledge of both electrical and mechanical engineering, reflects the type of engineer that I am today; an Electro-Mechanical Engineer. In January 2015 I took the leap to form my own limited company to work on a contract basis. I have not looked back.
Have you worked on any unusual or high profile projects?
Working predominantly in the defence sectors has meant working with a lot of cutting-edge technologies. Based on the sheer size of the work package, the most high profile project I have been involved in was working on the Eurofighter Typhoon. I was involved in mechanical design of the aircraft protection suite, such as integrated sensors, decoys and cockpit display units.
I have taken part in various decoy projects, working on sensors and targeting devices for various military platforms including helicopters and sea vessels. I have also had opportunities to travel for trial and fit activities to support those programmes. Currently I'm working on the Royal Navy's most advanced submarine fleet
What spurred you to work towards registration as an Incorporated Engineer (IEng)?
As the world becomes smaller through globalisation I certainly believe in the idea of engineers without borders. Professionally registered engineers are highly respected, not just in the UK but throughout the world. I have plans to leave the UK and so felt that progressing to become professionally registered as an IEng would open up more opportunities for me in the future. It is also evidence of my tenacity and hard work and sets me apart from potential competitors.
How did you become registered as an IEng?
The process was quite straight forward. I took advantage of the career manager tool on the Institution of Engineering and Technology (IET) website. It allowed me to self-assess my skills and knowledge against the UK Standard for Professional Engineering Competence (UK-SPEC) and record my achievements as I progressed through my career.
I also had a mentor, a former supervisor, with whom I had discussions roughly every fortnight via Skype. It took me a few months to compile all the necessary reports and evidence, including waiting time for the panel assessment and interview.
How has professional registration as an IEng benefitted your career?
While it is still quite soon to assess the impact of IEng registration, I have already experienced significantly improved call backs from potential clients. What is certain is that the responsibilities that come with the title have made me a better engineer. It has changed my approach to decision-making, knowing that I must abide by a professional code of conduct, sanctioned by the profession.
What advice would you give someone considering professional registration as an IEng?
Assess your competences and skills against UK-SPEC to decide if you are ready to apply. If possible, get yourself a professionally registered mentor who can help you to assess your experience and competences against the standards set for IEng, or even CEng. You may be surprised to find out how ready you really are.
As a self-employed engineer, what is the value of being professionally registered?
From my own experience, I have always highly valued working with professional engineers, knowing that they are reliable and have worked hard to get to where they are. I would like to see more engineers go for professional status.
Clients are more frequently demanding that engineers are professionally registered as either a Chartered Engineer (CEng) or Incorporated Engineer. Being an IEng is another box ticked for potential business wins. I am urging my fellow self-employed engineers to do the same to make them stand out in the increasingly competitive job market.
HM Revenue & Customs also acknowledges the positive impact of professional registration, by allowing any costs incurred to be declared as expenses. As a self-employed engineer this opportunity meant I could reduce the amount of corporation tax liable to the business.
What are your future goals?
My ultimate goal is to become a Chartered Engineer. Having recently completed my Post Graduate Certificate, I plan to work towards a Postgraduate Diploma and eventually an MSc in Technology Management. All of this, combined with further work experience, will reinforce my application to become chartered.
My ethos is that knowledge is for sharing. My partner and I are both engineers and one day I would like to be in position where we both can work together to promote engineering to young adults from poor families in less developed parts of the world.
Shakir Tahir IEng MIET


Registered: 2016