Rebecca Hatch MBA IEng MILP
Published: 16/05/2023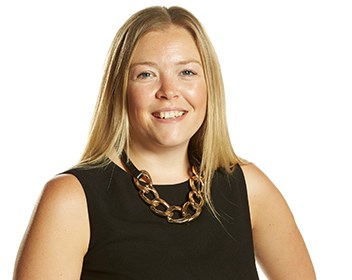 Education and qualifications:
MBA Masters in Business, London South Bank University
Institution of Lighting Professionals Exterior Lighting Diploma
HNC Electrical & Electronic Engineering
Job title:
Head of Business – Lighting and Energy Solutions
Employer:
WSP
What inspired you to become an engineer or pointed you towards an engineering career?
Like many, I didn't consciously choose engineering - I always leaned more towards science and technology subjects than arts and literature but it was a job opportunity that led me into my career. I was unsure (like most) when leaving school what I wanted to do, what I wanted to be. An open day was being held at Atkins who had an office close to where I lived so I went along just to see. After meeting with the then team leader for the Lighting Department, I was offered a position as a Junior Technician with support for day-release to college to study. Still very unsure but equally knowing I didn't want to go to university and start a degree that I didn't know the purpose of, I said yes to the position, enrolled at college to complete HNC in Electrical & Electronic Engineering and found my passion for lighting. Seventeen years later and I am still as enthusiastic and still learning every day. I wouldn't change the route I took into the industry but if anyone is considering a career in engineering now, I say jump in feet first – you won't look back.
Please describe your role or position within your workplace.
I am the Head of Business for the Lighting and Energy Solutions team for WSP in the UK. I focus on business direction, leadership and strategy. We are a team of approximately 70 lighting professionals in the UK and over 200 globally. The team includes a diverse mix of lighting engineers, electrical engineers, architectural lighting designers, technical experts, project managers ranging from apprentices and graduates to directors. We design and advise on all aspects of lighting and electrical, including environmental considerations, expert witness testimony, energy reduction strategies and electric vehicle infrastructure. I report to our Head of Discipline Intelligent Transport Services and am part of our Senior Leadership Team. 
Can you describe a typical working day?
I don't believe there is a typical day anymore, and to me that is what keeps it interesting and allows us to continually grow and develop as people and professionals. I have described a senior leadership role previously as 'the fixer of others problems.' What I mean by that, is not that I literally fix them but that in my role my first duty is to support my team in whatever manner they need, be it solving a technical issue on a complex project or emotional support with a challenge they are facing at home or at work. In any given day I likely spend 60% of my time in meetings with my team or with clients and am always keeping an eye on industry news and changes in the market that might impact us or our clients.    
Are there any particular challenges or unusual aspects to your role?
Change is the only constant, so for me the ongoing challenge is managing and foreseeing change. Change is happening every day; we work in a complex environment where we need to have our eyes wide open to stay ahead of the game. We use the term 'Future Ready' at WSP, and we consider this in all aspects of what we do, incorporating into our design practices, when building our teams and advising our clients.
What do you find most enjoyable about your job?
Working with a diverse team of people who are world-leading experts in their fields and learning from them every day.
Is there a great professional achievement or high-profile accomplishment that you would like to tell us about?
On 24 May 2023 I will become President of the Institution of Lighting Professionals (ILP), which I am extremely proud of. I have been an active member of the ILP since joining the industry and in 2009, I co-founded a group within the ILP called the Young Lighting Professionals (YLP), for those new to the industry, like I was, under 35 years of age. To see that group grow and form a mature committee over the years has been extremely rewarding, and as a previous YLP Chair to now be on the ILP Executive Board of trustees and to become President gives the current young lighting professionals the confidence that they can progress through the institution to reach Presidency. I am joined on the current ILP Exec Board by three other YLP past chairs, which makes it all the more exciting.
What contributed to your decision to become professionally registered?
As a young, female engineer it was important to me to have an industry-recognised qualification to demonstrate to others my position and to back-up the skills and experience I was gaining. It was also important to my employers, as it enables them to demonstrate they employ competent engineers and provide evidence of that for tenders or contract bids.
In what ways has registration benefitted your career?
For me, the Engineering Council provides a level playing field across the engineering sectors. Within the engineering community there is of course variance specialism to specialism, but Engineering Technician (EngTech), Incorporated Engineer (IEng), and Chartered Engineer (CEng) are understood by a structural engineer, a chemical engineer and a civil engineer. Having professional registration has allowed me to progress through internal promotions and seek new roles when I have chosen to move employer, it has also provided evidence of competency when bidding for projects or contracts.
How does your employer benefit from your professional registration?
It's extremely important for my employers to demonstrate they have competent engineers and for our clients who often require IEng or above registration for certain aspects of their work delivery.
Is there any advice you would pass on to someone considering professional registration?
Don't hesitate, talk to your institution or colleagues to find out the route for you and put your application in. There is so much support available to help you to achieve the right registration for your role. There is no wrong route or career, we are all pretty unique and the process allows for that variation. There will be a route for you to demonstrate that you meet the criteria. The worst result is that the process identifies areas you can improve on and then you can re-submit.
Where do you see yourself in your career in five years' time or what are your future ambitions?
I have never been someone who likes to write a five or 10 year plan, I am more of a year to 18 month goal-setter. However, over the next five years I plan to continue to lead my team through the next transitions we face post-pandemic and with a hybrid working environment, continue to grow and diversify. I will have completed my year as President of the ILP and will be serving as a Past-President for the following year. There are two key areas I am passionate about, firstly; the contribution as engineers we can make to achieving net zero and preventing further damage to our planet, and secondly; the continual challenge of diversity, inclusion, and equality (not just in engineering but in all aspects of life), supporting other women, young people and other minorities to come into our industry and to succeed.
Outside work, is there any activity you enjoy doing in your spare time that relates to engineering? For example, do you participate in mentoring, volunteering or membership of other engineering groups?
I am a member of Science, Technology, Engineering and Maths (STEM) Learning and try to volunteer where I can, to promote engineering to school pupils. My favourite to date was at a local all-girls school where in teams the pupils had to use sustainable energy to power an LED light. It was great fun and I got to judge their presentations at the end of the day.