Oliver Mackley BSc (Hons) IEng MIMechE
Published: 18/07/2019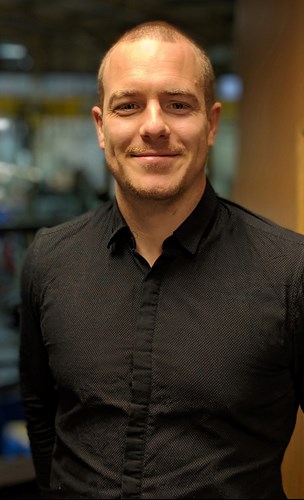 Education and qualifications:
Advanced Apprenticeship Mechanical Engineering
BSc (Hons) Mechanical Engineering
HND Mechanical Engineering
HNC Mechanical Engineering
Job title:
Engineering Manager
Employer:
Jena Tec Precision
What inspired you to become an engineer or pointed you towards an engineering career?
I think Lego played a big part in it. I used to love making the models and then modifying them to make them better. My dad is an engineer and growing up around him gave me exposure to problem solving, project management and tools. I started in an apprenticeship as a design engineer and now I can't imagine doing anything else.
Please describe your role or position within your workplace.
I am the Engineering Manager of a precision equipment manufacturing firm. I also act as the quality manager so my role within the business is highly cross-functional. I lead a team of engineers and we design and manufacture high precision machine spindles and linear technology. I aim to inspire excellence within the entire team through what I say and do.
Can you describe a typical working day?
A typical day will include a mixture of inspection, physical testing, design work, talking to customers and suppliers, reviewing procedures. Working for a small firm requires you to work on many different projects at the same time.
Are there any particular challenges or unusual aspects to your role?
The most unusual aspect of my role is the type of product; not many places still manufacture machine tool spindles in the UK. Suppliers are generally excited to work with us because our projects involve some unusual and interesting problems. One challenge comes in finding machining suppliers capable of producing high quality work, so we value those that we use.
What do you find most enjoyable about your job?
All the subjects I enjoyed at college are brought to life in my job; material science, thermodynamics, fluid mechanics and angular momentum. The products I work with involve all the best bits of mechanical principles. There are a number of strange phenomena that you run into when you work with microns: sticking two parallels together still makes me smile every time.
Is there a great professional achievement or high-profile accomplishment that you would like to tell us about?
I'm most proud of my degree in Mechanical Engineering. I completed that while working full time, so it was a big commitment and it taught me a lot.
What contributed to your decision to become professionally registered?
During my career I have worked with many knowledgeable and skilled engineers. One was professionally registered, and he inspired me to pursue membership with the Institution of Mechanical Engineers (IMechE).
In what ways has registration benefitted your career?
My career has benefitted from professional registration because it is clear to others that I take my role seriously. My colleagues know that they can question my judgement without me taking it personally and they know they can come to me with problems because I find solutions without looking for people to blame.
How does your employer benefit from your professional registration?
My employer benefits from a rich communication channel between the senior management team and the rest of the workforce – that means we can make changes that really help the business. Additionally, professionally registered engineers are obliged to continue their own development, so my employer can trust that I will continue to learn and develop my skillset.

Is there any advice you would pass on to someone considering professional registration?
Achieving professional registration is a great feeling, and I see the effects it has on those I work with. I think a positive work ethic is contagious. The journey that gets a person to professional registration is the best part though - I have learned so much and met some great people.

Where do you see yourself in your career in five years' time or what are your future ambitions?
I am aiming for excellence and I'm really interested in communication, so I want to be in a position where I can work with other engineers to help them achieve more. I aim to be leading a team of engineers in developing something that really improves the world through engineering, I want a MacRobert Award hanging on my wall. The award, presented by the Royal Academy of Engineering, is the leading prize recognising UK innovation in engineering by corporations.

Do you participate in any other career-related activities, such as mentoring, volunteering or membership of other engineering groups?
I have recently been attending local area committee meetings with the IMechE and led a tour around the Norton Motorcycles headquarters. I'm planning to get more involved with the events they hold to help promote engineering to a wider audience and young, emerging engineers.

Outside work, is there any activity you enjoy doing in your spare time that relates to engineering?
I spend a lot of time with tools in my hands; time with my dad and my friends working on cars and bikes. Anything with wheels and I'm hooked. I also spend a lot of time reading. I've recently focused on communication and emotional intelligence; two interesting subjects which I think are extremely relevant to engineers and I plan to develop a deeper knowledge of them both.