Oliver Mackley BSc (Hons) IEng MIMechE
Published: 03/03/2022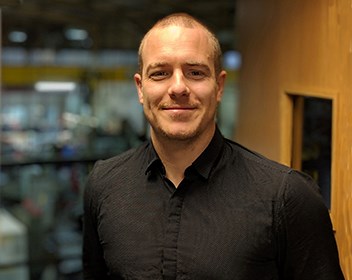 Education and qualifications:
BSc (Hons) Mechanical Engineering, Derby University 
HND Mechanical Engineering, Loughborough College
HNC Mechanical Engineering, Loughborough College
Advanced Apprenticeship Mechanical Engineering, NETA
Job title:
Controls Engineer
Employer:
Rolls-Royce Submarines
What inspired you to become an engineer or pointed you towards an engineering career?
I think Lego played a big part in it. I used to love making models and then modifying them to make them better. My dad is an engineer and growing up around him gave me exposure to problem solving, project management and tools. I started in an apprenticeship as a design engineer and now I can't imagine doing anything else.
Please describe your role or position within your workplace.
I work for Rolls-Royce Submarines on the Dreadnought project. I joined the business and an existing project team within the Electrical, Controls & Instrumentation (EC&I) department where our goal was delivering a Control and Instrumentation System for the Dreadnought class submarine. This project involved working with a manufacturing supplier to design the system, produce a prototype and ultimately validate the design. Since that project successfully concluded I have moved to the System Integration team. In this new role I'm responsible for maintaining documentation for both system design and engineering change control.
Can you describe a typical working day?
A typical day will involve working with internal and external team members to work through the system design documentation. Working at the system level is very different to the design level, which I was in my last team. So rather than very tightly-focused design work I'm now involved in a broader range of activities. I recently carried out drawing updates on a 500-page electrical diagram and I'm currently helping to write some handbook sections – essentially the operating instructions for the power plant.
Are there any particular challenges or unusual aspects to your role?
The product I work with is the most advanced technology I've ever known, so every day I run into something I find a little unusual; exotic materials, manufacturing techniques. I have always been involved with industries that have stringent safety criteria, so in the past I have worked on product development projects that may last for years just due to the amount of testing and validation required on new products. Working in the System Integration team has given me exposure to a broader view of the ship and it's many subsystems, one challenging aspect is dealing with classified information, there is strict protocol in place so you always have to be mindful of this.
What do you find most enjoyable about your job?
Every day I have to smile that I'm so lucky to be a part of this project. The best part is when I learn about a new bit of the ship because it is normally something quite special. Since joining the business I've been fortunate in getting to work with so many different people. I really enjoy working with my new team. They were extremely helpful and I was able to pick up quite a lot of work in a short space of time and now I have a much wider knowledge of the ship systems as a result. I think I most enjoy just being a part of this incredible project. 
Is there a great professional achievement or high-profile accomplishment that you would like to tell us about?
I'm most proud of my degree in Mechanical Engineering. I completed that while working full-time, so it was a big commitment and it taught me a lot.
What contributed to your decision to become professionally registered?
During my career I have worked with many knowledgeable and skilled engineers. One of those engineers was professionally registered, and his work ethic really inspired me to pursue membership with the Institution of Mechanical Engineers (IMechE).
In what ways has registration benefitted your career?
My career has benefitted from professional registration because it's clear to others that I take my role seriously. My colleagues know that they can question my judgement without me taking it personally and they know they can come to me with problems because I find solutions without looking for people to blame. I found professional registration was really empowering for me, and validation of my knowledge and skills gave me confidence to continue my professional development. 

How does your employer benefit from your professional registration?
As a professional engineer I am obliged to carry out continuous professional development (CPD). This year I was selected for CPD audit by the Engineering Council and the feedback I received was reassuring, as it shows I'm doing what's required to ensure I keep developing. For my employer, it is important that staff are professionally registered as the Defence Nuclear Safety Regulator (DNSR) requires Suitably Qualified and Experienced Persons (SQEP) and professional registration, particularly being Chartered, is a preferred route of compliance. 
Is there any advice you would pass on to someone considering professional registration?
Achieving professional registration is a great feeling, and I see the effects it has on those I work with. I think a positive work ethic is contagious. The journey that gets a person to professional registration is the best part though - I have learned so much and met some great people. I think that professional registration is a great opportunity, it allows you to really take control of your own development. Since becoming registered I've been able to steer my own development and that has allowed me to choose my career path.
Where do you see yourself in your career in five years' time or what are your future ambitions?
I am aiming for excellence and I'm really interested in communication, so I want to be in a position where I can work with other engineers to help them achieve more. Regarding future ambitions, I aim to be leading a team of engineers in developing something that really improves the world through engineering, I'm very interested in sustainability and the environment – I would love to see a MacRobert Award hanging on my wall. The award, presented by the Royal Academy of Engineering, is the leading prize recognising UK engineering innovation.
Outside work, is there any activity you enjoy doing in your spare time that relates to engineering? For example, do you participate in mentoring, volunteering or membership of other engineering groups?
I've recently been attending local area committee meetings with the IMechE and led a tour around the Norton motorcycle headquarters. One of the comments from my CPD audit was to try and develop away from work to help promote engineering to a wider audience and young, emerging engineers.
I spend a lot of time with tools in my hands; time with my dad and my friends working on cars and bikes. Anything with wheels and I'm hooked. I also spend a lot of time reading. I've recently focused on communication and emotional intelligence; two interesting subjects which I think are extremely relevant to engineers and I plan to develop a deeper knowledge of them both.