George Monks BEng (Hons) IEng AMRAeS
Published: 04/10/2022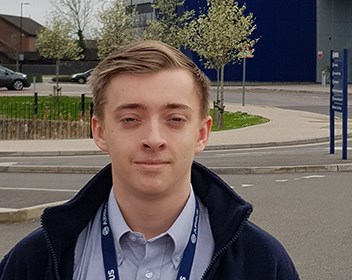 Education and qualifications:
BEng(Hons) Aerospace Engineering (Design), University of the West of England
EAL Level 4 Diploma in Engineering and Advanced Manufacturing, City of Bristol College
EAL Level 2 Diploma in Aerospace and Aviation Engineering, City of Bristol College
A-Level Maths, Physics, DT Product Design
BTEC Level 3 Subsidiary Diploma in Engineering
BTEC Level 3 Certificate in Environmental Sustainability
Job title:
Materials and Processes Engineer
Employer:
Airbus Operations Ltd
What inspired you to become an engineer or pointed you towards an engineering career?
From an early age I had a fascination for cars and aeroplanes. I was curious about how they worked, and had an admiration for the knowledge and expertise required to create them. This passion combined with a natural pull towards Science, Technology, Engineering and Maths (STEM) subjects through my school years, and later resulted in me choosing to attend a University Technical College to do my A-Levels as well as an Engineering BTEC. All of these factors put together encouraged me to do some work experience at a large aerospace company and later a design consultancy in the aerospace sector, both of which I thoroughly enjoyed, confirming that engineering was my calling.
Please describe your role or position within your workplace.
I am a Materials and Processes Engineer at Airbus, a world leading manufacturer of commercial aircraft, where I am involved in multiple different activities in the metallic materials domain.
A large proportion of my role relates to the technical qualification/requalification of our suppliers according to their compliance to both public and company-specific standards. The qualification process, assessment of the technical capabilities of suppliers and what they produce is an important aspect of maintaining the ability to design and manufacture aircraft under the Design Organisation Approval and Production Organisation Approval system. This involves: the determination of qualification test plans outlining what material attributes need to be assessed and by what means; the regular communication and technical exchange with suppliers; the review of test results and associated manufacturer test reports to assess the results versus those set out in the standards and specifications, and the compilation of qualification test reports summarising test results and my analysis of them.
Alongside qualification activities, my role also encompasses research and development in the metallic materials domain as well as interchangeability feasibility studies, which assess where it is technically possible to use one specification versus another, enabling procurement to act efficiently when buying a particular "semi-finished product" (i.e. plates, sheets, tubes).
Can you describe a typical working day?
A typical day starts with a morning check-in with my local colleagues, a chance to discuss technical topics, ideas for better ways of working, and to have personal interaction. Once that is complete, the day will feature meetings regarding team topics and meetings with suppliers to liaise on ongoing and future projects such as qualifications. The rest of the day will be spent looking at test results, evaluating their acceptability versus the specifications applicable, and when projects reach the necessary progression, writing test plans and test reports.
Are there any particular challenges or unusual aspects to your role?
One of the challenges is the differences in communication styles, thought processes, and cultures across the transnational internal team and when interfacing with suppliers from around the world. Reaching a common level of understanding is critical to ensure clarity and accuracy. However, the value of this is the great variety of experiences and perspectives giving input to projects.
What do you find most enjoyable about your job?
As my role is technical but interfaces heavily with a diverse and complex industrial supply base, problem solving and finding new solutions is a regular occurrence in order to keep things running as they should. I need to be able to draw upon knowledge but also think outside the box, and this is something I really enjoy. It is one of the most fulfilling, if challenging, parts of the job.
Is there a great professional achievement or high-profile accomplishment that you would like to tell us about?
In 2021, a colleague and I were able to have a patent application submitted for a novel Non-Destructive Testing (NDT) method on a material that is under research and development. This was a collaborative discovery as part of a wider project characterising the properties of this aluminium-based material.
What contributed to your decision to become professionally registered?
As a young engineer in a, quite rightly, highly regulated industry with an emphasis on competence and safety, it was always important for me to demonstrate my abilities as an engineer, not just in terms of technical knowledge, but the application of that knowledge while acting correctly, ethically and safely. While my degree developed and assessed my knowledge, in my view only a process like professional registration can demonstrate all of those points together.
In what ways has registration benefitted your career?
Registration has benefited me by acting as an indicator and validation of the experience I have gained in my short career to date. This includes my commitment to continuous improvement of myself and others, delivering as required, while prioritising safety and ethical behaviour. This has been especially valuable in gaining the confidence and trust of colleagues from interfacing functions and the various supplier teams I work with on a daily basis, making collaboration to achieve common goals much more effective.
How does your employer benefit from your professional registration?
Linked to how it benefits me as an individual, it is one of many enabling factors in building and maintaining confidence and trust within multi-functional teams and when liaising with supplier organisations, allowing for time to be more effectively utilised.
Additionally, it also demonstrates to the outside world the level of opportunity to develop, learn, and grow available in the company, thus acting as a strong promotion of the company to individuals in the industry.
Is there any advice you would pass on to someone considering professional registration?
Firstly I would say that it is never too early, or indeed too late, to start working towards professional registration, regardless of grade. The value of achieving professional registration is as much in the process as it is in the final sign off, so even if you think it may be years away from the level of experience you have now, or that you'll achieve it fairly late in your career, there is still great value personally in starting the journey.
Secondly, I'd say the process is not a test or exam, and therefore the projects that might help you to demonstrate the UK-SPEC competencies are not set in stone. Mentoring others, involving yourself in activities beyond your daily duties, and seeking learning opportunities through the various professional engineering institutions (PEIs) are all great things to consider to boost your development beyond what is feasible in a fixed role.
Finally, I would strongly emphasise the value added by finding a mentor for your registration and engaging in regular catch-up sessions to discuss in which ways your development is going well and potential avenues to explore to go even further.
Where do you see yourself in your career in five years' time or what are your future ambitions?
I see myself still working in the metallic materials domain, but having gained broader experience across the portfolio of so-called "semi-finished products" we as a team look after. Additionally, I see myself obtaining full membership of the Royal Aeronautical Society (RAeS), and having either achieved or being well on the way to becoming a Chartered Engineer (CEng). Finally, within that five-year period, I aim to have helped my first Incorporated Engineer (IEng) mentees to achieve their own professional registration.
Outside work, is there any activity you enjoy doing in your spare time that relates to engineering? For example, do you participate in mentoring, volunteering or membership of other engineering groups?
Not outside of work but outside of my role, I mentor multiple current apprentices for both placement planning and for working towards IEng status, and am an ambassador for apprenticeships and working in STEM on the platform Springpod, on which school and college students can ask professionals across various industries questions about their roles and how they got to the positions they are in.
Beyond that, and truly outside of work, I am an avid follower of several motorsports, which I enjoy for both the sporting spectacle but also appreciation of the engineering skill and discipline on display.