Dan Herron MSc BSc (Hons) IEng MIMechE MIWater
Published: 28/12/2018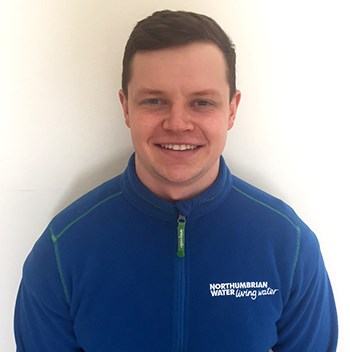 Education and qualifications:
MSc Professional Engineering, Aston University, (Distinction)
BSc (Hons) Mechanical Engineering, Teeside Uni (First class)
Job title:
Mechanical Engineer/Process Support Analyst (secondment)
Employer:
Northumbrian Water
What inspired you to become an engineer or pointed you towards an engineering career?
From an early age I was always a hands-on learner and fascinated with the way things work. As a teenager I was continually stripping and re-building motorbike engines for my personal hobby, and that passion grew into something I pursued as a career. I made the tough decision to turn down a university progression route and selected an engineering apprenticeship, as this suited my learning style at that particular point in my life, and I felt I was tired of classroom learning. Nine years on and I've just completed an MSc, which is considerably longer than if I'd just selected university! I feel this is a result of getting an appetite for practical problem solving and having the desire to develop academically to enhance that knowledge and use it within the working environment.
Please describe your role or position within your workplace.
I am a Mechanical Engineer, responsible for efficient and effective repairs, modifications and improvements to all mechanical components on Northumbrian Water Group's (NWG) water/wastewater treatment locations. The role requires pragmatic problem-solving skills, with awareness to identify and implement engineering solutions to drive operational reliability/efficiency, on a 24/7 basis.
My new role as a Process Support Analyst involves working on NWG's Intelligent Asset Management (iAM) programme to deliver process improvements for the business. I am contributing to the development of the new asset management system and mobile work management devices, and using my engineering expertise to provide the correct technical knowledge for its creation for NWG. Key examples are writing NWG's new Asset Maintenance Strategy and developing a predictive maintenance model for Sewage Pumping Stations.
Can you describe a typical working day?
For example, as a Mechanical Engineer I could be involved in planned work at a sewage treatment works to deliver preventative maintenance on an aeration blower (stripping down fully and replacing consumable components), then halfway through that job I can be called to an emergency at a water treatment works for a chlorine gas leak. On arrival at the site after I complete the necessary safety procedures, I don breathing apparatus and then replace and repair a vacuum regulator to remedy the issue with the leak and resume correct water disinfection operation.
In my role as a Process Support Analyst I could be in a technical workshop discussing the design function of our new asset management system, debating how work will be issued to engineers in the field and what information will be received. Following that, I may attend a meeting to discuss how we can deliver predictive maintenance through simple data analytics from our SCADA software, which would provide evidence to select when best to intervene on that particular asset type.
Are there any particular challenges or unusual aspects to your role?
Every treatment works is slightly different, so as an engineer you have to continually assess the risks from a safety and operational perspective. We mostly work alone, so problem solving skills are paramount to ensure we maintain effective customer service and protection to the environment. There is considerable pressure applied during standby periods, where you are expected to overcome complicated issues 24 hours a day to uphold our service levels to the highest standard.
The business change programme I'm on is the largest project ever in NWG and something we've never tried before, so the opportunity is very exciting. However, it is daunting at the same time because we want it to be a success for the business.
What do you find most enjoyable about your job?
I feel I am empowered to deliver effective continuous improvement in both roles I undertake, which is very important to me. I strive to deliver improvements from a process and engineering perspective and to continually improve our operational efficiency and reliability. The business is also very accommodating to facilitating continuing professional development, which has been very rewarding for me personally.
Is there a great professional achievement or high-profile accomplishment that you would like to tell us about?
As part of my MSc studies I completed a feasibility study on a work-based project for promotion of sustainable savings. My study reviewed the potential of using pipeline hydro-generators to overcome issues on remote water reservoir locations without mains power. The study was so well received by the business and the industry, it was selected to be published in the Institute of Water's first academic journal, Institute of Water Journal (pps 37-45; Issue 1). This was actually the first academic paper I'd ever written, so was a very proud achievement for me.
What contributed to your decision to become professionally registered?
The main goal in my professional career is to become a Chartered Mechanical Engineer, so registering with the Engineering Council and attaining IEng status is very important for me. I feel membership of the IMechE isn't just for my own personal titles, my membership allows me to attend seminars and lectures on subjects I would never get the chance to learn about, so the knowledge-sharing through registration is also a key motivation for me.
Tell us more about the process of how you worked towards registration.
Once I'd completed my BSc I met the academic criteria for registration at IEng level. If I had been aware I would have registered as EngTech first, however I didn't know about this title at that stage of my career. So my first registration was for Incorporated Engineer status. I enjoyed demonstrating my competencies in the application and highlighting areas where I might need to improve. The interview process was challenging but also rewarding. Everyone going through the process should see the interview as a presentation of their career achievements. It's not something to be dreaded, it's a showcase of how valuable you are as an engineer.
Currently I'm working towards CEng status which is really interesting. Now I meet the academic criteria, I have assessed my competencies against UK Standard for Professional Engineering Competence (UK-SPEC) and have undertaken two projects to fulfil some of the criteria I was lacking experience in. Reviewing yourself against UK-SPEC is a great exercise to benchmark your competencies against the recognised standard.
In what ways has registration benefitted your career?
Achieving IEng status has really opened doors for me within NWG. My hard work academically and professionally resulted in me being specifically chosen to join the transformation programme to deliver improvements for the business.
How does your employer benefit from your professional registration?
My continual learning through professional registration is rewarding for NWG, I transfer the knowledge learnt from other industries and apply the logic to improve process within NWG.
Is there any advice you would pass on to someone considering professional registration?
Absolutely do it! It's the biggest and best step you can take in an engineering discipline, which will certainly accelerate your career towards great things.
Where do you see yourself in your career in five years' time or what are your future ambitions?
Hopefully I should have attained CEng status. I'm also considering the potential of undertaking an Engineering Doctorate to further my academic study and professional development. My desire is also to gain a further promotion within the business to a more senior engineering role, and hopefully, one day, become a Fellow of the IMechE and begin helping others to take the same path as I did.
Do you participate in any other career-related activities, such as mentoring, volunteering or membership of other engineering groups?
Since completing my MSc, I have set up a mentoring programme which supports the students on the distance learning course I completed. It was clear there was support needed from previous students, so I have worked with Aston University to set up this mentoring group. I am also a Science, Technology, Engineering and Mathematics (STEM) Ambassador within NWG, which involves going to schools and universities and demonstrating what a STEM career with NWG could do for those who wish to pursue it.
Outside work, is there any activity you enjoy doing in your spare time that relates to engineering?
I'm a keen re-builder of trials and motocross bikes for my own personal hobby. I build some to ride and enjoy myself, but also re-build run-down units and re-circulate them back into the system.