Charlene Wortley IEng MICE MCIHT
Published: 29/04/2022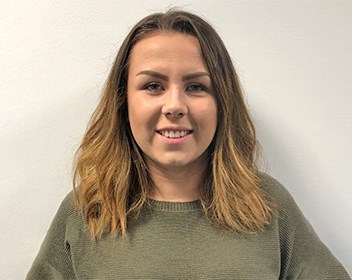 Education and qualifications:
BSc (Hons) Civil Engineering, Leeds Beckett University – 1st
HND in Civil Engineering, Leeds College of Building – Merit
A-Levels in Maths and Chemistry
Job title:
Senior Engineer
Employer:
SCP Ltd (Specialist Transportation Planning)
What inspired you to become an engineer or pointed you towards an engineering career?
When I was younger I had a fascination with buildings, but didn't want to be an architect, or a builder – which I thought were my only options. After a couple of years of being uninvested in my A-Levels, a peer from school, who had gone on to Leeds College of Building (LCB), was telling me about civil engineering and that's when I decided I wanted to do that and become a structural engineer. When I started at LCB I quickly realised there were other fields of civil engineering that were interesting too. Shortly after that, with the help of the LCB careers team, I applied for an apprenticeship with SCP and transferred to the part-time Civil Engineering course.
Please describe your role or position within your workplace.
I'm a senior engineer at SCP (Specialist Transportation Planning & Infrastructure Design), where I project manage highways and drainage schemes, for both public and private sector clients. This has included the progression of Section 278 (of the Highways Act 1980) highways designs – where we make permanent alterations or improvements to a public highway to accommodate new developments; Section 104, 102 and 106 agreements (of the Water Industry Act 1991) which include the provisions of new drainage infrastructure. We are generally involved from the planning through to the construction phase and are engaged with the client, the council and the contractor up to the 12-month maintenance period after completing the initial work. This is to ensure a smooth handover to the authority and achieve final completion.
In my role I also write technical reports on design assessments, design philosophies and constraints reviews. I used to be involved with drawing production but I now manage others on this, and I am the first or second checker as part of the quality assurance (QA) process. I am still involved in micro-drainage modelling and am currently undergoing training in OpenRoads software for 3D highways modelling.
Can you describe a typical working day?
At the start of the day I check in with junior members of staff. Each day varies in terms of my workload, but the spread is around 20% supporting junior staff and internal meetings, 50% report writing, modelling, and checking, and 30% meetings with clients or the council, or project management, finances, invoices etc.
Are there any particular challenges or unusual aspects to your role?
I didn't anticipate progressing into project management so quickly and do wish that my role had remained more technical for a little while longer. However, I feel the apprenticeship encourages fast progress to meet the competences of commercial ability, management and leadership for Incorporated Engineer (IEng) status. If I hadn't become involved with these tasks I wouldn't have been ready to sit the End Point Assessment (EPA) when I did. I think this is what many of my peers have struggled with, as they have remained in technical positions for the duration of their apprenticeships.
What do you find most enjoyable about your job?
I especially enjoy technical items and problem solving. I think most engineers are introverted and love to get into the technical gritty bits of information, rather than doing the outward facing tasks like liaising with clients and the authorities who we seek approvals from.
Is there a great professional achievement or high-profile accomplishment that you would like to tell us about?
During my apprenticeship I have been fortunate to win the following accolades:
2017 Individual Award – North and West Yorkshire Chamber of Commerce, Raising the Bar Awards
2018 ICE (Institution of Civil Engineers) Quest Technician Scholar
2018 CIHT (Chartered Institution of Highways and Transportation) Apprentice of the Year, Yorkshire and Humber
2018 Leeds College of Building Apprentice of the Year Award
2018 G4C Higher Education Student of the Year Award
2020 ICE (Institution of Civil Engineers) Quest Technician Plus Scholar
What contributed to your decision to become professionally registered?
Sitting an EPA (End Point Assessment) was a condition of my tripartite contract with my employer and Leeds Beckett University as part of my degree apprenticeship. During the assessment with the Institution of Civil Engineers (ICE) it seemed obvious that it would be beneficial to apply for Incorporated Engineer (IEng) status as part of this. My long-term goal is to become a Chartered Engineer (CEng), and going through the process of obtaining IEng has helped to keep me motivated and focused. Becoming professionally registered has also provided benefits including increased confidence when visiting site and meeting new clients – both my own confidence and others' confidence in my abilities.
In what ways has registration benefitted your career?
I received a promotion to Senior Engineer on receipt of IEng status. I had been performing to this level for some time, but my company were waiting for me to receive professional qualification before giving me the promotion. This wasn't something I was aware of, but it was nice to receive. I also got a pay rise.
I would say registration has boosted my personal confidence, and again increased others' confidence in me. A lack of confidence in your own abilities can come across negatively in networking or marketing situations, and I've found my engagement with clients has improved since achieving my IEng professional qualification.
How does your employer benefit from your professional registration?
Council frameworks require a certain amount of Chartered or Incorporated Engineers within a team, so having professionally qualified people in the team boosts our company's eligibility to apply for frameworks, which provide a more consistent flow of work for our team.
Is there any advice you would pass on to someone considering professional registration?
Start as soon as possible. Thinking back over your experience can be a time-consuming and tedious activity. It's been extremely beneficial using ICE's IPD Online tool to track and log initial professional development (IPD) experiences and attribute sign off. This is much better than just relying on quarterly reports to log experience. Ensure that you have supportive mentors and people around you who you can learn from, and ask them questions about how to satisfy criteria. It's so important to have people who you can brainstorm with, who will support you in your application, check and complete mock interviews, and help you prepare.
Where do you see yourself in your career in five years' time or what are your future ambitions?
My aim is to be a Chartered Principal Engineer.
Outside work, is there any activity you enjoy doing in your spare time that relates to engineering? For example, do you participate in mentoring, volunteering or membership of other engineering groups?
I enjoy volunteering as a Science, Technology, Engineering and Math (STEM) Ambassador and going into schools to promote the industry, as well as mentoring apprentices and graduates within my team (four in the Leeds Office). I am also the current CIHT Chair of the Young Professionals committee for the Yorkshire & Humber region, which involves organising events for the region to boost membership, and includes guidance on routes to professional qualifications.