Caitlin Stuart BEng IEng ACIBSE
Published: 26/02/2021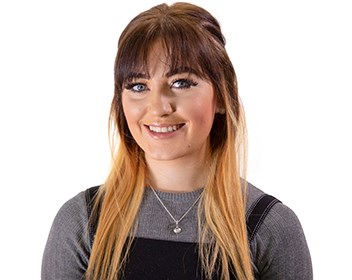 Education and qualifications:
BEng (Honours) Building Services (2:1), London South Bank University
Building Services Engineering BTEC (Distinction)
Job title:
Building Services Engineer (Electrical)
Employer:
Troup Bywaters + Anders
What inspired you to become an engineer or pointed you towards an engineering career?
Family influence - my dad has always been an engineer working both on site and in project management, and growing up I was always interested in engineering and design. He suggested I applied for an apprenticeship at Troup Bywaters + Anders once I finished my A levels, and I have been here ever since! I was also encouraged to pursue engineering as a career by my form tutors and teachers while completing my GCSEs and A levels, and I received so much support from my school. At school I had basic understanding of computer aided design (CAD) which led me to now having seven years' experience in the industry!
Please describe your role or position within your workplace.
My role as a Building Services Engineer is to design electrical systems within buildings. This can be anything from lighting systems to fire alarms, power requirements, security, and building infrastructure. The designs involve calculating different elements, liaising with clients and team members, using CAD and Revit to draw up designs, and responding to technical information. Pre-Covid I would also spend a certain amount of time on site, reviewing the installations, completing testing of systems and attending design team meetings.
Can you describe a typical working day?
A typical working day would be liaising with team members and completing drawings, calculations and schedules for a number of different projects. A typical day would not always be in the office, as I also attend different sites and client meetings.   
Are there any particular challenges or unusual aspects to your role?
I think a main challenge of my role is the health and safety aspect. Knowing I have full control of designs means that I need to be aware of the risks involved to the end user. While attending site it is also crucial to have health and safety as a top priority for myself and others around me.
What do you find most enjoyable about your job?
The most enjoyable aspect of my job is working on a project from the concept phase through to seeing the completed product. Knowing how much work has gone into the design, seeing the final building is a great feeling!
Is there a great professional achievement or high-profile accomplishment that you would like to tell us about?
I think the biggest achievement of my professional career so far would firstly be completing my degree at London South Bank University and achieving Incorporated Engineer (IEng) status. However, a personal highlight would be winning the 'Apprentice of the Year' award in 2015 with Women in Science and Engineering (WISE). The award was presented by HRH Princess Anne and is an achievement I will always be incredibly proud of.
What contributed to your decision to become professionally registered?
As I started Troup Bywaters + Anders as an apprentice, becoming professionally registered was always an 'end-goal'.
We were actively encouraged to build evidence and meet criteria throughout our careers and log any important milestones we achieved. Being professionally registered is also a great way to instil confidence in current employers, possible clients and colleagues, that I am competent enough to perform my current and future roles.
In what ways has registration benefitted your career?
Having professional registration has meant I was able to complete my apprenticeship and move up within the company, I am now trusted to take on more responsibilities and lead projects which is a goal I wanted to achieve throughout my career.
How does your employer benefit from your professional registration?
My company has seen my professional registration as a huge benefit, as it demonstrates my competence and commitment both internally and to external clients.
Is there any advice you would pass on to someone considering professional registration?
If you're considering registration – do it! There is nothing to lose from becoming professionally registered, all of the hard work and dedication 100% pays off in the long run. It opens an entirely new range of career opportunities and future ventures!
Where do you see yourself in your career in five years' time or what are your future ambitions?
In five years my aim is to be a senior electrical engineer and have completed my next step in professional registration. I would like to have more of a leading role on projects and really develop my site-based knowledge. I am also considering going back to university to complete my Masters degree. In terms of long-term goals, it has always been an ambition of mine to become a partner at the company I work for.
Outside work, is there any activity you enjoy doing in your spare time that relates to engineering? For example, do you participate in mentoring, volunteering or membership of other engineering groups?
Outside of work I am an ambassador for the WISE campaign, which involves encouraging the next generation of young engineers to pursue careers in engineering. I've attended a number of careers events, participated in apprenticeship conferences, been to the House of Commons and the BBC to promote apprenticeships and showcase my experience as an apprentice engineer. I also help to mentor the younger engineers within my company and have helped shape the apprenticeship scheme throughout my career with Troup Bywaters + Anders.