Alexandra Keeler BEng (Hons) IEng MIMechE
Published: 21/07/2022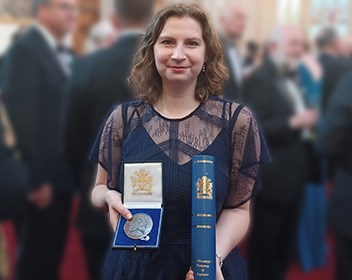 Education and qualifications:
BEng (Hons) Mechanical Engineering, University of Leicester
Job title:
Overhead Line Design Engineer (Mechanical Engineer)
Employer:
Amey
What inspired you to become an engineer or pointed you towards an engineering career?
I was fortunate enough to go on work experience to Airbus in Year 10, this was my first experience of engineering, and it really opened my eyes to the opportunities available in this career. Working on the A380 Landing Gear Test Rig was a great insight into the problem-solving aspect of engineering, which really appealed to me. I then completed work experience at Rolls Royce in Year 11, which furthered my resolve to become an engineer. I always enjoyed Maths and Physics and although Physics was not my strongest subject, I learnt through school that finding a subject interesting made a much larger impact than academic success. This is a lesson which I have taken with me through my career.
Please describe your role or position within your workplace.
My role is an Overhead Line Design Engineer on the railway, which is a form of mechanical engineering. My role consists of designing the mechanical system that holds the overhead line in place; this includes the wire itself, the equipment directly attached and the large steelwork. This ensures the pantograph remains in contact with the wire to ensure power is successfully delivered to the train. I am a line manager to three individuals and a mentor to two individuals, which I find very rewarding. I am also a Mental Health First Aider which I am very passionate about in addition to engineering.
Can you describe a typical working day?
The best summary of my working day would be problem solving. Our main objective is to create a design for the overhead line and produce related deliverables for the client, such as cross sections and layout plans. This involves understanding the design constraints and then completing mechanical calculations to create our design.
Are there any particular challenges or unusual aspects to your role?
The main challenge in my role is to combine the designs of teams from multiple disciplines across the railway and beyond, to ensure that all the designs work together to obtain the best outcome. However, this is a positive as it allows me to understand how each discipline approaches design, which in turn improves my design in collaboration with others.
What do you find most enjoyable about your job?
I most enjoy the problem-solving aspect of my job. Each day there is a different problem to solve, with a different combination of either individuals or technical information, allowing me to keep learning and broadening my understanding. Problem solving gives me the opportunity to assist with design decisions and help junior staff with their understanding.
Is there a great professional achievement or high-profile accomplishment that you would like to tell us about?
In July this year I was awarded the Baroness Platt of Writtle Award for 2022 which is my biggest achievement to date. This award is for the most outstanding individual registered as an Incorporated Engineer (IEng) each year. It is an incredible honour to have presented my career to such esteemed engineers in addition to the opportunities winning this award has presented.
Achieving my IEng status was the highest achievement until April of this year, as I felt it gave me the opportunity to share my journey, while providing an insight into my passion, not only for my role and industry but all the areas I am actively involved in.
What contributed to your decision to become professionally registered?
I have always been encouraged by my company to apply for professional registration. In addition to this I was in the process of being promoted from an assistant engineer to an engineer, and I knew this would confirm the promotion while giving me an opportunity to review my career and prove to myself that I met this professional standard.
In what ways has registration benefitted your career?
Registration has benefitted my career by establishing me at the professional level of a designer and has also given me new opportunities such as discussing my registration process and helping others with their applications.
How does your employer benefit from your professional registration?
My IEng status represents my ability to be a design engineer and provides our clients with this information. Amey also benefits as I have shared my experience of this process with my team and beyond, to assist others with their professional registration applications.
Is there any advice you would pass on to someone considering professional registration?
The written application for my professional status provided me with the opportunity to reflect on my career thus far and better understand how each opportunity had developed my skills in a variety of areas. It was also a useful exercise to highlight possibilities for future development. Therefore, I would highly recommend it to anyone considering it. It is also a great opportunity to gain a position at the level that IEng sets.
Where do you see yourself in your career in five years' time or what are your future ambitions?
In five years' time, my ambition is to be a senior engineer leading a team of junior engineers on a project that will help develop their careers. I will continue to promote my discipline and the railway sector to encourage the next generation to pursue Science, Technology, Engineering and Maths (STEM) careers. I wish to further my line management experience to help grow my team and enable them to achieve their goals. I also wish to be a leader in mental health for my company, continuing the work I have done so far to assist in improving understanding around mental health.
Outside work, is there any activity you enjoy doing in your spare time that relates to engineering? For example, do you participate in mentoring, volunteering or membership of other engineering groups?
I am a registered STEM Ambassador and also was successful in being chosen for the first cohort of the Stemazing Inspiration programme. This programme culminated in me delivering twelve STEM sessions to primary age children to introduce them to STEM and inspire the next generation. This opportunity enabled me to be a role model for STEM which I am passionate about, improve my presentation skills and engage with individuals across technical and company boundaries.