Tony Evans BSc (Hons) EngTech MIFireE
Published: 08/03/2023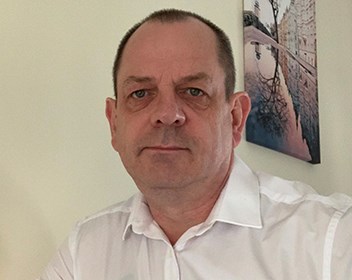 Education and qualifications:
BSc (Hons) Fire Safety, University of Central Lancashire.
Job title:
Fire Engineer
Employer:
Tenos 
What inspired you to become an engineer or pointed you towards an engineering career?
The main inspiration for a career in fire safety dates back to when I was in the Royal Navy. Before joining a ship, we had to be trained as firefighters and the knowledge I learnt from the training pushed me to research potential career paths after leaving the Royal Navy. Eventually, I decided to study at university and gain a solid foundation in Fire Safety.
Please describe your role or position within your workplace.
I am currently employed as a Fire Engineer at Tenos Ltd. Our work includes fire engineering design, fire safety management and fire expert witness related projects. My role involves interpreting building design, conducting passive fire protection surveys for expert witness projects, external façade inspections and surveys, fire door surveys and fire risk assessments across all sectors.
Can you describe a typical working day?
We tend not to have a typical working day. Our projects are varied, and part of the challenge is to adapt our approach to meet the specific requirements of our clients. We could be required to inspect an external façade from access equipment 13 storeys high in a mobile elevating work platform (MEWP), attend design team meetings, witness fire burn tests, conduct fire risk assessments or carry out fire compartmentation surveys.
Are there any particular challenges or unusual aspects to your role?
Challenges arise on a daily basis and it is an important skill to be able to take these in your stride and remain focused.
What do you find most enjoyable about your job?
I enjoy the variety of projects and the opportunity to learn from colleagues and other disciplines.
Is there a great professional achievement or high-profile accomplishment that you would like to tell us about?
I am proud to have become professionally registered and plan to work towards further registration titles.
What contributed to your decision to become professionally registered?
The after effect of the Grenfell disaster prompted me to become professionally registered because I felt there would be an increased need for me to demonstrate personal responsibility and competency with the stronger regulation/oversight of the engineering profession.  
In what ways has registration benefitted your career?
Registration has given me recognition within and outside the fire safety industry. Being professionally registered and an Institution of Fire Engineers (IFE) member has also expanded the network of contacts I have.
How does your employer benefit from your professional registration?
Tenos Ltd, whose fire engineering expertise is recognised nationally and internationally by leading architectural firms, developers, private companies and public sector organisations, actively promote professional registration and membership of the IFE. By becoming professionally registered, it further demonstrates Tenos's commitment to designing safe buildings and managing risk, delivering innovative, cost-effective fire engineering solutions for the built environment and investing in its people.
Is there any advice you would pass on to someone considering professional registration?
I would recommend that any individual considering professional registration and IFE membership researches the application process and reaches out to people who are members to get a feel for how they can proceed. It is certainly not as daunting as I thought, and the IFE application guidance documents are very informative and helpful.
Where do you see yourself in your career in five years' time or what are your future ambitions?
In five years I would look to have further developed my professional competencies and have gained either Incorporated (IEng) or Chartered Engineer (CEng) status.