Lauren Cunningham EngTech MICE
Published: 27/05/2021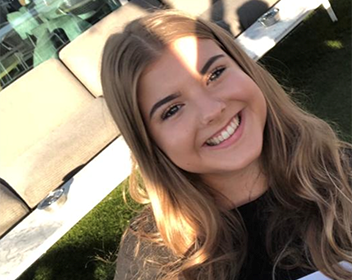 Education and qualifications:
Currently studying for a Civil Engineering degree, on day release, Liverpool John Moores University
Level 3 BTEC – Distinction*
Job title:
Undergraduate Highways Engineer
Employer:
WSP
What inspired you to become an engineer or pointed you towards an engineering career?
I decided to pursue a career within engineering after being one of five children introduced to Science, Technology, Engineering and Mathematics (STEM) as an after school curricular activity during high school. I studied STEM for two years and despite not originally enjoying it, I persevered and began to love it; so much so I opted for Design Engineer Construct!® (DEC) at GCSE.
Throughout the two years studying DEC I was exposed to various aspects of engineering, ranging from civil engineering to mechanical engineering. Civil engineering captured my interest as it gives me the opportunity to design for the next generation, innovate and solve real life problems. It inspires me to improve the lives of others. I have always had a natural inclination to be creative and solve problems. I knew that I wanted to become more involved with civil engineering and explored the field further.
Please describe your role or position within your workplace.
I am an Undergraduate Highways Engineer within the Highways team at WSP. My main roles and responsibilities include:
producing geometric highway design according to standards
producing Building Information Modelling (BIM) models and associated products such as Master Information Delivery Plans (MIDPs) for the contractor
liaising with clients and stakeholders
producing project control framework products, such as design reports, health and safety plans etc.
generating project forecasts
maintaining my Continuing Professional Development (CPD) record and actively working towards Incorporated Engineer (IEng) status with the Institution of Civil Engineers (ICE).
Can you describe a typical working day?
My typical day often consists of working on a large Highways England project producing a deliverable to a tight deadline, whether that be working on an aspect of a design or producing a Professional Capabilities Framework (PCF) document. I often find that the scope of works or the deadline will change and there will be a sit-down meeting to review the progress and ensure that the deliverable will be produced to the new deadline and to budget, ensuring the highest quality.
Are there any particular challenges or unusual aspects to your role?
Every day in my role is challenging, I am always learning new aspects of the job and picking up new skills while doing so. A big challenge was filling in for the Senior Engineer who left suddenly, and delivering the Highways' BIM Model to the contractor, within a tight deadline and to budget. This was extremely difficult as I had to learn on the job and ensure all components were included, so construction could commence when forecast.
What do you find most enjoyable about your job?
My favourite part of my job is mentoring other people. I was fortunate enough to have a fantastic mentor who taught me the ropes and I find it most satisfying to be able to give something back.
Is there a great professional achievement or high-profile accomplishment that you would like to tell us about?
One of my biggest highlights was presenting at the House of Lords on behalf of DEC, a pioneering GCSE which introduced me to the industry and allowed me to have such a successful start to my career. Showing MPs, teachers and head teachers the importance of introducing children to this industry depended on me, both on a personal and professional level. It was important to me because I was able to give back to something which has shaped my career and express how much we NEED the next generation to get involved. How will we maintain, let alone improve, our current infrastructure if they don't?
However, my biggest professional accomplishment was becoming professionally registered with the Engineering Council through ICE. Gaining Engineering Technician (EngTech) status really is the one of the peaks of my career so far and it recognises all my hard work. The pinnacle has to be being nominated for the Jean Venables Medal (for newly qualified EngTechs) and making the final three.
What contributed to your decision to become professionally registered?
I have always been passionate about progressing my career and it wasn't so much a decision, as something I always planned to do. I also plan to keep progressing to become a Chartered Engineer (CEng) in the future. At WSP I head our internal ICE Professional Development Forum, encouraging other individuals to also become registered.
In what ways has registration benefitted your career?
I am now recognised for my ability, which has enabled me to get involved with aspects of jobs I wouldn't have originally been able to. People often stereotype apprentices and undergraduates and hold them back, but by demonstrating that my competence has been recognised by the ICE and the Engineering Council, it has really opened up opportunities where I can push myself beyond the expectations others have of undergraduate engineers' capabilities.
How does your employer benefit from your professional registration?
My employer is now able to demonstrate that all young aspiring professionals, especially women, can have a very successful career within engineering. In terms of scheme performance, my employer benefits financially from clients, as registration will enable me to be charged out at a substantially higher rate, making my work more profitable for the company.
Is there any advice you would pass on to someone considering professional registration?
Undertake the EngTech (or appropriate) preparation course or use whatever support your institution offers. It covers all aspects and fills you with confidence for that important day! Also, practice giving your presentation to a variety of people and ensure you know all about the content in your submission because they can question you on anything in it.
Where do you see yourself in your career in five years' time or what are your future ambitions?
In five years I will have completed my degree, have seven years' experience and be working towards gaining IEng status in the very near future. I hope to go and work abroad in less economically developed countries and make a difference to society there. This has always been my dream.
Do you participate in any other career-related activities, such as mentoring, volunteering or membership of other engineering groups?
Yes, I am a DEC Ambassador, a STEM Ambassador and Chair/Head of our internal ICE Professional Development Forum.
Outside work, is there any activity you enjoy doing in your spare time that relates to engineering?
I really enjoy participating in DEC events and helping the Chief Executive Officer (CEO) shape the curriculum to suit young aspiring engineers so they gain the vital knowledge to enter the industry. However, my favourite part is assisting those coming into the industry, helping prepare their CVs and portfolios, and going through interview techniques! Helping others, as many people have once helped me, is my favourite thing to do.