Euan MacLean EngTech MIMechE
Published: 21/07/2021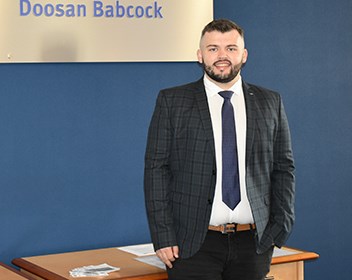 Education and qualifications:
Foundation Degree in Engineering, The Open University
HNC Mechanical Engineering, Glasgow Clyde College
Job title:
Integrity Engineering Technician
Employer:
Doosan Babcock
What inspired you to become an engineer or pointed you towards an engineering career?
In school I had a particular interest in Science, Technology, Engineering and Maths (STEM) extracurricular activities and was involved in the Engineering Education Scheme in S5-6. Coincidentally, this project was working in collaboration with my current employer. My interest in the engineering field stems from having a questioning attitude about how and why things work.
Please describe your role or position within your workplace.
In my current role, I work on power generation, petrochemical and nuclear sites with aging assets to support site inspection and strategise life extension activities. This is achieved through developing inspection plans, managing the execution of inspection scopes on site, and providing post-inspection activities such as fitness for service assessment.
Can you describe a typical working day?
Recently, my day-to-day activities have surrounded a new-build steam generation plant, and carrying out calculations to rank its associated pipework in terms of risk. By prioritising the risk of pipes from high to low, we can target inspection on the high risk pipework, and help the client understand the condition of their plant, while also saving them money when compared to inspecting everything at once. Following this, I develop a scope of inspection works to be carried out at the plant's next available opportunity.  
Are there any particular challenges or unusual aspects to your role?
This type of role when working on client sites requires me to manage multi-disciplinary inspection teams. To do this effectively, a broad knowledge of non-destructive testing and metallurgical procedures is required to ensure tasks are appropriately estimated and carried out. This means one needs to take a 'jack of all trades, master of none' approach through self-study.
What do you find most enjoyable about your job?
There is a good mix of technical knowledge and soft skills involved in this role. As an integrity manager, it is important to use an in-depth knowledge of asset management and use the support from other disciplines to ensure client asset integrity, but it is also equally important how the client interprets this information. This calls upon my written and verbal communication skills and client relationships.
Is there a great professional achievement or high-profile accomplishment that you would like to tell us about?
In August 2020, I was a joint recipient of the Institution of Mechanical Engineers' (IMechE)  Engineering Technician of the Year, for my commitment to professional development and having made a positive difference to my company. In my time as an apprentice, I had also received six other honours, two of which were back-to-back awards.
What contributed to your decision to become professionally registered?
During my apprenticeship, my welding lecturer drummed professional registration into us at every opportunity he could. After being exposed to some high responsibility roles throughout my apprenticeship, I read up on the criteria for registration with The Welding Institute and my experience at that time. I was a registered Engineering Technician (EngTech) at the age of 19.
In what ways has registration benefitted your career?
Being professionally registered opens up new avenues of training and professional development, and also gives you access to a wide community of like-minded engineers who can share resources and expertise on a particular subject. It also helps to build a professional network of peers through institution events.
How does your employer benefit from your professional registration?
Employers benefit from having professional registrants when bidding for prospective work, as this gives clients confidence that the people being supplied for work meet a minimum benchmark of requirements to be suitably qualified and experienced.
Is there any advice you would pass on to someone considering professional registration?
Keep a note of everything you do in your career, major products, times of self-development, lessons learned from successes and areas for improvement. This will help with and galvanise your application which will also make you a much more attractive employee.
Where do you see yourself in your career in five years' time or what are your future ambitions?
In five years time, I hope to continue my studies to a Masters level, and to have completed some vocational inspection certifications. At this point, I would like to be an influencing member of our apprentice recruitment team, being acutely aware of what type of character is needed to complete a modern apprenticeship and exactly what it entails.
Outside work, is there any activity you enjoy doing in your spare time that relates to engineering? For example, do you participate in mentoring, volunteering or membership of other engineering groups?
I am an active STEM ambassador within Doosan Babcock, and have supported local primary and high school events such as career fairs, stalls at parents evenings and educational events. Also, I work with prospective apprenticeship applicants to help them prepare for interviews and assessment centres, and support them as a non-managerial point of contact throughout their time as an apprentice.