Charlotte Jones BEng (Hons) EngTech MICE
Published: 03/10/2023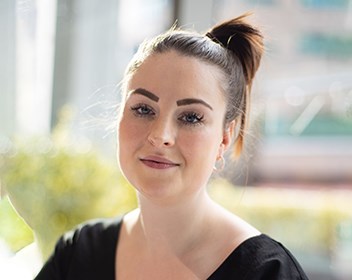 Education and qualifications:
BEng (Hons) Civil Engineering, Coventry University
HNC Civil Engineering, Coventry University
Level 3 BTEC, Solihull College

Job title:
Senior Consultant
Employer:
AECOM
What inspired you to become an engineer or pointed you towards an engineering career?
I started to think about it at school as I really enjoyed Maths, and someone pointed me in the direction of engineering as a possible career. After showing interest in the discipline, I was sent on a work experience placement to a small civil engineering company for two weeks and loved it. I remained with the company as an intern for my final sixth form year, one day a week. They helped me apply for an apprenticeship, as I didn't feel university was the right choice for me due to my style of learning.
Please describe your role or position within your workplace.
I am a Consultant at AECOM and I have a technical and mentoring role within my team. I use microsimulation software to model future traffic scenarios that test the existing highway layout and assess various highway improvement design options. I also support colleagues in their own technical work by helping those who are still learning to use the software. Due to my progression with the Institution of Civil Engineers (ICE), and recently completing my degree, I mentor members of my team through their apprenticeships and professional qualifications. I am also a Road Safety Auditor, which allows me to get out on site and assess the safety of new highway improvements for both motorised and active travel users. A lot of my road safety work is done on behalf of local highway authorities.
Can you describe a typical working day?
Most days I am in the office progressing my projects, which aim to solve congestion issues around specific pinch points and improve performance and safety. This may be for local networks around city or town centres, or at major motorway junctions. I'm in regular contact with my team members, keeping up-to-date with project progression and spend to ensure we stay within budget. When I am on a Road Safety Audit, most of my day will be taken up by travel to and from the site and the site walkover, assessing the safety issues at the location of the proposed scheme.
Are there any particular challenges or unusual aspects to your role?
As I have a technical role on most projects, I'm responsible for regularly meeting with senior colleagues and clients to discuss progress and challenges. In these meetings I explain the findings of the work, using my technical knowledge, which then informs the discussion around the next steps. I have to consider the language I use as they may not have a technical background and I use examples to communicate my message effectively.
What do you find most enjoyable about your job?
I really enjoy doing Road Safety Audits as a team leader, working with different local authorities and at different locations (including overseas!). No audit is the same. Each audit has its own issues to identify, which creates more of a challenge, and I enjoy that. I also like to get away from my desk from time to time; being an auditor allows me to do this, as site visits are a necessity to properly audit each highway improvement scheme.
Is there a great professional achievement or high-profile accomplishment that you would like to tell us about?
In 2018 I won Apprentice of the Year at the Consultancy and Engineering Awards with the Association for Consultancy and Engineering (ACE) and then went on to win the Diamond Award of the evening, which is for the 'winner of winners'. I'm very proud of this achievement as I was featured in many articles, including on the 'Where Women Work' and 'Infrastructure Intelligence' websites. I am also now National Vice Chair for the Emerging Professional with the ACE, which gives me the chance to be part of progress networks and groups, shaping the future of consultancy.
I was also thrilled to be included in the Women's Engineering Society (WES) UK Top 50 Women in Engineering (WE50) list for 2019, which was highlighting present and former apprentices to celebrate International Women in Engineering Day (INWED).
What contributed to your decision to become professionally registered?
The ICE is recognised so widely throughout the industry that membership will benefit me throughout my career. Also, through becoming professionally registered I met the criteria for promotion: I moved from being a Trainee Technician to a Technician, which gave me more responsibility on projects and a nice pay rise. Now that I have achieved professional registration and have gone through that process, I feel motivated to gain further professional qualifications when I am ready to apply. This will benefit my career massively as having those credentials behind me demonstrates my capabilities.
In what ways has registration benefitted your career?
I have been promoted within my company, which has a range of benefits such as being given more challenging tasks, a pay rise and having more responsibility as an employee. I've also been considered by senior colleagues for more projects that AECOM are bidding for, as it shows I have valuable experience within my field and would be a good fit on the team.
How does your employer benefit from your professional registration?
Professional registration demonstrates to AECOM that I am knowledgeable within my field and, as it is widely recognised, it aids AECOM when they bid for different projects. Other organisations will recognise professional registration and see that valued and knowledgeable team members are proposed to be on the project, which positions AECOM more favourably.
Is there any advice you would pass on to someone considering professional registration?
Just go for it! It may seem daunting or scary but there are so many people within your company, or associated with your professional institution, that can help you. The best people to talk to are the ones who have recently applied for professional registration, as they can answer all your questions about the application process and advise on any interviews you may need to have. It is so rewarding once you've done it.
Where do you see yourself in your career in five years' time or what are your future ambitions?
Now I have finished my degree, I have applied for Incorporated Engineer (IEng) through ICE and I aim to achieve this further professional registration. My aim is to have more managerial roles incorporated in to my day to day work.
Outside work, is there any activity you enjoy doing in your spare time that relates to engineering? For example, do you participate in mentoring, volunteering or membership of other engineering groups?
I am a Science, Technology, Engineering and Mathematics (STEM) Ambassador. I visit schools promoting engineering as a career as well as apprenticeships, as even now many teachers still do not promote this as an alternative option to full-time education. I'm quite passionate about this, as there are so many opportunities within engineering apprenticeships that many people aren't aware of. The most common response is "Oh really?!", so I do all I can to promote these opportunities to the younger generation who will be the future of engineering. I'm also the National Vice Chair for the Emerging Professionals with the ACE which allows me to be part of exciting groups and have my say within the association. I find this really interesting as we discuss the future of consultancy, which is what I will be part of.
 Another thing is I bought a new build house, so I am the first person to live in it. It has taken a lot of planning (which is essential in engineering) to bring each room to life by painting and decorating. I've had to keep track of cost and spend, which must be done on each project to ensure no overspend. I have enjoyed doing it and it is still ongoing, just like every engineering project, there's always more that can be done!