Charlotte Anne Huntley EngTech TMIET
Published: 29/11/2022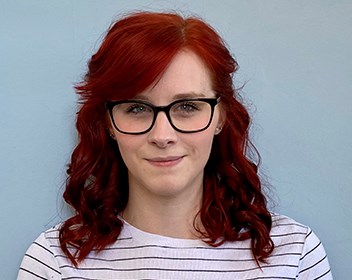 Education and qualifications:
HND in Electrical & Electronic Engineering – Distinction, University of South Wales, Bridgend College
HNC in Electrical & Electronic Engineering – Distinction, Bridgend College
BS 7671 Requirements for Electrical Installations. IET Wiring Regulations 18th Edition training
National Diploma in Electrical & Electronic Engineering - Distinction*Distinction, Bridgend College
Job title:
Junior Electrical Instrumentation Control and Automation (EICA) Engineer
Employer:
Arcadis
What inspired you to become an engineer or pointed you towards an engineering career?
I've always liked knowing how things work and my brother-in-law steered me towards the engineering sector, by taking me on work experience with him for a week at a power station. I loved every minute and that's when I knew I wanted to be an engineer.
Please describe your role or position within your workplace.
I am a Junior Electrical, Instrumentation, Control and Automation (EICA) Engineer working on water and wastewater projects. My role is to support the engineers with design and engineering work while developing my own knowledge, skills and experience.
Can you describe a typical working day?
My typical working day involves working as part of a multidisciplinary design team, producing design and engineering solutions for clean water and wastewater treatment works projects. As part of the EICA team I look at the complete electrical scope from medium and low voltage site power distribution, through to automation and instrumentation for process control. As part of this work I produce and update calculations, drawings, specifications, load schedules, and many other EICA deliverables. I also liaise with suppliers and attend meetings with clients.
Are there any particular challenges or unusual aspects to your role?
When dealing with multiple clients, it can be challenging to keep abreast of all the different client specifications. We need to ensure we fulfil all their requirements and successfully deliver their preferred designs to specification.
What do you find most enjoyable about your job?
I enjoy having the opportunity to work on different projects across the UK. I always learn something new when working on a new project. I also enjoy having the opportunity to visit sites to further my knowledge and experience.
Is there a great professional achievement or high-profile accomplishment that you would like to tell us about?
I passed the BS 7671: Requirements for Electrical Installations - IET Wiring Regulations 18th Edition training, which has allowed me to develop as a young engineer. I am also extremely proud of myself for achieving Engineering Technician (EngTech) professional registration and recognition at a young age. In 2020, I won the Pump Centre's Young Engineer Awards Apprentice Category, and in 2022, I won Technician of the Year with the IET.
What contributed to your decision to become professionally registered?
Upon joining my company, I was encouraged to look at professional registration, and plan out my development route through Higher National Certificate (HNC), degree and onto gaining Chartered Engineer (CEng) status. The first step for me was to work towards obtaining EngTech status. I think this professional registration reinforces my knowledge and skills, as well as my commitment to my profession.
I am currently studying a BSc in Electrical and Electronic Engineering part time, for which my company sponsors me on a day release arrangement. I am continuing to develop as an engineer, gaining experience from my role alongside my academic studies. When I first started with the company I began by completing a National Diploma, which then allowed me to move onto an HNC, then a Higher National Diploman (HND) and I have now started my BSc. I find it is really interesting studying part time - learning things about the industry and then being able to apply that knowledge in my role, as well as learning things at work that help support my studies.
Gaining experience working and studying at the same time will help me to progress to IEng status, and my current plan is to transfer from EngTech to IEng within a year of obtaining my degree.
In what ways has registration benefitted your career?
Obtaining EngTech status has allowed me to gain greater exposure to different clients and projects and more opportunities to develop myself. I think it is an important milestone in an engineer's career and professional development. I was promoted due to my hard work in gaining this professional registration, passing my HNC, my positive contribution to my projects and the overall EICA team's improvement and development. When I apply for Incorporated Engineer (IEng), I believe that having already obtained EngTech status will strongly support my application and assist in demonstrating my continual professional development.
How does your employer benefit from your professional registration?
By having a workforce that are professionally registered, my company can present themselves as more capable and as a result are able to win more bids, which in turn makes more money. In addition, clients are more likely to want to work with a company who has a professionally registered team as it demonstrates that they are competent, are working to recognised ethical principles and behaviours, and committed to continual improvement and development.
Is there any advice you would pass on to someone considering professional registration?
I would encourage everyone to aim for registration to keep your career progressing and to give yourself a strong sense of achievement. As well as being beneficial to you and your career, professional registration will assist with further development such as an application for IEng.
Where do you see yourself in your career in five years' time or what are your future ambitions?
In five years I want to have obtained my Bachelor of Science degree and have been professionally registered as an IEng working towards Chartered status.
Outside work, is there any activity you enjoy doing in your spare time that relates to engineering? For example, do you participate in mentoring, volunteering or membership of other engineering groups?
In addition to my role, I am also a Science, Technology, Engineering and Mathematics (STEM) Ambassador. I try to participate in STEM-related activities to encourage children to consider STEM subjects from an early age. As part of this, I regularly volunteer as a bilingual mentor to support disadvantaged young people who are interested in engineering or apprenticeships.
From 2019 to 2022, I was the Safety Health and Environment (SHE) hub lead for the water sector for the Wales and South West England area of the UK.
I enjoy building different things and doing brain teaser activities to keep my mind active. I also enjoy reading E&T Magazine to keep up to date with the latest progressions in technology and the engineering sector.