Catherine Downes EngTech MCIHT
Published: 25/04/2023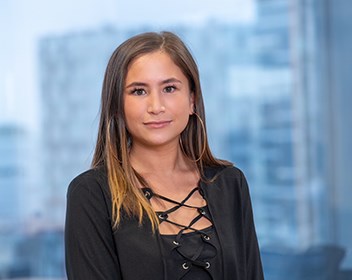 Education and qualifications:
BEng Civil Engineering (part-time), LJMU, Oct 2022 - present
BTEC Level 4 HNC Diploma in Construction and the Built Environment (Civil Engineering), City of Liverpool College.
Job title:
Senior Technician
Employer:
Amey
What inspired you to become an engineer or pointed you towards an engineering career?
I have always been interested in Maths and Applied Maths. The aspect of solving puzzles and applying knowledge to scenarios has always drawn me in. I am inspired by women doing well in this field, especially engineering where there is still a gender imbalance. This pushed me to pursue a career in the civil engineering field.
Please describe your role or position within your workplace.
I am a Senior Technician within the Traffic Projects team. I work with a team of highways/traffic engineers and I am involved in implementing Traffic Regulation Orders (TRO) to impose traffic management measures on the public highway, designing and improving cycle and pedestrian routes on key networks within major cities and designing and introducing road markings and traffic signs for various schemes.
Can you describe a typical working day?
My role is heavily computer-aided design (CAD) orientated. An example of a typical TRO that I would design is a junction protection with waiting restrictions. These restrictions would be set out with dimensions to show the exact proposed location. I would then write a TRO schedule to indicate the location and length of restrictions, in preparation for this becoming a legal order. I would also write consultation documents such as letters to councillors, key stakeholders and residents, and approach them for feedback on the proposed scheme. There is a push for schemes to be more sustainable, and as a such, I aim to design TROs so that they utilise existing street furniture, ie. lighting columns, posts etc, or reuse signs to help reduce overall costs, reduce the environmental impact of projects, and decrease street clutter.
Are there any particular challenges or unusual aspects to your role?
My role can involve me liaising with the public on schemes that can sometimes be divisive. This may be directly, through consultation, or by participating in council planning committees where planning applications are discussed. Members of the public, including council representatives, have an opportunity to speak about the project and a motion is then passed for or against it. Due to the divisive nature of certain planning applications, outcomes may be less favourable for some, yet it is important to remain professional at all times.
What do you find most enjoyable about your job?
In my current role I have been given more responsibility, including managing my own projects and budgets for my schemes. It is rewarding to see projects you have delivered being implemented, especially as everything I have been working on is local. I now have more opportunities to go to site too, and this makes my role more varied; I am not just stuck behind a desk.
I also have a lot of opportunities to participate with social value through Amey. Recently, I have been to two local schools to promote engineering for a careers event and held mock interviews for students. I have also been involved with organising Amey's Challenge Cup, where we invite female school students to our office to participate in engineering activities. The aim is to inspire girls from underprivileged areas to pursue Science, Technology, Engineering and Maths (STEM) careers and demonstrate our commitment to improving gender diversity in the industry.
Is there a great professional achievement or high-profile accomplishment that you would like to tell us about?
I was delighted to learn that I had achieved the Chartered Institution of Highways and Transportation (CIHT) 'Award for Outstanding Performance at Professional Review' following my professional review where I gained Engineering Technician (EngTech) status through CIHT in November 2020.
What contributed to your decision to become professionally registered?
With two children, I have often found it hard to dedicate the time to becoming professionally registered. Also, having been in my previous job for seven years, I felt I needed more of a challenge. However, starting my role at Amey revived my interest in engineering (reminding me why I had pursued a career in this field) and gave me the determination to complete my professional registration and gain EngTech status.
I am now actively working towards gaining my next professional qualification. I recently started studying a Bachelor of Engineering (BEng) in Civil Engineering (part-time) and aim to satisfy the educational criteria for Incorporated Engineer (IEng) in the coming years.
In what ways has registration benefitted your career?
On receiving my professional registration and achieving my award, I was provided with a lot of exposure within the company. It was a fantastic feeling to receive praise from senior colleagues, and I even received a personal message from the Managing Director of Amey Consulting, expressing his congratulations.
Outside of Amey, I was published in CIHT's 'Transportation Professional' magazine, which recognised and promoted my achievements  tothe wider engineering community. I have also contributed to online publications for the CIHT, specifically for their International Women in Engineering Day campaign and I was featured on the Engineering Council's post, 'Women's History Month 2023: Inspirational women in engineering' to celebrate International Women's Day.
How does your employer benefit from your professional registration?
Some framework bids for city councils require most of the staff named within the bid to have some form of professional registration. In gaining EngTech status, I have enabled my name to be put forward as part these bids.
Is there any advice you would pass on to someone considering professional registration?
Preparation is key to a successful professional review. Practise your presentation and keep it punchy. You want your reviewers to be interested in what you are telling them. Since becoming professionally registered, I have gained a lot of confidence. It has been really rewarding to know I've been recognised for my hard work. The intrinsic value of receiving this recognition has been very powerful in my personal growth, giving me the appetite to want to achieve more!
Where do you see yourself in your career in five years' time or what are your future ambitions?
My biggest goal has always been to become an engineer. I feel I have hit a brick wall with my current qualifications and progress, so I have decided to start studying for a BEng in Civil Engineering- which I am really enjoying! In five years, I hope to have completed my degree, satisfied the educational criteria for IEng, have gained it and be actively working towards a masters and/or CEng.
Outside work, is there any activity you enjoy doing in your spare time that relates to engineering? For example, do you participate in mentoring, volunteering or membership of other engineering groups?
I have recently registered as a STEM ambassador with the aim of promoting STEM subjects to students, particularly females. I want to help get them interested in engineering whether it be through mentoring or volunteering etc. Being a female in this industry hasn't been easy and at times I've faced stigma. Because of this, I feel that it is very important to encourage girls into this sector to help make it more inclusive. I also want to be a positive role model to young females, especially to my 16-year-old daughter, and show that women can be successful in this industry!
Do you identify as disabled, or as a member of a minority or under-represented group? Would you like to comment on what impact or influence you feel this has had upon your career?
I was recently diagnosed with combined Attention Deficit Hyperactivity Disorder (ADHD). Having ADHD can be tough, especially when you're trying not to make any errors or need to focus. By choosing to seek diagnosis, I have found ways to manage it - learning techniques to help improve my concentration and reduce mistakes in my work.