Thathsara Nanayakkara BSc Eng (Hons) CEng AEng MIET AMIE(SL) MIEEE AMAIE(SL) MCMET(SL)
Published: 01/09/2023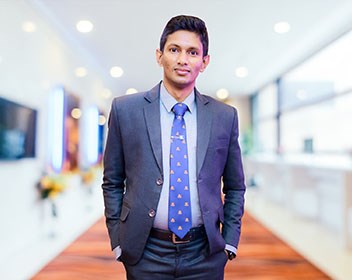 Education and qualifications
BSc Eng. (Hons), Electrical and Electronic Engineering, General Sir John Kotelawala Defence University, Sri Lanka
Job title: Engineering Officer
Employer: Sri Lanka Army Electrical and Mechanical Engineers

What inspired you to become an engineer or pointed you towards an engineering career?
Ever since I was young, I had a strong desire to become an engineer. My father is a very talented mathematics teacher, and from a young age I was interested in the subject and was good at it too.  I was keen on pure mathematics, applied mathematics, and physics in school. My family's mathematics background encouraged me to pursue engineering as a career, and after completing my advanced-level examination I decided to become a military engineer. I therefore applied to the General Sir John Kothelawala Defence University and got selected to study a four-year Bachelor of Science Engineering (Hons) degree.
Please describe your role or position within your workplace.
I'm an Officer Commanding (OC) for an Electrical and Mechanical Engineering Workshop in the Sri Lanka Army. I am responsible for all repairs, maintenance, inspection, condemnation, and modifications of Army-owned electrical, electronic, and mechanical engineering equipment.
I advise the staff and other arms of the Sri Lanka Army service on professional engineering and associated matters affecting the maintenance and reliability of the equipment. I supervise repair inspection and modification of all electrical, mechanical, electronic and optical equipment and guide the purchase of repair parts and expendable items for the workshop's day-to-day requirements. I lead and command technical forepersons, , section commanders, and a team of electrical, electronic, and mechanical engineering technicians.
Can you describe a typical working day?
I start my daily routine at 8am with a morning conference beside the higher headquarters officers. After the daily conference, I go to my workshop and respond to emails, I have multiple ongoing projects and I update progress reports with my technical foreman and supervisors. As per the approval and the direction given by the Commanding Officer, I prepare the technical reports and forwarded them on to the Commanding Officer for further approval.
I contact contractors or suppliers and officially request quotations from them to prepare a budget for multiple projects. I then prepare a technical evaluation for selecting and analysing suitable spares for the project. At the same time, I give tasks to technical supervisors to carry out the plans under my instruction. I always use effective communication to check whether technicians are working according to my plan to complete the particular task. I then prepare the procurement document for the purchase of required materials and equipment for finalised technical evaluations. I check the quality of these items and guide my technical crew to finish the pending jobs.
Are there any particular challenges or unusual aspects to your role?
Due to the work environment in the military, there are a range of challenges to my role, several of which are specific to the sector. Being a competent engineer in a team and working as a leader is a challenge itself; I must prove every working day that we are the best.
Other challenges include focus and quality. I need to focus my attention to increase the technical improvements of equipment repairs. I also need to ensure the quality of the repairs carried out on equipment, as different Army user units get will encounter difficulties because of equipment breakdowns.  Therefore, I must identify the correct priority order and complete electrical or mechanical repairs successfully with my technical crew, to ensure the user Army unit requirement is fulfilled.
I am familiar with the Institution of Engineering and Technology (IET) Code of Conduct, Institution of Engineers Sri Lanka (IESL) code of conduct, and the legislative and regulatory regimes which apply to my current role. They have been of immense use in managing the above challenges.
What do you find most enjoyable about your job?
I love the creativity and opportunities to change the environment I work in. The most enjoyable attributes of my job are that it is collaborative, multifaceted, and allows explorative research. I enjoy working with good military supervisors and technician teams to achieve one common goal.
As a person who was fortunate to benefit from Sri Lanka's free education system, I enjoy being able to give service as a government engineer to my country.
Is there a great professional achievement or high-profile accomplishment that you would like to tell us about?
I am humbly proud of all the professional achievements I have made so far in my career. I have completed my BSc (Hons) Electrical and Electronic Engineering degree with the Second Class lower division. I achieved the Chartered Engineer (CEng) qualification from IET and the Engineering Council when I was 30 years old and I have the distinction and honour of being the youngest IET registered Chartered Engineer in Sri Lanka. I achieved the Associate Engineer (AEng) qualification from Engineering Council Sri Lanka (ECSL) after receiving my membership in IESL.
Throughout my engineering career, I've had the opportunity to work on a variety of exciting projects like the Energy Conserving Smart Control System project for Street Lighting in Sri Lanka and the Object Tracking Combat First Person View (FPV) Drone project for Sri Lanka short range military operations. It was a huge assistance in achieving my milestone so early in my engineering career.
What contributed to your decision to become professionally registered?
Engineers use scientific knowledge to design, construct, and maintain various technical creations. For engineers, there are different carrier progression pathways according to their discipline. Having seen many engineers with the post-nominal CEng on LinkedIn profiles, curriculum vitae (CVs), and different articles, I did some research and found out about the benefits and recognition that come with professional registration and membership of a professional body.
I discovered that to raise engineering standards, engineers should aspire to professional progression and maintain their continuing professional development.
In what ways has registration benefitted your career?
After receiving my CEng registration from the Engineering Council, I have received recognition internationally, as well as locally from the Engineering Council Sri Lanka. Therefore, registration has added value to my career, as it has given me an enhanced level of industry recognition and acceptance. I have also helped and advised lots of young professionals to achieve their own professional registration.
How does your employer benefit from your professional registration?
I am the first CEng from the Engineering Council UK in the Sri Lanka Electrical and Mechanical Engineering Regiment; I have developed a path for other engineers to follow and it will be very beneficial for the organisation to have more professionally recognised engineers.
I am often selected as a member in technical meetings and conferences to provide technical evaluations of tenders, alongside industry leaders and professionals. Therefore, my professional registration adds value to the Sri Lanka Army and Sri Lanka Electrical and Mechanical Engineering Regiment.
Is there any advice you would pass on to someone considering professional registration?
Professional recognition shows your standing in your profession. It is evidence of your competence and it will help progress your career. The best advice I can give is to first get a membership from any professional engineering institution and, through this institution, apply for professional registration with the Engineering Council. You must read and meet the competences detailed in the UK-SPEC (UK Standard for Professional Engineering Competence), which is available at the Engineering Council website. Then you have to fill in the professional registration application through your institution.
I would advise future registrants to get guidance on the right information from a PEI mentor while you fill out your application. It's essential to read and understand the UK-SPEC, this is very important. This will help you achieve and document the necessary details for your professional journey.
Showing what you've learned from engineering projects is key to proving your professional abilities. Projects aren't just tasks – they're chances to use what you've learned in real situations, adapt to new things, and find smart solutions. As an engineer, talking about your specific projects shows how skilled you are. Explain the tough parts you handled, the creative fixes you came up with, and how you worked with different teams. Also, share how you dealt with tricky technical problems, made decisions when things were tough, and the results you achieved. Describing your role in these projects really proves you can handle real-world challenges, explain complex ideas well, and make projects succeed. Using clear examples not only shows your technical skills but also proves you're really good at what you do, making your case for professional recognition even stronger.
Where do you see yourself in your career in five years' time or what are your future ambitions?
I aim to complete my Masters in Electrical and Electronic Engineering with honours and become an IET International Professional Engineer (IntPE). I hope to work on sustainable engineering design projects and national building projects to help develop Sri Lanka.
Outside work, is there any activity you enjoy doing in your spare time that relates to engineering? For example, do you participate in mentoring, volunteering or membership of other engineering groups?
I am a volunteer for IET, Institution of Engineers Sri Lanka (IESL) and Institute of Electrical and Electronic Engineers (USA) (IEEE) Young Professionals.
My volunteer roles include:
IET International Professional Registration Advisor
IET Young Professionals Sri Lankan Section-Honourable Treasurer for 2023
IET Young Professionals Sri Lankan Section-Executive Committee Member for 2022
IET – UK – Young Professional Ambassador
IEEE PES Young Professionals -Sri Lanka Ambassador of Powering and Future Summit 2021
IEEE Brand Ambassador
IESL Electrical Electronic and Telecommunication sectional committee Member 2023