Thaddeus Anim-Somuah CEng MIChemE
Published: 17/04/2023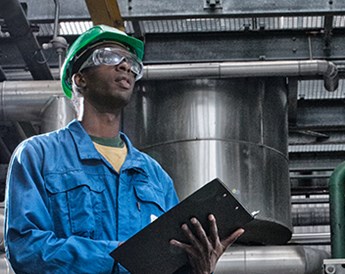 Education and qualifications:
MEng Chemical Engineering (Business Management) from The University of Manchester with study abroad at McGill University, Canada
Job title:
Global Senior Manager Sustainability
Employer:
Philips
What inspired you to become an engineer or pointed you towards an engineering career?
I always had a passion for puzzles and making things. My favourite toys were Lego and Meccano, and my favourite subjects were Science and Maths. I didn't translate this into thinking about a potential career in engineering until I was 16 and a family friend told me about some of the impact engineers can have on everyday life. I investigated it for myself and became fascinated by the abstract idea of thermodynamics and how this could create something as tangible as a car or as simple as shampoo.
Please describe your role or position within your workplace.
Philips is a global medical equipment and electronics company. My role is to lead the healthcare manufacturing sites to achieve the company's sustainability targets. In my role, I translate targets into actions – I am the bridge between production and sustainability, and  provide the link between sustainable manufacturing and its implications for all other parts of the business. I use my engineering experience to understand and engage the manufacturing sites and help create the business cases for the projects. I particularly focus on increasing circularity in the Iincludes X-rays, Magnetic Resonance Imaging (MRI), Computed Tomography Scan's (CTs), Ultrasounds and many more technologies. These are 2D and 3D imaging technologies that guide doctors in diagnosis, treatment and operations of various conditions and injuries.
Can you describe a typical working day?
No day looks the same. Some days can be filled with meetings, presenting to or training colleagues and external stakeholders, and other days can be spent behind my desk doing calculations and preparing reports or business cases. In general, I'm the go-to person to guide and support manufacturing sites in their sustainability, and a point of advice for other parts of the business regarding sustainability. I love to combine the technical and people elements of my role while working towards helping the company move to a more sustainable future. It is important to me that they can continue to provide solutions that improve health while reducing the natural resources used, and the associated carbon emissions generated.
It's the people that make the difference and make it happen. I have the privilege of not only working alongside my colleagues, but I am also responsible for motivating and persuading them. It's a great feeling when you work on the business case for a new project, and you get the go-ahead after persuading senior management to give the approval. But that is only the start - my role is also about project and program management to make sure we deliver those goals.
Are there any particular challenges or unusual aspects to your role?
The biggest challenges are things you can't control, external factors: pandemics, inflation, etc. These all have an effect on the market and business cases. The future is uncertain, but one of my favourite sayings is 'the best way to predict the future is to create it'. So that's what we do, take control of what we can, embrace opportunities that come with uncertainty, and innovate. There's an element of risk to innovation, but it's also about getting the right information from other departments and challenging assumptions to make well-informed decisions.
Another challenge is inspiring the whole workforce. Pitching to a select group, you can often frame your idea in such a way that it's more attractive to them, but there comes a point when you have to sell it to the whole workforce. It's a challenge that I enjoy facing and happily volunteer for. When we look at sustainability, it's important to consider the social aspect of it and engage people to deliver it quickly, successfully, and fairly.
What do you find most enjoyable about your job?
I enjoy brainstorming with colleagues, whether that's high-level strategy or reviewing what could have been done better with production; I really enjoy the collaborative process of generating ideas through collective intelligence. 
The most rewarding part of my role is working on projects with a human impact; for instance, projects that improve safety or sustainability.
Is there a great professional achievement or high-profile accomplishment that you would like to tell us about?
I was honoured to be named on the Forbes 30 under 30 2020 – Europe list. This is a recognition of all the work I do and have done throughout my career, and the potential that Forbes saw in me to make a future impact. I think what stood out to Forbes was the sustainability work that I did at Croda, which included being part of a team that reduced factory emissions by 25% through turning a side stream into energy. Since then, I am particularly proud of having led Croda's Global Decarbonization Roadmap to reduce operations emissions by 50% between 2018 and 2030.
What contributed to your decision to become professionally registered?
I heard about professional registration during the first year of my degree and I made it a milestone straightaway. It's not only for the business to see that you have certain capabilities, for me it was particularly for my own knowledge and self-development. 
In what ways has registration benefitted your career?
The path to registration helped me ensure that I got the early career development I needed to become a good engineer. I talked about the registration requirements in my one-on-one meetings with different line managers and we tailored my work to enable me to gain the development I needed. After my registration, I was given greater responsibilities in recognition of my greater skills.
How does your employer benefit from your professional registration?
My employer has benefitted from the skill set I developed on the path to registration and from my status as a registered professional. Professional registration earns respect and trust when talking to international colleagues and external stakeholders.
Is there any advice you would pass on to someone considering professional registration?
I would say do it first and foremost for yourself, especially for the skills you will get along the way. Professional registration is a gold stamp that's proof of this. Also consider getting mentors, people who have been registered before and understand the skills and knowledge needed for registration and the benefits of registration. You are never too old to learn from others.
Where do you see yourself in your career in five years' time or what are your future ambitions?
I hope to make an even greater impact, particularly in sustainability. In five or ten years at Philips I hope to have enabled the company to save lives (as we do now with our equipment) in a way that saves the planet and future generations. I hope to be influencing stakeholders globally beyond our company to make the same sustainability transformation and demonstrating how to do it successfully.
I'm a board member of the Association for Black and Minority Ethnic Engineers (AFBE-UK), which promotes diversity within the engineering profession. I'm also a board member and magazine editor of Nederlandse Procestechnologen (Dutch Society of Process Technologists). Alongside this, I'm passionate about inspiring the next generation of engineers through education, community, and mentoring. I have worked in advisory roles with organisations such as University of Southampton, Brunel University, London and Global Engineering Futures to help attract more people, increase diversity and accelerate sustainability. I also volunteer with World Energy Council to further promote the energy transition.