Thaddeus Anim-Somuah CEng MIChemE
Published: 19/04/2022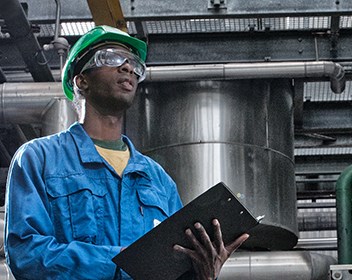 Education and qualifications:
MEng Chemical Engineering (Business Management) from The University of Manchester with study abroad at McGill University, Canada
Job title:
Engineering Manager Projects
Employer:
Croda
What inspired you to become an engineer or pointed you towards an engineering career?
I always had a passion for puzzles and making things. My favourite toys were Lego and Meccano and my favourite subjects were Science and Maths. I didn't translate this into thinking about a potential career in engineering until I was 16 and a family friend actually told me about some of the impact engineers can have on everyday life. I looked into it for myself and became fascinated by the abstract idea of thermodynamics and how this could create something as tangible as a car or as simple as shampoo.
Please describe your role or position within your workplace.
At Croda we make the building blocks for the personal care, health care and automotive industries among many others. Our products go into formulations for everyday consumer items such as shampoos, packaging and engine oils. In my current role I'm responsible for long term strategy and strategic projects. This includes looking at global megatrends such as digitalisation and climate change.
Can you describe a typical working day?
No day looks the same. Some days can be filled with meetings presenting to colleagues and external stakeholders, and other days can be spent behind my desk doing energy calculations and preparing reports or business cases. I love to get into the technical work on new technologies or processes. Right now, one of my big focus areas is sustainability. I'm working closely with colleagues internationally to find technologies that could radically reduce our impact on the climate by, for instance, reducing heating demand. It's the people that make the difference and make it happen. I have the privilege of not only working alongside my colleagues but also being responsible for motivating and persuading them. It's a great feeling when you work on the business case for a new project and you get the go-ahead after persuading senior management to give the approval. But that is only the start - my role is also about the project management to make sure we deliver those goals.
Are there any particular challenges or unusual aspects to your role?
The biggest challenges are things you can't control, external factors. Right now, I'm working on a technology for a new process to make one of our current products; but what if by the time the technology is ready the customer is no longer buying this product?. There's an element of risk to doing research but it's also about getting information from other departments and challenging assumptions to make well-informed decisions.
Another challenge is inspiring the whole workforce. Pitching to a select group, you can often frame your idea in such a way that it's more attractive to them, but there comes a point when you have to sell it to the whole workforce. It's a challenge that I enjoy facing and happily volunteer for. Aside from my role as Engineering Manager Projects where I pitch technical ideas to the workforce, I'm also the Behavioural Safety Champion. As Behavioural Safety Champion, I'm responsible for inspiring everyone to create an even safer work culture. I have been doing this by engaging a working group of volunteers from the work floor. Together we've reformed observational safety rounds, presented at company-wide forums , implemented last minute risk analysis, introduced toolboxes and organised company safety days.
What do you find most enjoyable about your job?
I enjoy brainstorming with colleagues, whether that's high level strategy or reviewing what could have been done better with production; I really enjoy the collaborative process of generating ideas through collective intelligence.
The most rewarding part of my role is working on projects with a human impact; for instance, projects that improve safety or sustainability.
Is there a great professional achievement or high-profile accomplishment that you would like to tell us about?
I am honoured to be named on the Forbes 30 under 30 2020 - Europe – List. This is a recognition of all the work I do and have done throughout my career, and the potential that Forbes see in me to make a future impact. I think the great things that stood out to Forbes are: the sustainability work that I have done at Croda where I was part of the team that reduced factory emissions by 25% through turning a side stream into energy; the major strategic projects I'm currently working on to help make Croda become climate positive in 2030; the sustainability work I do outside Croda through GreenDeal4Youth (among others) where I'm lobbying the EU for youth participation in the Green Deal; and the humanitarian work I do coaching refugees.
What contributed to your decision to become professionally registered?
I heard about professional registration during the first year of my degree and I made it a milestone straightaway. It's not only for the business to see that you have certain capabilities, for me it was particularly for my own knowledge and self-development.
In what ways has registration benefitted your career?
The path to registration helped me ensure that I got the early career development I needed to become a good engineer. I talked about the registration requirements in my one-on-one meetings with different line managers and we tailored my work to enable me to gain the development I needed. After my registration, I was given greater responsibilities in recognition of my greater skills.
How does your employer benefit from your professional registration?
My employer has benefitted from the skill set I developed on the path to registration and from my status as a registered professional. Professional registration earns respect and trust when talking to international colleagues and external stakeholders.
Is there any advice you would pass on to someone considering professional registration?
I would say do it first and foremost for yourself, especially for the skills you will get along the way. The registration is a gold stamp that's proof of this. Also consider getting mentors, people who have been registered before and understand the skills and knowledge needed for registration and the benefits to registration. You are never too old to learn from others.
Where do you see yourself in your career in five years' time or what are your future ambitions?
I hope to make an even greater impact, particularly in sustainability. In five years or 10 years within Croda, I hope to have enabled the company to become climate positive globally, both through developing new technology and through influencing stakeholders.
Do you participate in any other career-related activities, such as mentoring, volunteering or membership of other engineering groups?
I'm an active Science, Technology, Engineering and Mathematics (STEM) Ambassador, for instance I conduct interactive presentations every year at the Engineer Your Future joint institution (Institution of Chemical Engineers (IChemE), Institution of Mechanical Engineers (IMechE) and others) events. I'm a careers mentor at The University of Manchester for engineering students and an active member of IChemE, having previously been on their North West region board. I'm a board member of the Association for Black and Minority Ethnic Engineers (AFBE-UK), promoting diversity within the engineering profession. I'm an advisor at World Startup (Global Platform for Impact Entrepreneurship), advising the organisation and individual start-ups such as UniBrick, a company turning plastic waste into affordable housing for developing countries. I'm also a board member and magazine editor of Nederlandse Procestechnologen (Dutch Society of Process Technologists).
Outside work, is there any activity you enjoy doing in your spare time that relates to engineering?
I enjoy keeping up to date with latest engineering developments through online magazines such The Chemical Engineer.