Shrey Patel MSc CEng MIET MIChemE
Published: 26/07/2022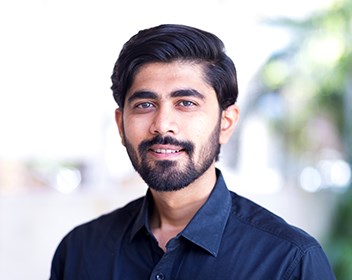 Education and qualifications:
Safety Instrumented Functions, IChemE
Lean Six Sigma Green Belt, Concept Business Excellence Pvt. Ltd, India
HAZOP Leadership and Management, IChemE
Executive Programme – Design Thinking, Indian Institutes of Management, India
MSc Advanced Process Integration and Design, The University of Manchester
BTech Chemical Engineering, Dharmsinh Desai University, India
Job title:
Senior Chemical Process Engineer
Employer:
Bodal Chemicals Limited, India
What inspired you to become an engineer or pointed you towards an engineering career?
The subjects which piqued my curiosity at school were Chemistry, Mathematics and Physics. My interest grew when I started visiting the manufacturing unit of the family business which produces commodity chemicals, dye-intermediates (the main raw materials used for manufacturing dyes) and dyes amongst other chemicals, and I was exposed to its nature and challenges. I wanted to help my father grow his business in a technically sustainable way which led me to study Chemical Engineering, followed by a specialised degree in Advanced Chemical Process Engineering.
Please describe your role or position within your workplace.
I now work as a Senior Chemical Process Engineer within the Technical Services department of the family business, one of the leading companies in India for manufacturing dyes and dye-intermediates. I work on reorganising and restructuring conventional chemical processes to make them more feasible and optimal in nature. The majority of my role revolves around providing technical assistance to the Production team and aiding the Safety team with process safety inputs. My focus is on providing innovative and technical and commercial solutions to persistent and recurring challenges at the production plant. For example, recently there was a problem with heat transfer in a vessel. We introduced a heat transfer coil even while it had a jacket around it. We had to change the agitator type and its related machinery. It was a unique solution as the vessel replacement wasn't possible due to time constraints and other unavoidable issues.
Similarly, I am involved in traditional engineering design and optimisation which involves mass balance, energy balance, flow diagrams, piping and instrumentation diagrams (P&ID), etc. Moreover, I work with relevant teams to address safety issues by introducing policies and adding safety layers in the existing setup.
My recent work projects have also enabled me to undertake administration and finance roles in the company, and this diverse experience of technical and managerial roles has helped me evolve as an engineering manager.
Can you describe a typical working day?
My typical workday includes innovating, designing, and validating chemical processes, and optimising and/or integrating existing processes using modern technology. I also focus on reducing the company's carbon footprint by adopting eco-friendly methods. I prioritise and manage both administrative and engineering tasks, as well as providing strategic solutions for an efficient and safety-enabled plant.
Are there any particular challenges or unusual aspects to your role?
Optimisation of any chemical process requires validating key parameters with the help of past data. The biggest challenge in the dyes and dye-intermediates industry in India is data collection and analysis to improve existing processes. There is a general lack of awareness around the benefits of using data collection equipment, and limited knowledge about how to operate it to obtain the production data that is needed to analyse for optimisation of the process. In my current role, I try to generate data and overcome this constraint.

What do you find most enjoyable about your job?
The most enjoyable part of my job is collaborating and working with veterans of the field – I work with people who have been working for as long as I've been alive. It's a pleasure working with such people as they have seen it all and are prepared to assist you with anything, whether engineering, administrative work or other peripheral topics.
Is there a great professional achievement or high-profile accomplishment that you would like to tell us about?
So far, I feel I have three high-profile accomplishments:
• becoming India's youngest Chartered Chemical Engineer with help of the Institution of Chemical Engineers (IChemE) UK, and the Engineering Council
• becoming the youngest working member of the Engineering Safety Policy Panel, an expert panel brought together by the Institution of Engineering and Technology (IET)
• becoming the youngest Crisis Counsellor of the Gujarat State Crisis Group which is part of the Directorate Industrial Safety & Health (DISH) in India.
I am honoured to have received the recognition and appreciation for my knowledge and skillset from international institutions. I believe my approach towards tackling problems has made me stand out from the crowd. This encourages me to contribute to the engineering field and the community in whatever way I possibly can.
What contributed to your decision to become professionally registered?
I attended one of the IChemE's regional meetings during my Masters programme at The University of Manchester. A lot of engineers including Chartered Engineers (CEngs) were present. I observed that their views and responses were respected and accepted by the forum. An original vision and outlook made them stand out. This was the first spark of inspiration for me to apply to become Chartered.
The inspiration turned into a firm decision when I returned India to work for my home country. I realised there weren't many CEngs in the field, and I felt the government and private companies were in need of it. That's when I decided to obtain Chartered status and become professionally registered.
In what ways has registration benefitted your career?
Becoming professionally registered has proven to be a milestone in my career. The CEng status has put me in the upper echelons of the engineering field. Notable chemical institutions – both public and private – are approaching me to become part of their expert committees and panels for the betterment of the industry. My ideas and contributions to projects are well-appreciated by my peers and seniors. I hope to justify the recognition I am receiving and keep contributing to society to the best of my ability.
How does your employer benefit from your professional registration?
My professional registration is a written validation that I am professionally qualified and have enough competency to carry out the work assigned to me. My employer recognises this and sees me as a key asset for upcoming projects. They are assured that my inclusion in the team reduces the margin of error to a minimum. This is especially important as errors risk serious health, environmental and business impacts. This reassurance gives my company an edge over its competitors.
Is there any advice you would pass on to someone considering professional registration?
I am too naïve to give advice to anyone. But I would quote two of my favourite adages: "where there is a will, there is a way" and "nothing worth having comes easy".
Where do you see yourself in your career in five years' time or what are your future ambitions?
I see myself emerging as a leader with a vision to build a cleaner and greener world. I want to lead my company to unprecedented heights and dedicate my success to the people who have helped me throughout my journey.
Outside work, is there any activity you enjoy doing in your spare time that relates to engineering? For example, do you participate in mentoring, volunteering or membership of other engineering groups?
I am an elected member of an Engineering Safety Policy Panel, a volunteer-led panel at the IET, UK. We work with the Insight and Policy team and provide strategic advice to the UK Government. We respond to consultations, deliver thought leadership, and develop position statements and other materials within our field of expertise.
I volunteer with the Gujarat State Crisis Group (DISH, India). Working with various government-appointed officers from the Industrial Health & Safety, Fire and Police Departments, as well as engineers and academics who are experts in the field. We identify industrial hazards which, if not handled in a timely manner, might result in a disaster. We brainstorm and formulate plans to mitigate such scenarios, which can be used by the state government, keeping in mind the expertise available in the region.
I am a member of various local institutions that helps me connect with industry stalwarts. I am also involved as a volunteer and a mentor to guide engineering students.