Sarah Beswick MEng CEng MRAeS
Published: 28/04/2021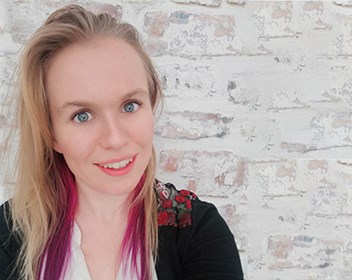 Education and qualifications:
MEng Aeronautics and Astronautics (Aerodynamics), University of Southampton
Job title:
Engineering Authority (Avionics), A400M ATLAS Delivery Team  
Employer:
Defence Equipment and Support, Ministry of Defence (MOD)
What inspired you to become an engineer or pointed you towards an engineering career?
My Dad inspired me to be an engineer. As a machine shop manager, he was always working on some fascinating projects which I was lucky enough to see develop. However, it wasn't the colossal machines he made that inspired me, it was the stories my Dad told about them. Making huge structures like wind tunnels and power station simulators is cool, sure, but it was hearing about the adventures my Dad and his team had while making them that really captured my curiosity and imagination. From the good (it worked!), to the bad (it was working, but then we accidentally took out the local power grid), to the ugly ("Larry got electrocuted today. He's alright but we had to put up a warning sign for 'low flying humans'."), it was the stories my Dad told that brought engineering alive for me and inspired me to become an engineer.
Please describe your role or position within your workplace.
I work as part of the MOD's Defence Equipment and Support A400M ATLAS Delivery Team, who are introducing this new large transport aircraft into service with the Royal Air Force. As part of the Engineering Authority within this team, our role is to ensure that the aircraft stays within the remit of its type design and that the integrity of the aircraft is maintained through its life. We approve all modifications that go on the aircraft and manage threats to airworthiness that arise. My role in particular focuses on the military avionics systems of the A400M. It's a fascinating job that requires a lot of engineering judgement, and we are often the first point of contact when problems arise with the Royal Air Force's A400M fleet.
Can you describe a typical working day?
The first 10 minutes of every day is about the same. I boot up my laptop, fire up my emails, and grab a cup of coffee, but that's where the similarity ends. After that point anything could happen! While I have a pile of ongoing projects, such as developing processes and policies, or reviewing modification proposals, I will often come to work to find an inbox full of problems. At one end of the spectrum, a reported occurrence might just need to be read and filed away until the tech team's investigation is complete. At the other end, an occurrence might create an urgent need to ground the fleet or to do a fleet-wide inspection, in which case I have to start developing the inspection, with all the stakeholders involved quickly! And of course, because of our direct interface with the operating squadron, I often find myself answering a wide range of questions and providing some on-the-spot problem solving. My work also means I am often on aircraft, validating procedures with the end user and identifying the real-life problems that I would never have been exposed to just sat at my desk.
Are there any particular challenges or unusual aspects to your role?
At no point during my four years of learning the complexities of aeronautics did I think my GCSE in Psychology would be useful to my career choice! I'm now four years into my professional career as an engineer and I've come to realise that social engineering is probably as important as the aeronautic engineering, if you want a problem solved properly. The most challenging and unusual situations which arise in my job are usually down to the humans!
What do you find most enjoyable about your job?
My role sits at the interface of two worlds: on the one side I have the Design Organisation, doing deep and complex engineering analysis and delivering highly analytical theory-based outputs. On the other side I have a high tempo operational Royal Air Force Transport aircraft squadron, chomping at the bit to get out and complete their missions. The high-speed collision of engineering theory and the reality of supporting these aircraft worldwide on operations, such as disaster relief and crew training, tends to smash together in the Engineering Authority office, giving me the opportunity to solve a wide range of interesting and challenging problems. Being a part of turning the theory into reality, and seeing the aircraft achieve awesome feats, really makes the job worth it.
Is there a great professional achievement or high-profile accomplishment that you would like to tell us about?
I recently received a Commendation for all the work I've done to enable the Royal Air Force to use the military avionics systems on the A400M aircraft and to increase their mission capability. The Commendation rewarded the result of two years dedicated to helping unravel and piece together everything needed to switch a platform protection capability on, including quite a few things that fell outside my job description. I was incredibly humbled that my team recognised my contributions and nominated me for the award.
What contributed to your decision to become professionally registered?
Whilst my Masters was hugely beneficial and taught me a lot about the theory of flight, I didn't feel like I was a 'real' engineer until after I gained experience in the professional engineering world. Professional registration as a Chartered Engineer (CEng) acknowledges this delta between being an academic and an engineer in a way that is universally understood and respected. I've always had professional registration as a goal in my career, and my graduate scheme actively encouraged me to work towards it. My decision to take the plunge and put my accumulated experience to the test was compounded by the encouragement I received from the Principal Engineer in my team, and the opportunity to progress in my airworthiness career with a CEng.
In what ways has registration benefitted your career?
Becoming a CEng directly benefitted my career by making me eligible to hold a Letter of Airworthiness Authority, a privilege delegated from the Chief Engineer allowing me to sign off on solutions and giving me responsibility for my area.
How does your employer benefit from your professional registration?
My employer actively encourages professional registration as they need people who are able to hold responsibility. CEng, Incorporated Engineer (IEng), or Engineering Technician (EngTech) status is the proof they need to know that they are employing suitably qualified and experienced personnel to equip and support the flying squadrons through the life of air platforms.
Is there any advice you would pass on to someone considering professional registration?
A professional registration application isn't easy, you have to prove why you deserve it and then defend your argument to an experienced panel. However, that is exactly what makes it worth it, and makes it a valuable achievement. Start your application knowing what you are taking on, talk to other people, get yourself a mentor, and be honest with yourself and your achievements, but also be positive! So often people think that they 'just' did something, when actually they were a key component in the success of a project. It's a daunting task to be so ruthlessly honest with yourself, but also incredibly rewarding, and more often than not you'll surprise yourself on how much you have done.
Where do you see yourself in your career in five years' time or what are your future ambitions?
Over the next five years, I am looking to broaden my Engineering Authority experience across different platforms and areas. My company is a huge organisation with lots of opportunities that I am excited to explore. My future ambition is to stay within airworthiness, but to become a well-rounded engineer I want to gain experience in more than just my current role type. Eventually I'd like to become a Chief Engineer, but I have a very long way to go!
Outside work, is there any activity you enjoy doing in your spare time that relates to engineering? For example, do you participate in mentoring, volunteering or membership of other engineering groups?
I'm a Science, Technology, Engineering and Maths (STEM) Ambassador with Defence Equipment and Support (DE&S), delivering engineering activities to schools in the area. Being a STEM Ambassador has redefined my comfort zone and massively increased my confidence. Briefing the Chief Engineer is now no drama compared to convincing a room full of twelve-year olds that engineering is fun!
Outside work I'm a volunteer for Girl Guiding. I spend my Monday nights as 'Barn Owl' running a unit meeting for 25 Brownies who are between the ages of seven and 10. The Brownies are at the age of curiosity and I make it my mission to help them have a huge range of opportunities and experiences to try, including exposure to STEM. We have completed an engineering challenge badge where we made catapults, explored the stars, became spaghetti and marshmallow architects, and learnt about some awesome female inventors, and we're now working hard on our innovation badge. Whilst the number of female engineers is gently on the rise, there is so much more we can do, and still so many stereotypes we have to break. Even at the age of seven, some of my Brownies think that engineering is only for men! Being a Brownie Leader has given me the opportunity to learn about how I manage, organise, lead, and confront new challenges in a way that has been hugely beneficial to me developing in my career. It has made me far more confident, especially in fast-paced and evolving situations. After all what's solving a complex engineering problem on a deadline compared to maintaining a 'safe space' when a pack of Brownies are building campfires?
Do you identify as disabled, or as a member of a minority or under-represented group? Would you like to comment on what impact or influence you feel this has had upon your career?
Whilst I do not fall into a minority in the UK, being white and female, I am a minority in the engineering space as per the current ratios. At university, being the only female in a group project would sometimes feel intimidating and it took a while for me to learn how to speak up. Even ten years later I'm still unravelling the socialised female mentalities that were prolific in the nineties so I can recognise inappropriate behaviours and what a response should be.
As I get older the elephant in my career is starting a family; having a baby will have a huge impact, both on me and my career, and it's a difficult conversation to start in a male dominated space. But for all the self-doubts I've been able to draw strength from female role models and mentors, finding them lost in history, speaking out on public platforms, or sometimes sitting in the office next to me. I've also had support from male allies who have stuck with me through the difficulties and have called out inappropriate behaviour or supported me in challenging it. My place of work also offers support networks for every aspect of how a person could identify, from being a female engineer, to a volunteer, to a parent, and many more. Even though I don't need those networks right now, and there are many I will never need, knowing that they're there, whatever life throws at me, gives me the confidence to keep challenging stereotypes or supporting my colleagues as much as they have supported me.