Rosie Goldrick CEng MICE CIER
Published: 25/01/2023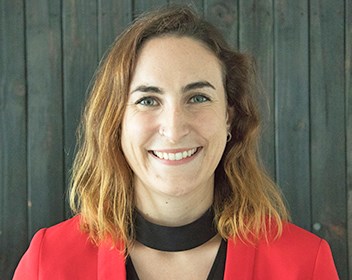 Education and qualifications:
MEng Civil Engineering and Architecture, University of Southampton
Job title:
Principal & Director of Engineering
Employer:
MASS Design Group
What inspired you to become an engineer or pointed you towards an engineering career?
I grew up in London surrounded by historic buildings, skyscrapers, and run-down housing estates. At school I was good at Maths and loved Art, so I was initially leaning towards architecture, especially because my aunty was an architect. I saw the impact of the built environment on how people live, work and travel, and I became interested in the idea of designing buildings. I was fortunate to have a good careers advisor at school who highlighted the option of structural engineering to me during my GCSEs. I then studied Civil Engineering and Architecture at the University of Southampton before I decided to become an engineer.  
Please describe your role or position within your workplace.
As Engineering Director at MASS Design Group I am responsible for leading a team of 23 international and multi-disciplinary engineers in the design and implementation of projects throughout East Africa. On many of our projects I am the lead structural engineer, therefore accountable for the structural integrity and appropriate documentation of co-ordinated designs, and responsible for site supervision of their construction. I also provide support to the Civil, Geotechnical, Environmental, Mechanical, Electrical and Plumbing disciplines.
Can you describe a typical working day?
I usually spend one day a week on a construction site reviewing progress, resolving issues, and coordinating with the supervision team on approvals. The remaining four days I spend in the office managing projects, carrying out structural design, coordinating with architects and other engineering disciplines, and reviewing upcoming workload for the team. As a Principal I also have wider leadership and office management responsibilities spread throughout the week. 
Are there any particular challenges or unusual aspects to your role?
One of the most challenging and exciting things about working in Rwanda is the lack of available data on certain structural materials. We are often required to research, test and analyse materials before using them, developing our understanding of the boundaries of modern building codes.
Working in a resource-limited environment generally means that unexpected cost increases can have a huge impact on the project. Therefore, design decisions can be critical, and the level of detail required in documentation is often higher to ensure accurate project costing.
Both quality of workmanship and the health and safety culture can be challenging in construction. Our site supervision teams work hard with contractors to raise the industry standard.
What do you find most enjoyable about your job?
The office is a creative environment, encouraging interaction with architects, landscape architects, engineers and product designers. Having all these disciplines in-house enables us to come up with innovative solutions and deliver integrated design. I also love seeing what we have drawn on paper come up out of the ground.
Is there a great professional achievement or high-profile accomplishment that you would like to tell us about?
I joined MASS Design Group's Kigali office in September 2016 as a Structural Engineer through Engineers Without Borders. Since then, the engineering team has grown dramatically to a multi-disciplinary team of 23 people delivering impactful projects. Recognised for my role in developing our team, I was awarded overall winner of the 2019 Royal Academy of Engineering (RAEng) Engineers Trust Young Engineer of the Year, receiving the Sir George Macfarlane Medal. This was following a nomination by my wonderful colleagues - being recognised in this way was a huge personal achievement for me.
What contributed to your decision to become professionally registered?
My previous employer, Atkins, believed in the importance of maintaining industry standards. It was essential to be registered in order to progress, and the company offered a lot of support in preparing for this. I also wanted to make sure I had evidence of my own competence and that I could take full responsibility for my own work.
In what ways has registration benefitted your career?
Not only did I learn a lot during the process of preparation for registration, but it was extremely beneficial to be a Chartered Member of the Institution of Civil Engineers (ICE) before moving to Rwanda. This meant I was immediately able to register with the Institute of Engineers Rwanda (IER) here, which has allowed me to operate as a professional engineer in this market.
How does your employer benefit from your professional registration?
MASS Design Group benefits from my professional registration as I can take full responsibility for both the structural designs of our buildings, and the completion of construction supervision. I have also used what I learned in the ICE professional registration process to establish an internal professional development system. My aim is to ensure that the engineering team has well-rounded early career development including technical specialisation, design management, and soft skills to advocate for better building practices.
Is there any advice you would pass on to someone considering professional registration?
Preparation for registration is an excellent way to equip yourself with the technical and commercial skills required as a professional engineer. My advice would be to do it as soon as possible in your career because life only gets busier. Be proactive in identifying gaps in your experience in order to seek opportunities to fill them.
Where do you see yourself in your career in five years' time or what are your future ambitions?
My two focus areas are on adequate seismic design and embodied carbon. Structural engineering plays such an important role in life safety so I intend to continue to advocate for designing and constructing buildings that will keep occupants safe in an earthquake. I also hope to focus on local materials and efficient low carbon design in response to the climate crisis.
Outside work, is there any activity you enjoy doing in your spare time that relates to engineering? For example, do you participate in mentoring, volunteering or membership of other engineering groups?
I sit on the Institution of Structural Engineers (IStructE) Humanitarian Panel. I like to travel and explore, and I can't help myself from checking out interesting structures as I go.