Punit Jaipal Shah BEng BSc (Hons) MSc CEng CMgr CPEng NER MIET MIEAust MCMI
Published: 23/01/2023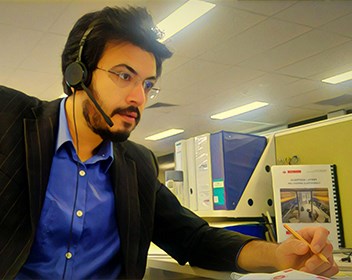 Education and qualifications:
BSc (Hons) Open University
PGCert Research Training (Humanities), Newcastle University 
PGCert Building Services Management, Brunel University London
BSc (Hons) Electrical and Electronics Engineering, University of South Wales
MSc Electronics, University of South Wales
BEng Electronics Engineering, Cardiff University
Diploma (Equivalent to HND – NVQ Level 5) Digital Electronics, University of Mumbai, India
Job title:
Systems Integration & Engineering Manager - Rail
Employer:
RINA
What inspired you to become an engineer or pointed you towards an engineering career?
Since my school days, I have had a passion for problem solving and taking a holistic approach to dealing with various challenges. Our family business of manufacturing pharmaceutical industry-related machinery fascinated me and is what initially inspired me to explore the world of engineering. However, after moving to the UK, I was inspired by seminars and lectures at Cardiff University, especially those that showcased examples and case studies of global infrastructure projects by leaders in the industry. This made me choose the consulting engineering industry. I was particularly motivated by the international project secondment opportunities that such a role offered, involving travel in different countries. I have lived and worked in ten cities and five countries so far, while contributing to iconic projects such as Crossrail (UK), Birmingham New Street Station Design (UK), Doha Metro (Qatar), Sydney Metro (Australia) and Perth Metro (Australia) among many others. 
Please describe your role or position within your workplace.
As a Systems Engineering, Integration and Safety Assurance Manager in the Rail environment, I am mainly responsible for ensuring that all the multi-disciplinary systems such as mechanical, electrical, and plumbing (MEP), civil, architectural and environmental sub systems are safely designed, tested, commissioned and peer reviewed to the highest standards. I ensure smooth and effective management of the team and technical delivery.
I coordinate with the staff of the general contractor assigned to the system integration or engineering activities, and manage the systems engineering processes. I also undertake planning and coordination of systems engineering activities, which include requirements management, configuration, technical interface management, and reliability, availability, maintainability and safety (RAMS). I am responsible for leading a team, project managing work packages, ensuring project resources are used efficiently and mentoring junior engineers. I am also responsible for liaising with clients on a regular basis in order to maintain a healthy professional relationship and create further business opportunities where possible. 
Can you describe a typical working day?
I usually start with a team meeting, and I may then have external meetings with clients. A typical day would also involve liaising with international team members in other countries over Skype for project support, producing project plans or reports and reviewing documents. I sometimes also hold hazard identification or systems interface workshops. My day also includes activities such as interface and integration management of rail systems, management of hazard records including hazard identification, analysis and risk assessments, peer reviewing, checking and approval of RAMS deliverables, requirements management and managing technical safety audits in the process of defending the systems engineering deliverables for the project. As and when required, I provide technical advice and recommendations to my remote team in Italy (RAMS Manager, Requirements Manager and Interface Manager) on aspects of developing and improving the technical deliverables such as the safety case, safety plan, project hazard log etc. This activity is conducted through online team meetings. I also coordinate and liaise with third party product suppliers to obtain evidence of compliance with the project requirements. At the project office in Perth, I liaise with engineers and managers for the joint venture of Salini and NRW companies (for which RINA is the systems engineering sub-contractor) to resolve any systems engineering and integration-related coordination issues.
Are there any particular challenges or unusual aspects to your role?
I need good people skills, adaptability and flexibility in attitude as it can be challenging working with people internationally, in different countries with different working cultures. The other challenge is to have a good understanding of multi-disciplinary systems and be able to reassure clients in any situation related to project delivery. Owing to the multi-disciplinary nature of my job and my career to date, which has involved a wide range of experience and skills (such as systems engineering and integration, health, safety and environment (HSE), sustainability and electrical building services design and management) I attempt to inspire and motivate as many people as possible in a variety of jobs and educational set-ups to resolve challenges faced by humanity. It is rare that a consulting engineer gets opportunities to work in all these disciplines, in diverse businesses such as the pharmaceutical industry, infrastructure, rail and road, building services and tunnel projects in remote corners of the world.
What do you find most enjoyable about your job?
Constant project-based travel, meeting new people and having a variety of work are the most enjoyable aspects for me. Sometimes, work related to a single design or management discipline may seem mundane or boring. However, since I am a multiple-systems integration and design manager, it never gets boring and I get to learn and explore different things on almost every project I work on. In my journey so far I have come across some incredibly awe-inspiring people, made lasting relationships and explored different cultures having had opportunities to live in world-class cities such as London, Cardiff, Birmingham, Zurich, Doha, Glasgow, Sydney and Perth, while also having had the experience of living in smaller towns and villages in the UK and Ireland on project assignments. I never imagined that I would be able have this many astonishing experiences, all of which have been extremely enjoyable. Although one may be lucky enough to get opportunities, it only works out if one is adventurous and flexible enough to take them.
Is there a great professional achievement or high-profile accomplishment that you would like to tell us about?
I have been awarded Chartered status by four recognised professional bodies, worked on iconic projects in five countries and have constantly developed myself through part-time university courses throughout my career - so far without a single year spent being idle. I am also a practicing Indian classical instrumental musician and conducting a part time PhD at Newcastle University while maintaining a full-time engineering job and this is rarely found in consulting engineers. My international career and associated travels have allowed me not only to exhibit my instrumental music to world audiences but also to introduce various people to the engineering-related complexities and acoustic intricacies of the tabla drums and the sitar, which has amazed many so far.
What contributed to your decision to become professionally registered?
While working at Atkins for almost ten years, I regularly saw my senior professionally registered colleagues being honoured with important positions in the company, in projects and also being constantly in demand internally and by clients for their all-round skills. This, along with anticipating potential growth opportunities in the UK and abroad, thoroughly motivated me to work towards becoming a Chartered Engineer (CEng) right from my early career days. I also realised that Engineering Council registration was extremely well respected throughout the world, which was another factor in contributing to my decision to become a CEng.
In what ways has registration benefitted your career?
Professional registration has increased my value as a consulting engineer, both within my organisation and among the varied clients that I deal with. I experienced career growth in terms of salary and seniority through my CEng. Also having the advantage of being both a CEng and Chartered Manager, I get approached for advice (for my technical expertise and on learning and development-related matters) and am always happy to help.
How does your employer benefit from your professional registration?
My employer is able to present me to clients with confidence due to my professional registration with one of the most respected organisations in the world. It assures them we will deliver value for money, trust and technical capability of the highest standard. Recently, professional registration has been made mandatory in selected Australian states. Reputed employers are now looking at hiring Chartered Professional Engineers (CPEng) who are registered on the Australian National Engineering Register (NER) which speaks volumes about the importance of professional registration and the benefits that come along with it almost as a catalyst reaction. Owing to my Engineering Council registration and its recognised high standard, it was fairly straightforward to obtain the CPEng NER in Australia.
Is there any advice you would pass on to someone considering professional registration?
Please keep all your project-based work records (in the form of calculations, design drawings, correspondence emails, reports etc.) intact and up to date by means of a professional portfolio. This is one of the most important aspects of working towards registration. It is also important to make sure that you get work experience covering all the professional competencies as required by the Engineering Council. If you lack experience in any of those, speak with your mentor or line manager immediately to address the issue and get you going on a relevant project in the required role. Keep your mentor/sponsor updated and informed of your activities. Last but not least, don't be in a hurry, be honest and sincere in showcasing your original work experience without exaggerating, but also do not procrastinate. Be sure to realise when the right time comes to apply and just go for it without the fear of failure.
Where do you see yourself in your career in five years' time or what are your future ambitions?
In the next five years I see myself developing as a global leader working in a director or senior leadership position for a reputable company, in a multi-disciplinary capacity. I aim to use my multi-disciplinary skills in rail systems safety, integration, MEP building services, sustainability and HSE to provide expert advice to clients around the world on major infrastructure and building projects. Alongside my full-time professional ambition, I also aim to volunteer in an important role for a professional body in an advisory and mentoring capacity.
Do you participate in any other career-related activities, such as mentoring, volunteering or membership of other engineering groups?
I am a full Chartered member of the Chartered Management Institute (CMI) and Engineers Australia. I am also looking to join other sustainability and health and safety-related membership bodies, as my diverse career skills portfolio covers a majority of these areas, including rail systems engineering management, building MEP design and sustainability management. I mentor graduates wishing to pursue professional development through professional registration and also provide advice regarding suitable university courses, technical queries etc via LinkedIn and in person. I am currently on international assignments in Australia and plan to volunteer through professional bodies on my return home to Scotland.
Outside work, is there any activity you enjoy doing in your spare time that relates to engineering?
Along with playing the sitar and tabla, I have conducted a scientific acoustic physics-based study of the working of Indian string and percussion instruments, using techniques such as laser interferometry and vibrational mode analysis at Cardiff University. I am also a Science, Technology, Engineering and Maths (STEM) Ambassador in my local Scotland hub and get immense satisfaction in organising mentoring activity for upcoming engineers to support their professional registration journeys. I also advise on the suitability of engineering courses, modules and university choices based on specialisations to interested students over social media platforms such as LinkedIn.