Oyeniyi Ibidapo-Obe MSc CEng FIHE
Published: 12/04/2022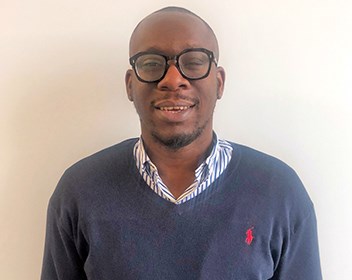 Education and qualifications:
MSc Road Management and Engineering, University of Birmingham
BSc Civil Engineering, University of Glamorgan (now the University of South Wales)
Job title:
Project Manager – Design
Employer:
London Borough of Haringey
What inspired you to become an engineer or pointed you towards an engineering career?
Simply put, my father, who was a Mathematician and Professor of Engineering. I was always in awe of his ability to solve problems which inspired me to become an engineer. As a Chartered Engineer (CEng) with a passion for solving problems with creative solutions, I am grateful to him for encouraging me to become an engineer.
Please describe your role or position within your workplace.
I work as a Project Manager for the London Borough of Haringey. My role involves leading highway infrastructure projects from conceptual planning to design, construction, budgetary and programme control up to completion.
Can you describe a typical working day?
For most engineers, there is no typical day at work. Some of my days may include producing programmes, design drawings, specifications, risk assessments and cost estimates for my projects. In contrast, other days may involve data analysis to propose highway improvement schemes or preparing public transport and scheme proposal reports for council committees and cabinet members within the local authority.
Are there any particular challenges or unusual aspects to your role?
Working on London's road network comes with its own set of unique challenges. I am required to develop innovative solutions to make the most out of the finite road space in London, as well as ensuring that while working with contractors, the changes delivered to the network cause minimum disruption to the travelling public.
My work on the A1 Upper Street / Holloway Road Scheme involved managing the collision investigation along the corridor and then using the information obtained to propose measures such as a median strip to reduce traffic speeds. I built traffic models to replicate street conditions and then used the models to assess the impact of my proposed measures.
I also worked on the Bus Priority programme, which involved investigating ways of reducing bus journey and dwell times on the Transport for London Road Network (TLRN), resulting in improved air quality for London.
What do you find most enjoyable about your job?
My work requires that I manage projects from initial feasibility to completion of construction. I enjoy being responsible for all aspects of my schemes, from identification of the initial problem through to eventual delivery.
I also enjoy making a direct positive impact on local communities by developing proposals to address road safety concerns and ensuring their effectiveness by investigating levels of collisions after implementation.
Is there a great professional achievement or high-profile accomplishment that you would like to tell us about?
Without a doubt, my most significant professional achievement was successful registration as a CEng. From my first day as a graduate engineer, my goal was to become Chartered; I followed a career path where I acquired the Incorporated Engineer (IEng) registration and then gained the additional skills and competencies required for CEng registration.
What contributed to your decision to become professionally registered?
I started my career as a graduate engineer with a civil engineering consultancy in the private sector, where the value of professional registration is directly related to promotion and responsibility.
I recognised early on that professional registration is a clear sign of competency. Successful applicants are duly rewarded and given more responsibility; therefore, becoming a CEng from day one was a no-brainer.
In what ways has registration benefitted your career?
I work in a competitive sector and being a CEng allows me to stand out from the crowd. Professional registration has opened up opportunities; it is evidence to my peers and employer that I possess the competencies of a Chartered Engineer as set out by the Engineering Council's UK Standard for Professional Engineering Competence (UK-SPEC).
How does your employer benefit from your professional registration?
As a CEng, my employer is confident that I have successfully undergone the rigorous process of demonstrating my high level of skill and knowledge to experts within my profession.
Is there any advice you would pass on to someone considering professional registration?
I recommend applying for professional registration as soon as reasonably practicable. The work involved in subsequent professional registration applications will then be slightly reduced to demonstrate the incremental increase in the knowledge required to progress from Engineering Technician (EngTech) to IEng and then to CEng.
I also recommend that you keep abreast of current legislation, specifications, codes of practice and guidance which are relevant to your work.
Where do you see yourself in your career in five years' time or what are your future ambitions?
I have a passion for technology and road safety. I recently completed the University of Oxford Blockchain Strategy Programme, developing a blockchain use-case within the road safety sector. My ambition is to work on initiatives in the road safety sector that will have a positive impact on lives.
Outside work, is there any activity you enjoy doing in your spare time that relates to engineering? For example, do you participate in mentoring, volunteering or membership of other engineering groups?
Since I became professionally registered, I have acted as a mentor to colleagues within the highway sector and recently encouraged two colleagues to become members of the Institute of Highway Engineers (IHE), one of whom I sponsored in his application to become a CEng.