Oyeniyi Ibidapo-Obe MSc CEng FIHE
Published: 02/10/2023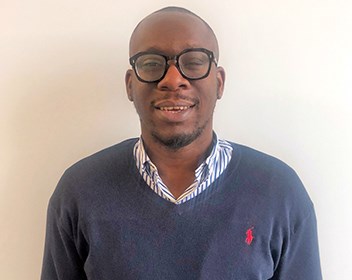 Education and qualifications:
MSc Road Management and Engineering, University of Birmingham
BSc Civil Engineering, University of Glamorgan (now the University of South Wales)
Job title:
Project Manager – Design
Employer:
London Borough of Haringey
What inspired you to become an engineer or pointed you towards an engineering career?
The driving force behind my journey into the world of engineering has always been my father, an accomplished mathematician, and esteemed Professor of Engineering. From my earliest memories, I was captivated by his unique problem-solving ability, his dedication to analysis, and his deftness in translating abstract concepts into tangible, practical applications. As I delved deeper into his world, the allure of engineering unfurled before me as the perfect platform to express my creative potential in problem-solving and make a tangible difference in the world. Today, as a Chartered Engineer (CEng), I have the privilege to not only engage in my passion for creative problem-solving daily but also pay homage to my father, who illuminated this path for me.
Please describe your role or position within your workplace.
I am currently serving as a Project Manager for the London Borough of Haringey, spearheading key highway infrastructure projects. My role is comprehensive, covering the full spectrum of project management tasks - from the initial stages of conceptual planning and design to the hands-on aspects of construction, along with the meticulous tracking of budgetary concerns and timeline adherence. I am directly involved in bringing projects to fruition, ensuring that each one aligns with the broader infrastructural goals set by the local authority.
Can you describe a typical working day?
As an engineer, the beauty lies in the fact that there's no such thing as a 'typical' day. Each day brings fresh challenges and opportunities, offering a dynamic working environment that keeps me intellectually stimulated. My responsibilities may range from producing detailed project plans, design drawings, and risk assessments, to crafting intricate cost estimates for upcoming projects. On other days, I might be immersed in rigorous data analysis to devise optimal highway improvement schemes or be engaged in preparing comprehensive public transport and scheme proposal reports for the council committees and cabinet members. Each day is a new lesson in innovation, negotiation, and leadership, adding another layer to my continuous learning journey in the field of engineering.
Are there any particular challenges or unusual aspects to your role?
My role as a Project Manager in the London Borough of Haringey is packed with unique challenges and aspects. Working with London's intricate road network, particularly with projects like the 'School Streets' initiative, tests my problem-solving and engineering skills daily.
This initiative is an exercise in meticulous design and thoughtful implementation to improve road safety and air quality around schools. The process is comprehensive, from crafting ideal traffic flow structures and pedestrian-friendly zones, to orchestrating their real-world implementation, each step presents a distinct challenge.
The role demands efficient coordination with a diverse range of stakeholders, balancing their needs and expectations with the project's objectives. It involves the in-depth analysis of performance data, scrutinising the impact of our efforts on road safety, air quality, and congestion, and making data-driven adjustments to our approach.
Moreover, these tasks need to align strategically with broader commitments. For instance, the council's pledge to combat climate change and public health issues, such as childhood obesity, requires us to consider these aspects in our designs and implementation strategies. In essence, the complexities associated with designing and implementing road safety initiatives like 'School Streets' within London's vast road network make my role both challenging and uniquely rewarding.
What do you find most enjoyable about your job?
I enjoy being responsible for all aspects of my schemes, from identification of the initial problem through to eventual delivery. I also enjoy making a direct positive impact on local communities by developing proposals to address road safety concerns and ensuring their effectiveness by investigating levels of collisions after implementation.
Is there a great professional achievement or high-profile accomplishment that you would like to tell us about?
One of my proudest achievements was becoming a CEng. As a young engineer, my aim was to reach this level. I started by becoming an Incorporated Engineer (IEng), which helped me build the right skills and know-how. From there, I worked hard, took on challenging projects, and continued to learn and grow. Finally becoming a CEng was a major milestone for me, and it's something I'm very proud of. It's a reminder of my dedication to engineering and problem-solving, and it motivates me to keep pushing forward in my career.
What contributed to your decision to become professionally registered?
My journey towards professional registration began early in my career when I started working as a graduate engineer with a civil engineering consultancy in the private sector. There, I quickly observed a strong correlation between professional registration and career advancement, where professional engineers were entrusted with greater responsibilities and experienced improved career trajectories.
Understanding that professional registration is a recognised hallmark of competence, it was clear to me that this was a necessary step in my professional journey. Not only did it offer a path to higher roles and responsibilities, but it also presented an opportunity to validate my skills and competencies in a tangible way.
From that point, pursuing CEng registration became an early and obvious choice in my career development. It signified my commitment to the highest standards of engineering practice, a benchmark that I continuously strive to uphold and exceed.
In what ways has registration benefitted your career?
I work in a competitive sector and being a CEng allows me to stand out from the crowd. Professional registration has opened up opportunities; it is evidence to my peers and employer that I possess the competencies of a CEng as set out by the Engineering Council's UK Standard for Professional Engineering Competence and Commitment (UK-SPEC).
How does your employer benefit from your professional registration?
As a CEng, my employer is confident that I have successfully undergone the rigorous process of demonstrating my high level of skill and knowledge to experts within my profession.
Is there any advice you would pass on to someone considering professional registration?
For anyone considering professional registration, I would advise you to apply as early as possible. Progressing from an Engineering Technician (EngTech) to an IEng, and then to a CEng becomes easier if you start early, as each step incrementally builds on the knowledge gained at the previous level. Additionally, stay informed about relevant legislation, specifications, codes of practice, and guidelines. This helps you stay competitive and maintain high standards in your work.
Where do you see yourself in your career in five years' time or what are your future ambitions?
Looking ahead, I see myself at the forefront of technology and safety in the engineering sector. My deep-seated passion for road safety and technology has directed my recent pursuits, including the completion of the University of Oxford Blockchain Strategy Programme. This experience allowed me to explore blockchain's potential for road safety applications.
However, I'm equally focused on the growing relevance of cybersecurity in our increasingly connected world. I plan to leverage my skills and knowledge in this area to ensure the safety and integrity of our systems and infrastructure. This includes protecting our digital environments against threats and breaches, which can have far-reaching impacts on our physical safety and infrastructure.
Ultimately, my goal for the next five years is to harness these advanced technologies to create effective solutions that not only enhance road safety but also ensure the cyber-resilience of our systems. By doing so, I aim to make a positive and lasting impact on the lives of people in our communities.
Outside work, is there any activity you enjoy doing in your spare time that relates to engineering? For example, do you participate in mentoring, volunteering or membership of other engineering groups?
Since earning my professional registration, I've enjoyed mentoring colleagues in the highway sector. I'm passionate about sharing my knowledge and experience and have recently supported two colleagues in joining the Institute of Highway Engineers (IHE). One of them I personally sponsored for his application to become a CEng. I find this mentorship work incredibly fulfilling and intend to continue it in the future.