Olusegun M. Ilori PhD CEng MIMechE
Published: 12/02/2020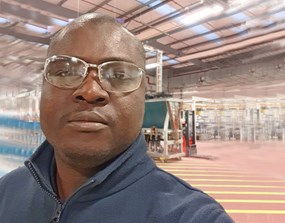 Education and qualifications:
PhD in Thermal-Fluid Sciences and Engineering Modelling & Simulation, University of Leeds
MSc Mechanical Engineering (Thermal option), University of Twente (The Netherlands)
MSC Industrial and Production Engineering (Project Management), University of Ibadan (Nigeria)
BSc Mechanical Engineering, University of Ibadan (Nigeria)
Job title: Lead Research Engineer
Employer: Airedale International Airconditioning Ltd
What inspired you to become an engineer or pointed you towards an engineering career?
I liked Maths at a very young age, and I enjoy watching documentary films about great engineering inventions around the world. Also, I enjoyed Physics as a subject and would say I liked to know how things worked. I was selected to be in the Science class in my secondary school, where I excelled in all my subjects in the final exams. Putting this together and following the advice of our students' advisor then, it was natural for me to choose an engineering career so that I could realise my full potential.
Please describe your role or position within your workplace.
I am the Lead Research Engineer in the R&D department. I am responsible for leading the innovation of new precision air conditioners and chillers, as well as optimising the performance of the existing product range to feed into the product development roadmap. To achieve this, I use my theoretical and practical understanding of the fundamental principles of thermal-fluid sciences – thermodynamics, fluid mechanics, heat transfer, energy methods etc – and engineering simulation (including computational fluid dynamics).
I also collaborate with internal disciplines such as marketing and sales, electrical, controls, manufacturing, purchasing etc, and a variety of components suppliers, research institutions, trade organisations and government bodies. Ensuring product compliance with standards and legislation as relevant to our business is also key for me, as well as generating new ideas around thermal management solutions for comfort, process and data centre applications.
Can you describe a typical working day?
I would say every day is a new day for me in the office. I have to work on a variety of interesting challenges, often with conflicting priorities, that require different solutions and approaches. A typical working day will consist of reviewing scheduled activities and their associated priorities, brainstorming sessions to tackle specific product research needs, assessing the progress of various projects, keeping up with developments around technology, standards and legislation, market dynamics and so on in the Heating Ventilation Air Conditioning and Refrigeration (HVACR) industry. I regularly spend time ensuring prototype build and testing works with the design intent, interpreting test data, problem-solving using fundamental laws of engineering and design principles, researching new concepts for thermal management, attending pre-start and project meetings, and liaising with internal disciplines, as well as customers, subcontractors, universities and research institutions.
Are there any particular challenges or unusual aspects to your role?
It often happens that there are very frequent changes to the priorities for a research project, largely dictated by customers' requirements and market dynamics. Often the end goal of research can be quite difficult to predict and hard to achieve, especially when there are constraints on time. Because there is no standard method of gauging how much resource and effort go into product research, sometimes the outcome of a research project can be seen as 'too little impact for the time spent'.
What do you find most enjoyable about your job?
The freedom to use my research experience and technical ability to bring out new commercial cooling and heating products, or optimise the performance of the existing ones is very satisfying for me. I also find the need to bring multiple disciplines and professions together when a new concept is proposed, and the challenges this brings, enjoyable.
Is there a great professional achievement or high-profile accomplishment that you would like to tell us about?
Of the professional achievements in my engineering and research career, one of the accomplishments I would like to highlight is taking a novel heat-pump chiller project from an initial concept through to the proof of concept stage, to delivery of a prototype to the development team. This project resulted in an international patent application and following launch would evolve into a new product range, helping the company expand its product portfolio. This also strengthens the company's position as a global market leader in thermal management solutions.
What contributed to your decision to become professionally registered?
I wanted my professional experience to be recognised and the way to do that is to be recognised by a professional institution. It's also a distinct way of demonstrating to my employer that I take my Continuing Professional Development (CPD) very seriously, and potentially being rewarded for it.

In what ways has registration benefitted your career?
For me, it's a thing of honour and a great achievement. Professional registration has further increased my professional profile in the eyes of senior management and is highly valued by fellow professionals. I get more acceptance for technical designs from my team in the Research department and I am seen as an authority in my field. As such, it has created new professional contacts and networking opportunities for me.
How does your employer benefit from your professional registration?
It's a strong indication that the company supports their staff in becoming registered and that they have recognised professionals working for them. The company also benefits from increased customer confidence in their products and services. The company is more competitive and has a clear advantage when they bid for high profile contracts. My company also benefits as they can negotiate a higher R&D tax relief on our research projects.
Is there any advice you would pass on to someone considering professional registration?
It's definitively the right step in the right direction. Please go for it!
Where do you see yourself in your career in five years' time or what are your future ambitions?
I see myself taking more responsibility in the business aspect of my profession and managing an increased number of team members as a senior manager.
Do you participate in any other career-related activities, such as mentoring, volunteering or membership of other engineering groups?
I mentor research engineers in the company and guide them in their application for professional registration. I am an approved Science, Technology, Engineering and Mathematics (STEM) Ambassador volunteering in Yorkshire and the Humber region. I encourage young adults to go for a career in STEM and Medicine.
Outside work, is there any activity you enjoy doing in your spare time that relates to engineering?
I have been participating in STEM outreach and engagement in schools and an event centre in Bradford. I like to watch documentaries about science and great engineering inventions, and enjoy learning new things related to the engineering profession through attending workshops, conferences, seminars and training courses.