Mohamed Vistash BSc MSc CEng MICE
Published: 14/03/2023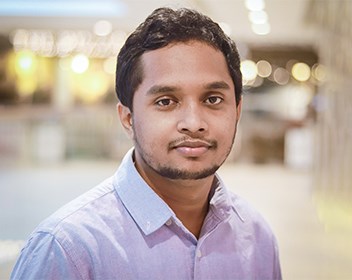 Education and qualifications:
MSc (Hons) Structural Design and Construction Management, Kingston University, London
BSc (Hons) Civil Engineering, Kingston University, London
Job title:
Assistant Package Manager
Employer:
SURBANA Consultants Pte Ltd
What inspired you to become an engineer or pointed you towards an engineering career?
The first person who inspired me to become a civil engineer is my father, who is also a civil engineer. He guided me well from a young age to become a successful engineer, by showing me time lapses of various projects that he had been working on. I was very enthusiastic - fascinated to see it all come together and amazed at how it all worked.
After high school, I was very keen on starting a career civil engineering and started my studies in that. During my studies I learned to think critically and work along with other professionals on projects as an intern. This inspired me to kick-start a rewarding career. I became more passionate and dedicated to an engineering career.
Please describe your role or position within your workplace.
I am an Assistant Package Manager in the Package Management department, working on the Neom Mountain Lake project in Trojena. This is an outdoor skiing and adventure sports development which is part of the Neom smart city project located in the Kingdom of Saudi Arabia. This role requires strong technical engineering knowledge as well as leadership and management skills. I am not only responsible for the technical project delivery (design deliverables, proposals, reports, drawings, specifications), but my role also includes responsibility for the coordination and management (design, resource management, quality, training and mentoring). I also liaise with clients to understand their needs and requirements.
Can you describe a typical working day?
My working day starts at 8:30am, with a coffee in hand, checking and responding to emails. After that I have a regular team meeting to plan and coordinate with the other disciplines. Then, depending on my schedule, I could be attending internal technical design coordination meetings with consultants or clients from disciplines such as Wet Utility, Dry Utility, Tunnel, Mobility, Solid Waste, Structures and Roads. I also get involved in leading and preparing the technical documents, designs and drawings while resolving the project design and technical issues. My day typically ends at 6pm.
Are there any particular challenges or unusual aspects to your role?
Challenges in my role involve identifying solutions to technical and quality-related issues on the project, and avoiding the safety-related issues that accompany construction methodology. I often work with other teams to coordinate the work, ensuring we follow the correct methodology, specification and design while delivering the project to the right quality and timescales. I ensure that the client and consultant are both aware that the construction works have been carried out as per the project requirements.
What do you find most enjoyable about your job?
I enjoy engaging with multidisciplinary teams on a regular basis. I use interpersonal, communication and organisational skills to maintain an understanding of their thoughts and requirements. I am fascinated to learn the latest techniques and upgrade my knowledge, to offer my support and solutions for improving projects I am involved with. Also, the challenges of problem-solving and learning from mistakes help make me a competent person at work.
Is there a great professional achievement or high-profile accomplishment that you would like to tell us about?
I am very proud of being awarded Chartered Engineer (CEng) status by the Institution of Civil Engineers (ICE), the world's first professional engineering body.
During my career I have been lucky to work on some iconic and high-rise building projects in Sri Lanka, such as the Shangri-La Hotel & Resort in Colombo, the Krrish Square development project (constructing the Ritz Carlton and JW Marriot hotels) in Colombo, the Tri-Zen Residential Development Project in Colombo and the Marina Square Mixed Development Project. These gave me the opportunity to develop my skills and provided great experience managing complex development projects. Furthermore, I am engaging with one of the most iconic and largest development projects in the Kingdom of Saudi Arabia, the NEOM Mountain Lake in Trojena. I feel that I am very fortunate to be able to practise engineering on this high-scale project.
What contributed to your decision to become professionally registered?
Having finished my Master's degree in Structural Design and Construction Management, I decided my next step was to work towards becoming a CEng. This journey has made me understand the importance of continuous professional development (CPD). Achieving professional registration as a CEng is recognition of the knowledge, skill, and experience that I have gained during my career.
In what ways has registration benefitted your career?
Having the title of CEng has improved my career prospects and has given me the recognition I deserve. Furthermore, I have mentored many young engineers to take up major roles in the construction industry.
How does your employer benefit from your professional registration?
I am the first UK CEng at the China Harbour Engineering Company Ltd. I have developed a pathway for other engineers to follow and it will be very beneficial for the business to have more professionally registered engineers within the organisation. Being a CEng gives confidence to clients and consultants that I am competent in my role as an Assistant Package Manager, and it illustrates that the company supports career development and professional recognition for its staff.
Is there any advice you would pass on to someone considering professional registration?
For anyone considering professional registration, I would advise they proceed to keep moving forward. For me, professional registration helped me gain self-confidence in my ability and gave me a strong foundation for further personal and professional development.
Where do you see yourself in your career in five years' time or what are your future ambitions?
I would like to be leading an engineering team, and will strive to become a prominent person in the construction industry.
Outside work, is there any activity you enjoy doing in your spare time that relates to engineering? For example, do you participate in mentoring, volunteering or membership of other engineering groups?
I am an approved mentor for ICE. In my spare time I support colleagues and graduate engineers all over the world by mentoring and providing professional advice.