Mark Goudie MEng CEng FIET FIES
Published: 16/03/2023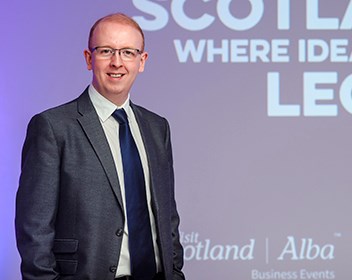 Education and qualifications:
MEng Electrical and Mechanical Engineering, University of Strathclyde
Job title:
Distribution System Operation Manager
Employer:
SP Energy Networks (part of ScottishPower)
What inspired you to become an engineer or pointed you towards an engineering career?
My journey into engineering wasn't straight forward as I was originally meant to study Law. In my final year of high school, I received a talk from the 'Year in Industry' programme that offered 12 months of engineering experience before starting university. Intending to study Law but still unsure if that was the right choice, I took the opportunity to work with EDF Energy. After working in an engineering environment for a few months and getting the chance to see what the engineering degree course would be like, I reapplied to study engineering at the University of Strathclyde, and I haven't looked back since.
Please describe your role or position within your workplace.
I'm the current Distribution System Operation Manager for SP Energy Networks. My role focuses on preparing the electrical distribution system for the transition to Net Zero. This transition is forecast to create significant growth, including electric vehicles (EVs) and heat pumps, that will place increasing demands on the electricity network, in turn requiring major changes in how the electricity industry operates.
Distribution Network Operators (DNOs) have already begun to take a more active role in the operation of the electrical network as a Distribution System Operator (DSO); to more actively manage a system that is increasing in complexity.
Can you describe a typical working day?
A typical working day for me is varied (which I really enjoy) and is centred around projects that need to be delivered, whether that is directly by me, supervising staff or contractors in the delivery of their work. I work extensively with stakeholders to inform the work that we do or to share our plans for the future.
Are there any particular challenges or unusual aspects to your role?
DSO is a relatively new area for electrical networks in the UK and will be a critical part of meeting our Net Zero targets. Helping shape and develop this area collaboratively has been challenging but immensely rewarding as it will have lasting impact on future operating models and increase the toolsets at our disposal as we decarbonise our society.
What do you find most enjoyable about your job?
The most enjoyable part of my job is the variety of work and the opportunities to meet new people and learn. At SP Energy Networks you have lots of different initiatives with lots of projects giving you almost daily variety. Getting the chance to work with my colleagues gives me the opportunity to learn about their careers and to continue my own Continuing Professional Development (CPD).
Is there a great professional achievement or high-profile accomplishment that you would like to tell us about?
In 2020, I was lucky enough to be one of the youngest elected engineering Fellows in the UK with the Institution of Engineering and Technology (IET). This was a huge career milestone and was completed only six months after achieving professional registration. This not only recognised my leadership in the engineering sector, but my volunteering efforts to give back to the institutions and communities that have supported me throughout my career.
What contributed to your decision to become professionally registered?
For me, professional registration was always a fantastic guide for early career development. Using UK-SPEC as a framework for the skills and experience that I should be pursuing helped me to shape my development, while also providing an extremely useful mark of recognition at the end, through becoming a Chartered Engineer (CEng).
In what ways has registration benefitted your career?
Professional registration has not only improved my employability (this has included improving my business development with clients when I was a consultant and for joining SP Energy Networks), but has also changed my relationship with engineers that I mentor. I am now a professional development mentor, helping others on their path to professional registration.
How does your employer benefit from your professional registration?
Professional registration benefits my employer through ensuring their staff carry out Continuing Professional Development (CPD) and the external recognition of staff capabilities. This is useful on external working groups, projects and presentations.
Is there any advice you would pass on to someone considering professional registration?
Firstly, go for it! There is great support available through your own professional engineering institution (PEI), so take the time to understand the support available to you and make best use of it as you work towards professional registration.
Where do you see yourself in your career in five years' time or what are your future ambitions?
For me, my career development is focusing on the continued development of the Distribution System Operation model in Great Britain as we work towards Net Zero but also increasing the breadth and impact of my engineering volunteering, to support the future generations of engineering professionals.
Outside work, is there any activity you enjoy doing in your spare time that relates to engineering? For example, do you participate in mentoring, volunteering or membership of other engineering groups?
I support various working groups and professional committees across the UK, including as the Chair of the IET Horizons Bursary, with a particular passion for widening access and financial support for students and apprentices. I am an active Trustee, volunteer and ambassador, supporting initiatives and organisations such as the Glasgow Science Centre (GSC), the Queen Elizabeth Prize for Engineering (QEPrize), the IET and Science, Technology, Engineering and Maths (STEM) Learning.