Marco Sasso BSc MSc CEng MRINA
Published: 19/10/2022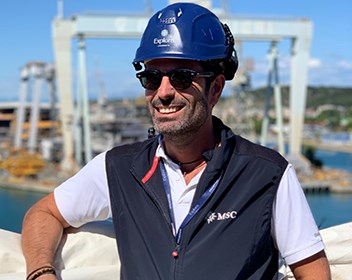 Education and qualifications:
MSc and BSc Naval Architecture and Marine Engineering, University 'Federico II' Naples, Italy
Job title:
New Building Project Engineer, Explora Journeys
Employer:
MSC Cruise Management UK
What inspired you to become an engineer or pointed you towards an engineering career?
Coming from Naples, a city with a long-standing history of shipowners and having the sea as an omnipresent element of daily life, from a young age I could clearly see a career that involved the maritime world.
Please describe your role or position within your workplace.
As a Project Engineer for Explora Journeys, the luxury vessels of the MSC group, my tasks are extremely varied. I am responsible for supporting design and engineering activities within the New Building programme. I lead the support for all contractual activities across vessels under design and construction, working with colleagues and stakeholders within MSC, third party consultants and the relevant shipyard to ensure the successful delivery of the projects.
Can you describe a typical working day?
I am lucky to say that no two days are the same, as my role is a blend of technical engineering skills combined with the managerial skills needed to drive projects to successful completion. I could spend my morning participating in high-level progress meetings with the shipowner and the builder, and the afternoon discussing specific technical solutions related to the construction.
Are there any particular challenges or unusual aspects to your role?
The main challenge is the project itself - as managing construction of vessels for a new brand involves liaison and coordination not only of the technical aspects, but also commercial and guest experience considerations.
What do you find most enjoyable about your job?
To be very honest, I truly enjoy my job as a whole, but if I had to name one thing it would be the fact that since Explora Journeys is a new brand and I am part of the original team, I can really leave my mark on the ship and its design. My work could contribute to effective changes and improvements to the entire class of vessels.
Is there a great professional achievement or high-profile accomplishment that you would like to tell us about?
I am proud of all the projects I have been part of, however, the one that really stands out is managing the refurbishment of an old vessel which was being taken over to the US market. The strict United States Public Health (USPH) standards meant that the ship needed to be prepared not only from a staffing point of view, but most importantly from a technical standpoint. During the course of three months, I led a team of 30+ contractors and together we managed to get the ship into outstanding shape, and achieved this during normal guest operations. The final reward came when the ship passed a subsequent USPH inspection with flying colours.
What contributed to your decision to become professionally registered?
To be a Chartered Engineer (CEng) is a prestigious achievement, it seemed like the perfect next step in my personal growth.
In what ways has registration benefitted your career?
Being part of a professional engineering institution has allowed me to enter a circle of like-minded individuals. This has a direct benefit to my career as I am able to learn and share best practice with my peers, but also benefit from the connections and opportunities that more experienced members bring to the table.
How does your employer benefit from your professional registration?
My employer benefits from my registration as I can bring fresh ideas and knowledge obtained from other registered colleagues, through the connections I have made.
Is there any advice you would pass on to someone considering professional registration?
I would say to not hesitate and start the application process. Prepare yourself for the interview, but remain true to yourself and be confident in the knowledge you have acquired during your professional path.
Where do you see yourself in your career in five years' time or what are your future ambitions?
I hope to always be able to challenge myself while being part of exciting and future-orientated projects.
Outside work, is there any activity you enjoy doing in your spare time that relates to engineering? For example, do you participate in mentoring, volunteering or membership of other engineering groups?
In my spare time I like to participate to conferences and seminars – this allows me to keep up to date with recent developments.