Lynsey Seal CEng MIFireE AMIMechE
Published: 27/09/2023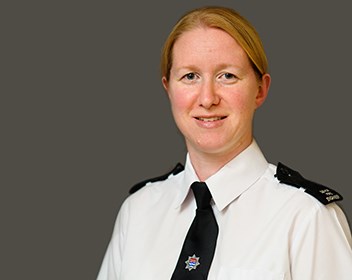 Education and qualifications:
BEng (Hons) Fire Safety Engineering, University of Central Lancashire
BEng (Hons) in Mechanical Engineering, University of Greenwich
Job title:
Principal Fire Engineer and joint head of LFB Fire Engineering Group and Building Design Consultation Hub
Employer: London Fire Brigade (LFB)
What inspired you to become an engineer or pointed you towards an engineering career?
My dad inspired me to get into engineering. He is an electrician and as a child I would sometimes go to work with him on a Saturday to watch and help. I wanted to be an engineer from around the age of 8 – I was fascinated by how things were put together and worked.
Please describe your role or position within your workplace.
I am a Principal Fire Engineer and also the joint head of the London Fire Brigade (LFB) Fire Engineering Group, overseeing a team of fire engineers. The Fire Engineering Group forms part of the Fire Safety Department of the London Fire Brigade and acts as internal consultants for fire safety colleagues and other departments within the Brigade. Our primary role is to review fire engineering solutions or complex fire safety strategies that have been submitted as part of the Building Regulations approval process, but our work covers a lot more than this.

We participate on numerous technical committees to improve fire safety design standards and take part in a variety of research projects, providing a fire service viewpoint and independent technical comment. We are all trained fire safety officers able to deal with fire safety contraventions in occupied buildings under the Regulatory Reform (Fire Safety) Order 2005, and can provide expert witness support where needed. LFB support this by funding selected officers to gain a university-accredited expert witness certificate. We also regularly liaise with our fire investigation unit to identify failure trends in building construction or system designs.
In addition to the Fire Engineering Group, I also have shared responsibility for the LFB Building Design Consultation Hub, which handles the review and response for all of the building regulations consultations we receive (around 10,500 per year). The hub  also consider any planning consultations that are submitted and  liaise with the new Building Safety Regulator on the design and construction of high risk buildings. Our particular focus when undertaking this type of work is on means of escape for members of the public and access and facilities to support our firefighters to (as safely as possible) conduct their activities.
Can you describe a typical working day?
Working for an emergency service there are some days when what you had planned can change pretty rapidly as we respond to, for example, a serious fire incident where the building may not have reacted the way it was predicted to, or a local fire safety officer who needs support in assessing whether a building is safe to remain occupied. Other days can be filled with meetings or reading technical reports and compiling a response from our critical analysis regarding what has been submitted. Sometimes I have to present technical matters to senior LFB managers or to government officials which can be challenging dependent on the topic material.
Are there any particular challenges or unusual aspects to your role? 
The most challenging aspect of our role is when our technical support is needed to assess and consider whether a building remains safe to be occupied or not. If you decide that it isn't then this can have significant implications on members of the public, particularly if this is their home or business.
What do you find most enjoyable about your job?
The reason why I love the role that I do is that there is real opportunity to make a difference. We strive every day to try and make the built environment and members of the public and firefighters safer from fire.
Is there a great professional achievement or high-profile accomplishment that you would like to tell us about?
I feel fortunate to have a couple of stand-out moments thus far. The first was being nominated and awarded the Queens Fire Service Medal for distinguished service, this is something that my family and I are incredibly proud of. The presentation took place at Windsor Castle and I was given my award by (as he was then) His Royal Highness the Prince of Wales (now of course King Charles II).
Becoming Chartered was also an incredible moment on a personal level. More related to work, I have some projects I was very proud to work on – one being the London 2012 Olympics where I worked on several of the venues and the Athlete's Village. Recently I was also the LFB lead for a children's book aimed at tackling gender stereotyping in careers – it is called 'my mummy is a firefighter'.
What contributed to your decision to become professionally registered?
Becoming registered with the Engineering Council was always something I aspired to and LFB support this by ensuring that there is an expectation and ethos within our group. We support and encourage each other in the process. For me personally it was a significant achievement, knowing that I was judged/assessed by industry peers as working at that level.
In what ways has registration benefitted your career?
Having attained registration, I was in an excellent position to seek promotion within the group when a vacancy arose at a senior fire engineer level. It has also facilitated my acceptance onto various working parties and committees supporting both my own further development and work of our group.
How does your employer benefit from your professional registration?
Competence within the fire industry is something which has come under great scrutiny following the Grenfell Tower tragedy. The Fire Engineering Group, since its inception in the early 1990s, had requirements for those in an engineering role to hold an academic qualification in fire engineering at either undergraduate or masters level. In addition there was also the expectation to work towards and attain professional registration. This demonstrates that competence has always been a key focus for LFB with respect to our engineers.
Is there any advice you would pass on to someone considering professional registration?
Talk to others who have already undergone the process and consider all registration options available. Be honest about your experience and get used to talking and writing about what you as an individual have done – registration is not a time for modesty.
Where do you see yourself in your career in five years' time or what are your future ambitions?
I am very happy in my current role and working as a public servant so my main short/medium term goal is around the further development of the Fire Engineering Group and the Building Design Consultation Hub as it rapidly expands to manage the incoming work and to help others get to the stage where they can also seek registration.
Outside work, is there any activity you enjoy doing in your spare time that relates to engineering? For example, do you participate in mentoring, volunteering or membership of other engineering groups?
I am extremely keen to promote engineering to the next generation and, in particular, to highlight fire engineering as a discipline and the existence of some extremely rewarding Science, Technology, Engineering and Mathematics (STEM) careers in the fire service. To support this, I have become a STEM Ambassador and have been involved in STEM events on behalf of LFB. I am also a Member of the Women's Engineering Society (WES) and an informal STEM group called the 'STEMSquad' who met at an event at the Royal Military Academy Sandhurst some years ago.
I am an active volunteer member of my professional institution, the Institution of Fire Engineers (IFE), I sit on the registrants' group that considers new applications for Engineering Council registration and am currently the Vice Chair of the IFE Ethics Committee. In 2023 I was also very honoured to be head judge for the Top 50 Women in Engineering Awards as well as part of the judging panel for the women in fire safety awards. Both are  key events in recognising the achievements of women within the fire/safety industry and something I was very happy to support.
Do you identify as disabled, or as a member of a minority or under-represented group? Would you like to comment on what impact or influence you feel this has had upon your career?
At the beginning of my career I felt a strong need to prove myself and gain respect in what was a male dominated environment. At times I also still second guess situations – am I receiving that recognition, reward or opportunity simply because I am a woman? This can have a significant impact on your confidence and imposter syndrome has been something that has impacted me at points in my career. I have now reached a point in my career where I feel fortunate enough to have a position where I can use and share some of my experiences to try to foster conversations and change. I feel fortunate that over the years that I have found a great number of allies and these allies are crucial. Inclusion relies on everyone and not just those in under-represented groups driving this forward. If there are any engineers from under-represented groups who feel they need some sort of validation, then I would recommend applying for professional registration as one means of building up your confidence. Being assessed by a well-respected peer group is a great opportunity for any engineer to see how far they have come in terms of their development and provides a real sense of achievement.